After attending the last Disney on Ice show – Dare to Dream, I was totally impressed with the performances and show that was presented. It was a wonderful time and my whole family loved it. Feld Entertainment is now producing their newest Disney on Ice show – Rockin' Ever After, featuring four of my favorite princesses, including Merida from Brave! Check out the official release below and watch a preview of what was involved in creating the show. Be sure to keep reading for a code for discount tickets for Zannaland readers too.
Mickey and Minnie have searched the globe for the hippest and hottest acts to perform in the most sensational talent showcase to rock the ice in Orlando, Disney On Ice presents Rockin' Ever After. Tickets for performances at the Amway Center go on sale July 20 at 10 a.m.
In a new twist on fairytale fun, favorite Disney characters compete to be the next superstar in comical segments leading up to the tales of show stopping princesses – Ariel, Rapunzel, Belle, and Merida from Disney•Pixar's BRAVE in her ice debut!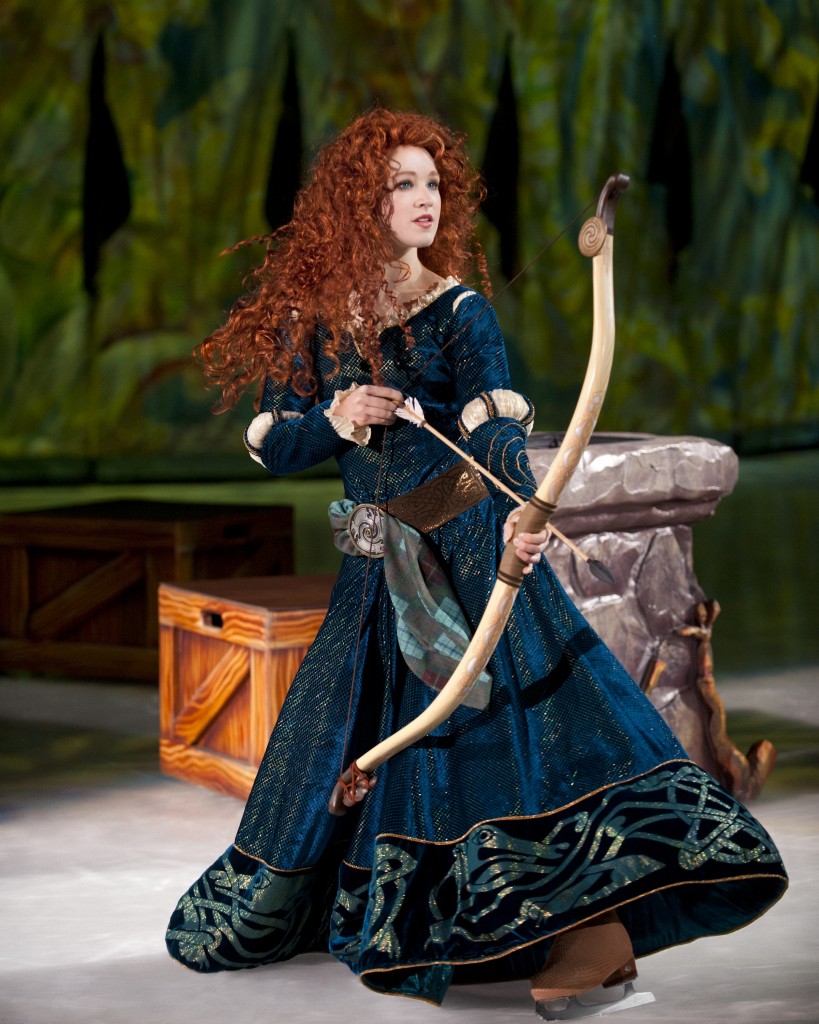 "The most exciting part of bringing a fearless and independent character like Merida to the ice for the first time is knowing that she has a powerful and inspiring message to deliver about finding the courage to determine one's own fate,"says Producer Nicole Feld. "We think her story translates well to the ice and will really resonate with today's audience."
Produced by Feld Entertainment, Rockin' Ever After remixes the stories of Disney's most adventurous heroines with upbeat music and energetic choreography that will have audiences singing, dancing and cheering for their beloved Disney idols. Mickey and Minnie encounter the most talented performers in the land with an all-star lineup that includes Sebastian and the Daughters of Triton from The Little Mermaid, the rowdy pub thugs from Tangled and the spunky enchanted servants from Beauty and the Beast. The journey continues to the Scottish highlands where audiences will be captivated and star struck by Merida, as an exhilarating archery contest ensues for the right to marry the fiery redhead.
"Our challenge in developing Rockin' Ever After was figuring out how to highlight moments from these beloved stories in a way that reflects the type of entertainment that families value today," says Producer Juliette Feld. "By pulling elements from the talent show trend on contemporary television, we developed a truly unique way to lead into each fairytale."
Friday, September 7 at 7:30 p.m.
Saturday, September 8 at 3:30 p.m. and 7:30 p.m.
Sunday, September 9 at 1:00 p.m. and 5:00 p.m.
Amway Center, 400 West Church Street – Suite 200, Orlando, Florida 32801
$52 Front Row, $37 VIP, $27, $22, $15 (Ticketmaster service charges and facility fees notincluded.) All seats are reserved, and tickets go on sale to the public July 20 at 10 a.m. Tickets are available at DisneyOnIce.com or ticketmaster.com, at any Ticketmaster outlet, by calling 800-745-3000, or at the Amway Center box office (phone for information only: 407-440-7900). For group ticket sales and information, call 866-248-8740.
SPECIAL: Get 4 Tickets for just $48 with code MOM12, valid for specific performances!