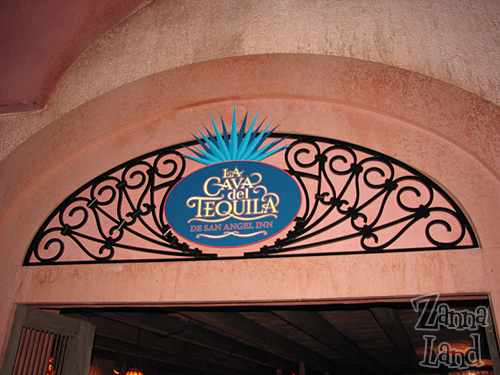 Now that Epcot's 14th Annual International Food & Wine Festival is coming to an end (November 8, 2009 is the last day), you may fear that your chance to sample international spirits is gone for another year. This is not the case because a new little spot opened up during the festival – La Cava del Tequila inside San Angel Inn at Epcot's Mexico pavilion. Here you can experience an endless array of tequilas from rare to common as well as beers and specialty margaritas. In addition you can enjoy tapas-style food items as well, to form the perfect pairing to the spirits available. The full menu is available at The Disney Food Blog, who's updates on twitter first informed me of the margarita I wanted to try – the Aguacate.
On our last visit to the Food & Wine Festival, we enjoyed several of the food items around the world we'd missed on our first trip, and also made time to include a special trip to La Cava del Tequila. As you enter the San Angel Inn of World Showcase's Mexico pavilion, the new spot is over to the right. The permanent twilight atmosphere already present inside the pavilion is the perfect backdrop for this new edition. As you enter La Cava, you instantly feel transported to a cozy little hole in the wall. There are taller pub tables where you can stand, order and enjoy your picks, as well as tables lining the wall. The tiny room can fill up fast, so you can also order your drinks to go at the bar and carry them with you around the pavilion (except on the boat ride of course) or outside to enjoy the rest of World Showcase.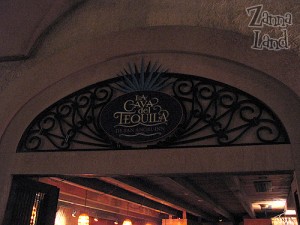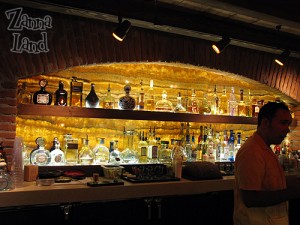 My husband is a tequila fan and had a hard time deciding on which tequila to try. In the end, he went with a shot of Cabo Wabo Gold (he is a Van Halen fan as well, so this combined the best of both worlds).
My mom and I agreed to share the Aguacate margarita. I wanted to try it because it features the unique ingredient of avocado! It sounded strange, but I'm always up for experiencing new tastes. The ingredients are: El Mayor Blanco Tequila, Midori melon liquor, fresh avocado mixed with fresh lime juice and agave nectar syrup, served frozen with a hibiscus Himalayan salt rim. Sounds interesting, right? Part of the fun was watching the bartender create the drink right before us, mixing a half an avocado right into the blender.
What resulted was a truly unique taste. It's definitely not as sweet as a traditional frozen margarita, which I liked. It was also the smoothest drink I've ever had as a result of the avocado. It was not like drinking blended ice at all, but almost like a cold custard. A VERY potent custard! I am not a big drinker and after a few sips I'd reached my limit. It's also a recipe for instant brain freeze, so beware!
Since we were on our way around the world sampling the Food & Wine Festival kiosks, we did not try any of the food items, but I would definitely go back and make an afternoon of settling back in and enjoying the atmosphere and options available. Probably without kids too, although there are non-alcoholic and dessert sampling options available too.
Next time you're in Epcot, stop in and take a look around even if you are not a drinker. It's a wonderful addition to an already enjoyable respite from the heat and sun. You will be treated like an amigo from the moment you enter, and feel right at home. Let me know what you try and what your favorites are!