Local media were treated to a special preview of construction progress at LEGOLAND Florida today. Included in this sneak peak was a helicopter flyover tour of the LEGOLAND Florida theme park – former site of the historical Cypress Gardens. It was my first time up in a helicopter and I must admit I was pretty nervous. Fellow blogger Shelley C. was there with me and we braved this new adventure together – and survived! It was actually totally awesome and I tweeted that I only wanted to travel by helicopter from now on.
During the flyover portion, Todd, our LEGOLAND guide and all-around cool guy gave us all the info on what attractions, rides and experiences were being built for LEGOLAND Florida visitors. The coasters on site are being re-tooled and re-themed with LEGO story lines and several all-new attractions are being built. In addition, the famed "MiniLand" takes center stage, featuring scaled miniature versions of famed cities like New York, Washington DC, Las Vegas, in addition to a special Florida-themed city scape. Adrian Jones, General Manager of LEGOLAND Florida shared that the best part of the MiniLand are the "interactives" or special events which take place at the touch of a button by a guest. In the Las Vegas city-scape, a LEGO couple emerges from a wedding chapel, the dancing waters seen at the Treasure Island are replicated, as well as lights and other fun surprises throughout the MiniLands.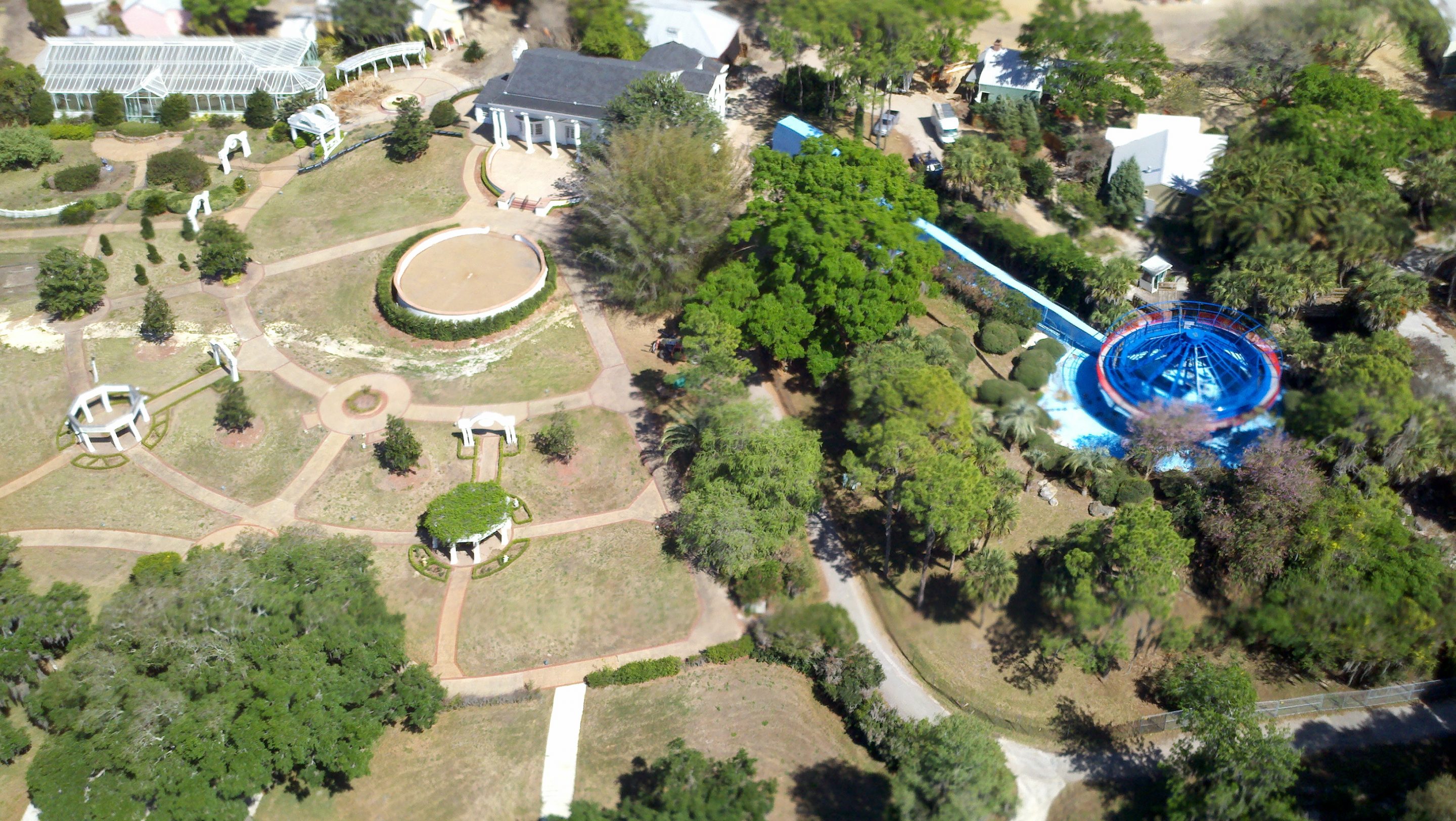 Jones understands that LEGOLAND has a lot to live up to with the past failure of the Cypress Gardens park, even after being re-vamped as an "Adventure Park" with thrill rides. However he is confident that they are up to the task. Jones says they know what they're doing and they aren't trying to be everything to everyone. The park is themed to ages 2-12 and they stick to that demographic. Jones joked that they are known for "pink knuckle rides" rather than "white knuckle rides" most theme parks offer. LEGOLAND operates 5 theme parks across the world and they have taken what works best in all the other parks to LEGOLAND Florida, with additional touches never before seen at any LEGOLAND park, including the first wooden roller coaster. Jones notes that money has been allocated for future use and expansion as guest feedback starts coming in. He anticipates the park to be a full-day experience at opening, with expansion extending it to a multi-day park visit.
Another draw to LEGOLAND Florida is the interactive experience parents will enjoy with their children, rather than letting them go on a bunch of kid-based rides as they stand by and watch passively. Jones points out that the quality time parents spend with their children building LEGO at home is transferred to the theme park experience as parents work together with kids on certain rides and attractions, like the Funtown Fire Academy and Driving School.
Something I was happy to see is that LEGOLAND Florida will be preserving the botanical gardens Cypress Gardens was known for, even paying homage with LEGO models of the Cypress Belles that once graced the lush landscapes and gardens. Little LEGO touches will be added throughout the area and Jones says the future might bring some cabanas for kids birthday parties within the gardens as well. There will be a water ski show with a pirate theme which works well with the Florida location.
This is just the tip of the LEGO brick as far as exciting new features at the park. Stay tuned for part 2 of my coverage. Until then, enjoy the photo and video tour of today's preview as well as highlights of LEGOLAND Florida's themed areas:

THEMED ZONES:
The Beginning
The Beginning hosts the park entry, ticket and pass sales, the Garden Restaurant and The Big Shop.
The Big Shop – One of the largest retail stores in the world where guests can take advantage of a huge selection of LEGO and LEGOLAND merchandise
The Market – Authentic imported Danishes and freshly baked pastries, espresso, milk, juice, fruit, a selection of yogurts and soft serve ice cream
Fun Town
When guests enter Fun Town, they truly get a sense they've entered a LEGO village.
Factory Tour – A firsthand look at how LEGO bricks are made from factory to finish
Studio Store – Visit this store to pick up all your favorite LEGO licensed products, such as Clutch Powers, SpongeBob™, Indiana Jones™, Star Wars™ and Batman™
Granny's Apple Fries – The park's signature dessert item made with crisp Granny Smith apples, powdered with cinnamon and sugar and served with a deliciously sweet vanilla cream sauce
Fun Town Theater – Three different 4-D movies will show throughout the day at LEGOLAND's largest 4-D theater with seats for 700
Miniland USA
The heart of every LEGOLAND Park, Miniland USA will be home to seven specially themed areas:
Florida encompasses the entire state from Mallory Square in Key West to Bok Tower in Central Florida and antebellum mansions in the Panhandle.  Miniland Florida also includes an expanded area for Kennedy Space Center and an interactive Daytona International Speedway® racing experience where guests can race LEGO brick cars.
Las Vegas features the world-famous Strip including the Luxor Las Vegas, New York, New York Hotel and Casino, Excalibur, Mirage, Treasure Island, Tropicana, MGM Grand, Venetian, Stratosphere tower and two iconic structures of Paris Las Vegas:  the balloon sign and Eiffel Tower. "The Strip" at LEGOLAND also features a miniature wedding chapel, monorails and real-life sounds recorded in Las Vegas.
Washington, D.C. sports faithful re-creations of the White House (including the first family and "first dog"), the U.S. Capitol building, Smithsonian, Washington and Jefferson monuments and parts of Georgetown. An animated marching band parades in front of the Capitol and tiny cherry trees blossom every spring.
New York City features tiny jets of water shooting up from the fountain in Rockefeller Plaza, while an army of animated yellow taxicabs prowls the streets of Times Square. The Statue of Liberty, a cutaway view of Grand Central Station, The Empire State Building, the Guggenheim Museum and the Bronx Zoo are just a few of the iconic landmarks.
A Pirate-themed section hosts a full-on swashbuckling pirate adventure as two opposing pirate ships and their "mates" battle it out upon the high seas.
Castle Hill
Castle Hill takes kids back to medieval times where spells are cast and many knights, damsels and dragons are found.
The Dragon – An indoor/outdoor steel roller coaster that features a spirited and humorous view of life behind the scenes within the enchanted LEGOLAND Castle.
The Royal Joust – Kids ride LEGO-themed horses through a number of medieval scenes where they encounter other riders in a simulated joust.
Land of Adventure
In Land of Adventure, visitors of all ages explore hidden tombs and hunt for treasure.
Coastersaurus – This junior coaster reaches curves and dips in and around a prehistoric jungle of animated and life-sized LEGO brick dinosaurs.
Lost Kingdom Adventure – LEGOLAND Florida's spectacular dark ride invites guests to fire laser blasters at targets and brave the rugged Egyptian landscape in all-terrain roadsters, while attempting to unearth the vast treasures of a forgotten empire.
Pharaoh's Revenge – This outdoor attraction lets children and parents fire soft foam balls at enemies and explore the complex maze of the Pharaoh's kingdom.
Beetle Bounce – Launch 15-feet up toward intricate, brightly jeweled LEGO scarab beetles perched atop two monumental obelisks.
XTreme LEGO TECHNIC® Test Track –Brave guests feel the power of acceleration, braking and maneuverability as they race a life-size LEGO TECHNIC vehicle along a wild roller coaster track.
AQUAZONE® Wave Racers –Riders zip in and out of waves as they dodge water blasters on this dual water carousel ride.
LEGO City
LEGO City is the perfect place for youngsters to live out their dreams in a scaled-down town created just for them.
Fun Town Fire Academy – Families race to put out a "blaze" by piling into a "fire truck" and power it by pumping levers across a paved straightaway. The first family to put out the fire and make it back wins
Driving School – A "real-life" driving experience for children ages 6 through 13, where kids receive their official LEGOLAND driver license.
Junior Driving School – A print-size version driving school course for children ages 3 through 5
Flight School – An inverted steel coaster that lets kids experience the thrill of flight.
The Big Test – This interactive show uses acrobatics, music and playful fun to teach fire safety as the zany crew of Fun Town Fire Department attempts to conquer the "Big Test" to become official firefighters.
Imagination Zone
Imagination Zone emphasizes exploring and creation, while showcasing seven of the most visually exciting LEGO models in the world, including a replica of Albert Einstein's head.
Game Space – Features 13 game stations where guests can experience LEGO STAR WARS™ and other family friendly games like LEGO INDIANA JONES™, LEGO BATMAN™ and Monsters vs. Aliens all year.
Build & Test – Build a LEGO car and test it against the competition on the digitally timed track.
LEGO MINDSTORMS™ – Build and program cutting-edge, computerized LEGO MINDSTORMS™ robots.
LEGO Clubhouse – Kids and parents stock up on bulk LEGO bricks and Make & Create kits while enjoying ice cream, popcorn, beverages and snacks.
Kid Power Towers – Kids and parents alike hoist themselves up to the top of a tower to get a great view of the entire park and lovely Lake Eloise, and then enjoy a fun "free-fall" to the bottom.
Pirate's Cove
Pirate's Cove has been taken over by swashbuckling pirates along the shores of Lake Eloise at LEGOLAND Florida's very own live-action, water-stunt show.
DUPLO® Village
Duplo Village is ideal for toddlers and their imaginations.  Youngsters can fly a plane, drive a car or explore a whole town – designed with their height in mind.