Welcome Adventurers – this morning Disney Cruise Line revealed tons of news and info about its newest ship, the Disney Treasure – we've got the whole rundown and review of the new themed spaces, and what to expect on this Disney ship that sets sail in December of 2024!
Below is the official press release from Disney, which I am going to comment on with my thoughts (in italics) after each announcement, let's step aboard the Treasure! (All images copyright Disney)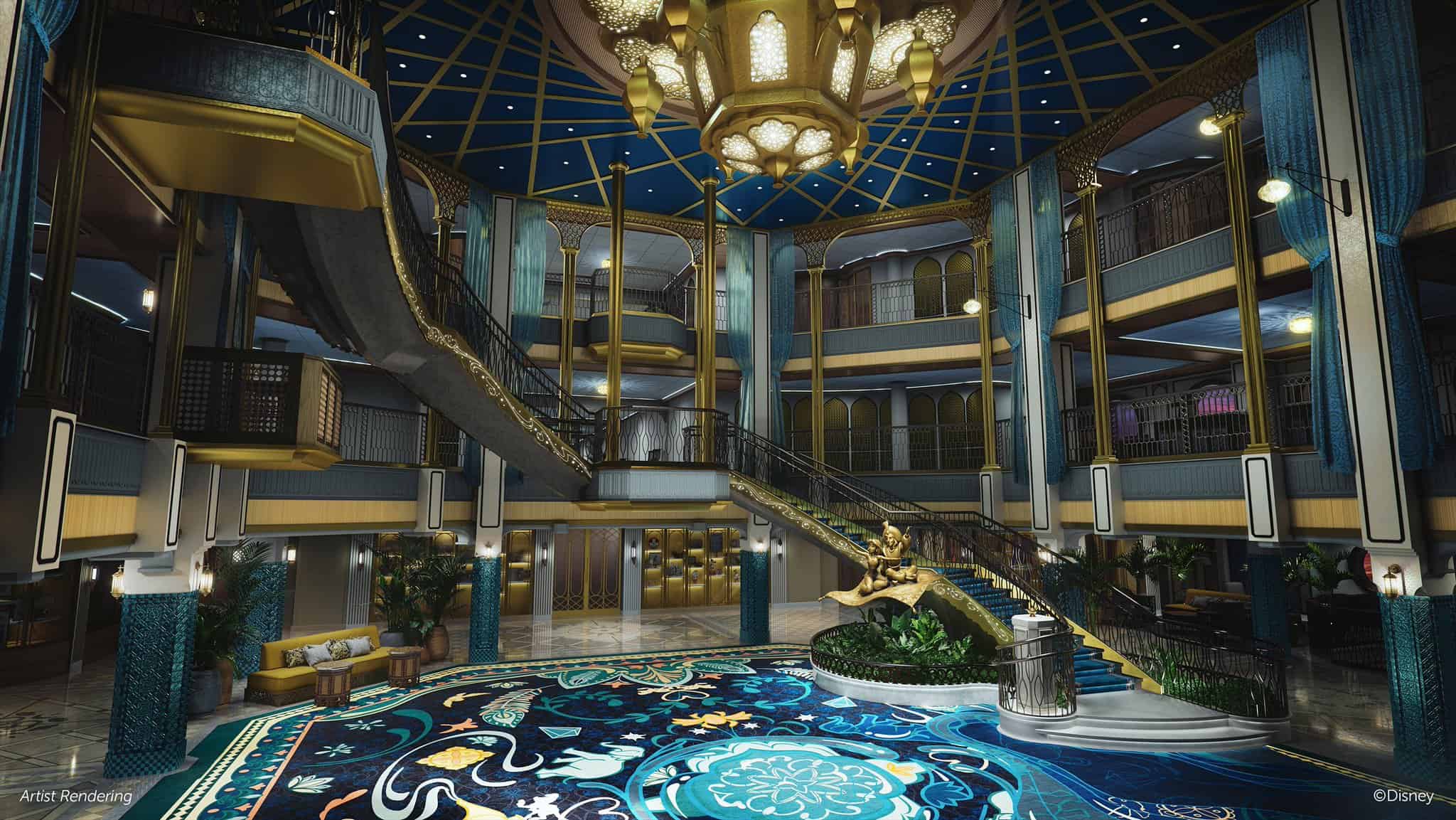 With the debut of new venues and reimagined familiar spaces, Disney Cruise Line's newest ship, the Disney Treasure, will bring captivating stories from beloved Walt Disney Animation Studios, Pixar and Disney Parks adventures to life like never before. The spaces onboard the Disney Treasure will invite guests to step into colorful plazas in Mexico, navigate the many winding rivers of the world, dive below the ocean's surface and more.

The Disney Treasure will embark on its maiden voyage, a seven-night Eastern Caribbean cruise from Port Canaveral, Florida, on Dec. 21, 2024, followed by an inaugural season of seven-night itineraries to the Eastern and Western Caribbean from Port Canaveral. Disney Cruise Line Castaway Club members can book a Disney Treasure cruise as early as Sept. 12, 2023, and bookings will open to all guests on Sept. 20, 2023. I bolded this important info if you want to know when the Treasure sets sail, and when you can book! 

This is a countdown image from today (9/5) revealing the dates Castaway Club members and the general public can book. The days will not change on this image but you can see the dates below for when to book.

On board, guests will find fan-favorite spaces from the Disney Treasure's sister ship, the Disney Wish, now themed to adventure, inspired by Walt Disney's love of exploration. From bow to stern, guests will discover Disney storytelling around every corner as they encounter themed spaces and live entertainment inspired by memorable tales like "Aladdin," "Coco" and "Zootopia."

"The Disney Treasure will bring brand-new stories to life, blending one-of-a-kind experiences with the extraordinary entertainment, world-class dining and unparalleled hospitality that make every sailing so memorable," said Sharon Siskie, senior vice president and general manager, Disney Cruise Line. "As we chart a course for adventure, we're so excited for families to discover the excitement and exploration that awaits onboard the sixth ship in the Disney Cruise Line fleet."

Brand New Dining & Entertainment Inspired by Pixar and Walt Disney Animation Studios
Adventures from the vibrant, heartfelt worlds of Disney and Pixar will lend inspiration for two venues onboard the Disney Treasure.

Plaza de Coco will be the first theatrical dining experience themed to the Disney and Pixar film, "Coco." This theater-in-the-round entertainment venue will feature dining tables surrounding a central stage, with performances and show effects that will spread throughout the room. Guests will enjoy two different nights of unique dining experiences at Plaza de Coco during their voyage.

On the first night, the story of Miguel and his familia will continue where it left off on screen as they gather in Mariachi Plaza to take guests on a colorful, music-filled journey that celebrates family memories and togetherness. On the second night, Miguel will reunite with his great-great grandparents, Hector and Mama Imelda, by transporting them to Santa Cecilia with the help of his magic guitar for a Día de los Muertos celebration. Both nights will feature a dinner menu of modern twists on traditional Mexican fare and a lineup of live entertainment.

Plaza de Coco will be in the spot where Arendelle's Frozen dining experience is on the Wish. I think this is a wonderful addition and I'm *pretty sure* I'll be shedding a tear here if it's anything like the movie. It seems like a natural fit for cruise line dining and Disney Cruise Line was sorely missing some latin cuisine aboard its ships! I can't wait to review all the vegan options on the Disney Treasure for VeganDisneyFood.com! 😀 

Next, the sweetshop, Jumbeaux's Sweets, will be reminiscent of the popular ice cream parlor, Jumbeaux Café, from the bustling mammal metropolis featured in Disney's "Zootopia." Surrounded by playful pink interiors, Victorian-style architecture and an endearing sculpture of Officer Judy Hopps and Nick Wilde, guests will be served humor and heart by the cone full.  From bunnies and elephants to sloths and foxes, all are welcome to indulge in more than 20 flavors of handmade gelato, 16 flavors of ice cream and sorbets, specialty treats, candies and more.

The artist renderings for this space look very fun, and it totally makes sense for an ice cream shop and a fun place to add some Zootopia references. I really hope we get some miniature stuff in here as well from Little Rodentia! 

Disney Theme Park Adventures on the High Seas
For the first time, the nostalgia and lore from beloved theme park attractions will come to Disney Cruise Line with a unique lineup of Disney Parks-inspired venues aboard the Disney Treasure.

Skipper Society, a themed lounge near the Grand Hall, will bring Disney Parks' iconic Jungle Cruise attraction to sea for the first time. The venue's natural colorways and camp-style furnishings, paired with sly tributes to the trusty, dry-witted skippers, will offer an elevated, playful atmosphere. Guests will discover references to the famous attraction throughout the space, from a whimsical monkey-shaped chandelier to postcards and luggage tags brought back from travels abroad. Beneath a canopy of jungle foliage, guests will indulge in themed cocktails and light snacks and enjoy live entertainment.
Periscope Pub will become Disney Cruise Line's first venue inspired by the spellbinding adventure of Walt Disney's 1954 film, "20,000 Leagues Under the Sea," and the celebrated Disney Parks attraction that was open at Walt Disney World from 1971 to 1994. The design of the submarine-style interiors will call upon 19th century steampunk influences with polished metals and industrial touches. A mysterious window into the depths of the uncharted oceans along the ceiling will make guests feel like Captain Nemo on the Nautilus, while a decorative statement rug in the center of the space will honor Captain Nemo's fabled nemesis, the giant squid. This casual venue will be the ideal onboard locale for guests to unwind and watch live sports and news, while ordering from a menu of craft brews and light bites.

Embracing the adventures of the future, the Tomorrow Tower Suite will capture the same forward-thinking mindset that inspired the Walt Disney World Resort theme park, EPCOT, with an energetic design. Throughout the suite, dynamic art pieces, molten metal accents and futuristic, colorful glass accents will evoke the distinct atmosphere of EPCOT's World Discovery neighborhood. Set high in the ship's forward funnel, this one-of-a-kind suite will overlook the top deck of the Disney Treasure and glimpse the open horizon through an expansive two-story window. With nearly 2,000 square feet of living space, the Tomorrow Tower Suite will comfortably sleep eight guests and feature areas for eating, sleeping and playing, as well as other perks like a full kitchen and private ensuite elevator.

The distinct atmosphere of EPCOT's World of Discovery neighborhood will be interpreted through dynamic art pieces, molten metals accents and futuristic, colorful glass accents throughout The Tomorrow Tower Suite aboard Disney Cruise Line's newest ship, the Disney Treasure. (Disney)

I must say, I am *truly* shocked at the addition of these theme park-inspired spaces, especially the EPCOT tie-in (though it is very basic-looking from the images, there won't be a Kitchen Kabaret wet bar or anything (or maybe they'll surprise me?!) but still, paying homage to one of the greatest original theme parks of all time is nice to see (even if it's a post 2020's tribute). 

As far as the Skipper Society and the Periscope Pub, brilliant way to get those nostalgic older Disney fans (and their willingness to invest in these types of experiences) on board (no pun intended) with this new ship. Seriously, they both seem like great themes, and if it gets people interested in park history and lore, I'm all for it.
Classic Disney Adventures in Familiar Spaces
The Grand Hall will embody the ship's theme of adventure, with statues and décor that call on the gilded palace and wonder of Agrabah from Walt Disney Animation Studios' classic tale, "Aladdin." The space will serve as the ship's most prominent gathering space and will offer its own dedicated entertainment moments and surprises.

Just off the Grand Hall, two casual walk-up cafes will serve a selection of coffee, tea, specialty beverages and snacks, with new themes that draw inspiration from two brave Disney Princesses, Moana and Mulan. Named for Moana's trusty sidekick, Heihei Café will echo the scalloped seashells and reflective blue waters of the Southern Pacific Isle of Motunui as its portrayed in Disney's animated feature "Moana."  The venue will feature furniture stylings that pay homage to a traditional construction technique used by the Polynesian people to craft seafaring vessels. Jade Cricket Café, inspired by the classic Disney film "Mulan," will honor the Fa Family's "lucky" cricket, Cri-Kee, who will be represented by a jade sculpture on the bar top. From the central moon gate to the plum blossom flowers adorning the walls, symbols of Mulan's strength, beauty and heritage will fill the café, while the striking blue walls and metallic counters will be reminiscent of her armor.

I think Cri-Kee is a very underrated character and I love that he will be represented in this cafe. Most of all, I feel like the venues and stylings announced seem much more "theme park" and much less "cruise ship" which honestly, I think is what sets Disney apart and what they should be doing vs. typical cruise venue hardscapes. 

Further, Sarabi, a central hub for a multitude of daytime activities and adult-exclusive evening entertainment, will evoke the natural beauty and openness of the savanna where its namesake, the lioness matriarch from Disney's "The Lion King," lived.

I don't really have an opinion on this as I'm not sure how a lounge space with stage translates into The Lion King, but I guess we'll see it when we see it! I just think there are a lot more IP's to pull from that would've made more sense in this space. Pinocchio is one that comes to mind, because there are performances within the film, so it would lend itself to a space with a stage. I guess I did have an opinion. 

AquaMouse: Curse of the Golden Egg, Disney Cruise Line's own attraction at sea, will plunge guests into the world of Mickey Mouse animated shorts. Suspended high above the upper decks, powerful jets will propel two-person ride vehicles through 760 feet of winding tubes, offering breathtaking views of the ocean and the ship below. Onboard the Disney Treasure, AquaMouse will introduce a new storyline that follows Mickey Mouse and Minnie Mouse on a zany misadventure into an ancient temple for a glimpse of the legendary treasure within.

I'm excited for a new storyline, but I feel overall the AquaMouse was a bit of a letdown on the Wish, and will remain so on the Treasure. Rather than the AquaDuck, which is a fun, fast-moving waterslide adventure, with major re-rideability, the AquaMouse is very slow-moving, with a very short portion of actual waterslide. It's fun to do once, but not something worth waiting in an extended queue for, in my opinion. Hopefully the upcoming other ships will find the right balance of technology and thrills. (But I'm still looking forward to experiencing this new one at least once or twice!)

The artful accommodations aboard the Disney Treasure will be inspired by classic Disney tales of adventure. The 1,256 staterooms onboard will feature custom artwork and design elements that evoke the exploratory spirit of beloved Disney and Pixar films including "Aladdin," "Pocahontas," "Up" and "Encanto," while the concierge and royal suites will bring to life the incredible character journeys – and some beloved feline sidekicks – from "The Lion King," "The Jungle Book" and "Aladdin."

Disney Treasure suites:

Finally, many Disney Cruise Line favorites will return to the Disney Treasure. In addition to an all-new, yet-to-be-announced stage production coming to the Walt Disney Theatre, "Beauty and the Beast" and "Disney Seas the Adventure" will thrill audiences with tales as old as time, while the upper decks will come to life with music and fireworks during the swashbuckling Pirate's Rockin' Parlay Party. Worlds of Marvel – which will include a new, second dining experience with more details to come – and 1923 will round out the family dining rotation, while The Rose, Palo Steakhouse and Enchanté by Chef Arnaud Lallament will continue to wow adults with exceptional views, gourmet meals and delicious beverages. For kids of all ages, Disney's Oceaneer Club, Edge, Vibe and It's a Small World Nursery return provide designated space to let their imaginations run free under the guide of Disney-trained counselors.

So the rest of the areas sound the same as the Wish, which is fine, it'll give guests used to the Wish either reasons to explore a longer itinerary on the Treasure, or have time to explore the new areas that aren't similar on the Wish. I personally haven't been to the upcharge areas on the Wish yet, because we just didn't want to miss out on anything on our first (and only) sailing on that ship. We didn't feel the need to return to the Wish, but I do feel like the Treasure holds more intriguing and enticing spaces for me personally, so I hope I feel that way when the Treasure arrives. I cannot wait to see more concrete updates with physical images vs. artist renderings. 

As far as booking and itineraries, obviously doing 7 night cruises will put this in a different price bracket than the Wish's 3-4 night sailings. Holding the maiden voyage so close to the holidays will also ensure the prices are more than the average Disney Cruise Line first timer is probably willing to invest. However, prior to its newer Oasis class ships, Royal Caribbean had the market on more economical cruising without losing out on amenities or fun. Now, with ships like Wonder and Icon of the Seas, prices have been inching up, and we all know that though we will complain, most will also pay it to be on an inaugural sailing of a brand new ship. Time will tell, and we won't have to wait long to find out, because booking opens as early as September 12 for Pearl Castaway Club members (25+ sailings), and September 13 for Platinum, September 14 for Gold but Silver has to wait for September 19 and general public September 20, which will drastically reduce inventory for the inaugurals. We hope this Disney Treasure review has helped with your potential planning!

I'd love to know what you think of the Disney Treasure news and what areas you're most looking forward to experiencing first hand! Will you be securing a cabin for the inaugural sailings?