I mentioned in my Disney Resorts entry how our first foray into "on property" resorts was Disney's Lake Buena Vista Vacation Villas. I found a few pictures that I scanned in and thought I'd share here.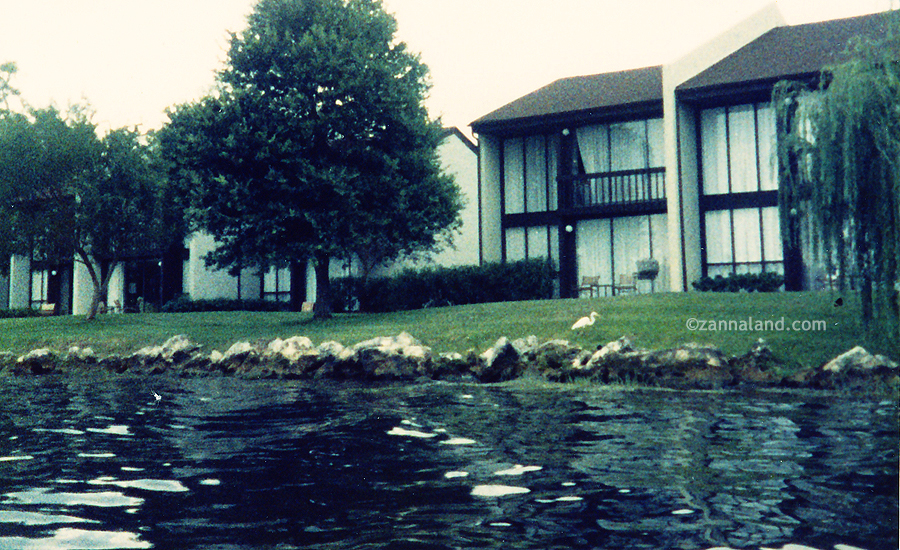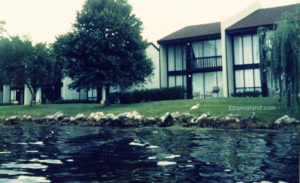 As I described before, there were 4 different types of Lake Buena Vista Villas: Club Lake Villas were, if I recall correctly, more luxurious than the Vacation Villas. The Fairway Villas were smaller and on the golf course. The Vacation Villas were the attached townhouse style and the Tree House Villas were the really cool two-story tree house style homes nestled in the forest. The only remnants of this era of Disney resorts are the Tree House Villas, now refurbished after being used for years as homes for College Program International Cast Members. You can view the Tree House Villas from the boat that sails from Port Orleans and Old Key West Resorts to Downtown Disney. I always loved riding the Disney resort buses from the parks to the Vacation Villas, because we had to go through the Tree House Villas first and you never knew what you'd see on those dark roads; raccoons, bunnies, deer…it was great fun.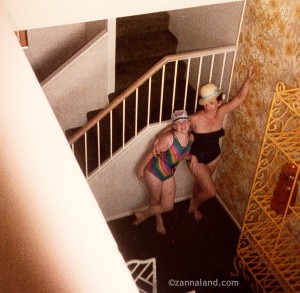 The layout for the Vacation Villas we stayed in was a typical condo layout downstairs: small kitchen with pass-thru and bar stools at the counter, dining area, bathroom, and family room with a sleeper sofa, tv, etc. The fun was upstairs, where the master bedroom was actually an open loft design. You have no idea how cool this was to an 8 year-old. The master bedroom had a king bed and a tv, then a bathroom too as I remember, but the wall that the tv was on was completely open to the family room downstairs. It was so exciting to me. There was another bedroom upstairs with two twin beds and a bathroom. The family room downstairs had sliding glass doors leading to a patio with chairs. There were several options for views, but we always requested and received an Empress Lily view.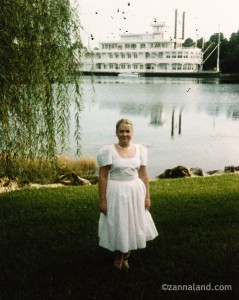 Another great part of staying at the Lake Buena Vista Villas was you were able to rent a golf cart for the length of your stay. You could then get anywhere you needed to go in that area with the golf cart. We drove to breakfast at the Buena Vista Club restaurant. (This was the Club attached to the golf course). We explored the other villas…if my dad had been a golfer obviously he could've used it for that too! The best part was driving to the Lake Buena Vista Village Marketplace. You may know it now as Downtown Disney.
We could drive our golf cart over the bridge in the area that now houses the bus stops for Downtown Disney. From there we could park over where Downtown Disney Guest Relations now is, plug in the golf cart and explore the shops and restaurants. I think there were only a few at the time Cap'n Jack's was one, and Chef Mickeys, which stood where Rain Forest Cafe now exists. It was a quaint, little place then. Dark wood decor, windows overlooking the lake and the Empress Lily. It had a separate lounge where you could wait and have a drink while you waited for your table. Back then, if you ordered one of a few specific drinks, you could get a souvenir plastic mug to keep. I remember getting a drink similar to a Shirley Temple, with rock candy swizzle sticks. A lot. I have quite a few of those red mugs with Chef Mickey's image on them. I had to stop using them because the dishwasher was wearing off the design.
I think the only other restaurant was Heidelberg's deli where Earl of Sandwich is now. Mickey's Pantry was there, a jewelry store called 24-K and a few other shops. Can you imagine a Marketplace without World of Disney, Once Upon a Toy, the Lego Store or even Pleasure Island?? That's how it once was. The Marketplace truly was a rainy day excursion and not an attraction unto itself like it is now.
Sadly, Disney decided to discontinue operations of the Villas. They used some of the buildings during the Disney Institute years, but then demolished all of the original villas (apart from the Tree House Villas) and built the Saratoga Springs Resort as part of the Disney Vacation Club program. Saratoga Springs now offers some of those same gorgeous views of the Empress Lily that we once enjoyed, even though it's now called Fulton's Crab House.
Another thing I found in my search for old pictures was this coupon for the arcade at the Lake Buena Vista Villa Center. Think they'll still honor it? 😉
I welcome any information, links or pictures from this time period at Walt Disney World!!