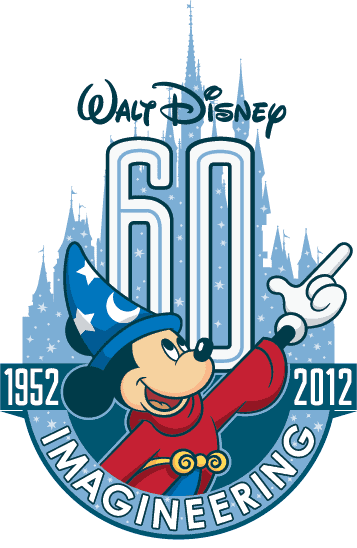 The main reason I joined Disney's D23 back when it was first announced, is a promised peek into Disney history and just what made this company we all know and love, so great. I may have missed the first Destination D and Expo out in California, but I have attended each subsequent Destination D and 2011's Expo. The things I learned, the history shared, the stories, the images, cannot be compared, and really, cannot have a price put on them. I, as a fan, am so grateful for the things the Walt Disney Archives and D23 have done, to share and nurture the legacy that is the Walt Disney Company.
So it was with great excitement that I read the news below, revealing an Imagineering "Open House" to give attendees a glimpse behind the creative process of Imagineering. In addition, several panels with Imagineers, discussing various projects and company history. The only downside will be deciding which panels to attend! Read below for the full press release from D23 – and I hope to see you at the Expo!
Disney Takes Fans Behind the Magic with an Unprecedented Look at the Imagineering "Dream Factory"
BURBANK, Calif. – June 28, 2013 – In honor of the 60th anniversary of Walt Disney Imagineering and the origins of Disney Parks and Resorts, Imagineering is hosting an "open house" at the D23 Expo, August 9-11, opening the doors of its unique facilities and offering an unprecedented look at its creative processes—all on the floor of the Anaheim Convention Center. In addition, Imagineers past and present will host an entire day of panel discussions on Sunday, August 11, celebrating their 60 magical years of "dreaming and doing."
Within the "open house" pavilion, D23 Expo guests will get an up close look at an eclectic array of Imagineering's creative minds—ride engineers, model builders, pre-visualization artists, special effects designers, inventors, and show animators—as they share the skills and talents behind Imagineering's creative process. In addition, guests will have the chance to glimpse at the "workspaces" of several project teams from around Disney's global portfolio of parks and resorts, perhaps spotting a few clues into coming attractions along the way.
For the first time at the D23 Expo, Walt Disney Imagineering will be showcasing some of its most historical and revered concept art from its Art Library, including Herb Ryman's original drawing of Disneyland. Also in the Disney Parks pavilion, D23 Expo guests will again have the chance to explore Mickey's of Glendale, an outlet of Walt Disney Imagineering's employee-only store, to shop for unique souvenirs and collectibles and Walt Disney Imagineering merchandise not available anywhere else.
In addition to the Imagineering Open House, D23 Expo attendees will be able to attend 12 unique presentations and panel discussions that will take fans on the incredible journey behind the latest Disney resorts, attractions, and entertainment including:
·      The Art and Artistry of Aulani – Imagineers Joe Rohde and Jeanette Lomboy will share the authentic tapestry of art and stories found at Aulani, A Disney Resort and Spa. 
·      Mayhem, Mischief, and Monkeys: The Magic of Mystic Manor – Join Imagineers Joe Lanzisero and others for the strange stories behind Hong Kong Disneyland's Mystic Manor, the newest and one of the most sophisticated attractions ever built.
·      Undiscovered Disneyland – Legendary Imagineer Tony Baxter shares rare and never-before-seen footage of the early days ofDisneyland, from design and construction through opening day.
·      Broadcasts from Buena Vista Street – Enjoy the latest 'soundtrack' from Disney California Adventure's Buena Vista Street, featuring a live performance of Scary Symphony from radio station KBVS and a panel discussion led by Imagineers.
·      Disney Ambassadors – Join current Disney Parks Ambassadors from around the world as they discuss this renowned program and share insights about its rich heritage, current outreach efforts, and the importance of sharing Disney goodwill.
·      Voices of the Disney Parks – Back by popular demand, this panel of famous Disney voices will gather for an encore panel discussion, including recreations of some unforgettable Disney Parks sayings.
·      Charles Phoenix Presents – Noted humorist and self-proclaimed "retro daddy" Charles Phoenix shares some of his favorite images from around Disney, featuring classic kitsch, clashing colors schemes, and hairdos that truly defy gravity.

The panels continue on Sunday August 11, with a full day dedicated to the celebration of Walt Disney Imagineering's 60th anniversary. The presentations in the 2,000-seat Stage 23 with current and former Imagineers will explore a wide range of topics, from working with Walt Disney himself and the exploration of creativity, innovation, and humor in the parks, to a lively discussion of what it's like to lead one of the world's most creative organizations. More details on these exciting panels and presenters will be revealed soon. D23 Expo tickets are available now.