Last week on ZannaLand, I posted the menu for the Tables in Wonderland Discovery Dinner at The Wave, featuring local Florida farms and ingredients. The dinner was, in a word – exquisite. I am not a wine drinker, but I discovered that good wine, makes all the difference and actually enjoyed all the selections. The food was phenomenal, as was the personalized experience and attention to detail the Tables in Wonderland staff provided. I'm happy to share our evening with you here, in picture form…{as always, click to enlarge the photos}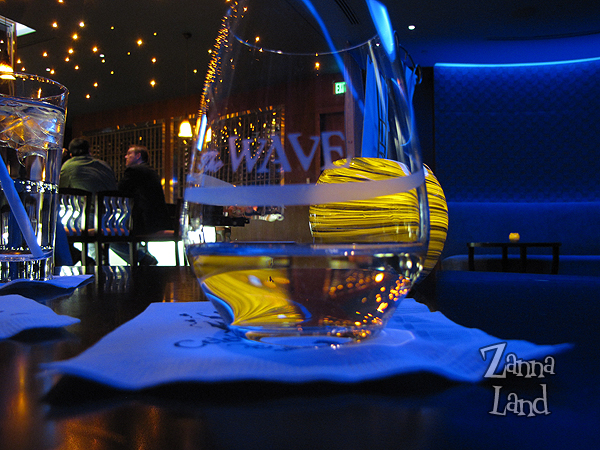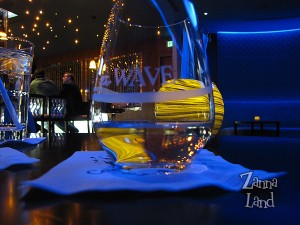 August Kesseler Sylvaner/Riesling, 2007, Rheingau, Germany {my favorite of the night}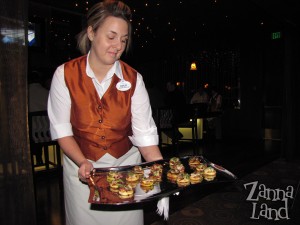 Marques de Caceres Rose, 2008, Rioja, Spain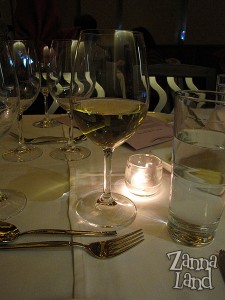 Tablas Creek 'Cotes du Tablas' Blanc (Viognier, Roussanne, Marsanne, and Grenache Blanc), 2008, Paso Robles, CA.{my mom's favorite wine of the night}
Domaine Vincent Girardin 'Emotion de Terroirs' Burgundy (Pinot Noir), 2005, Meursault, France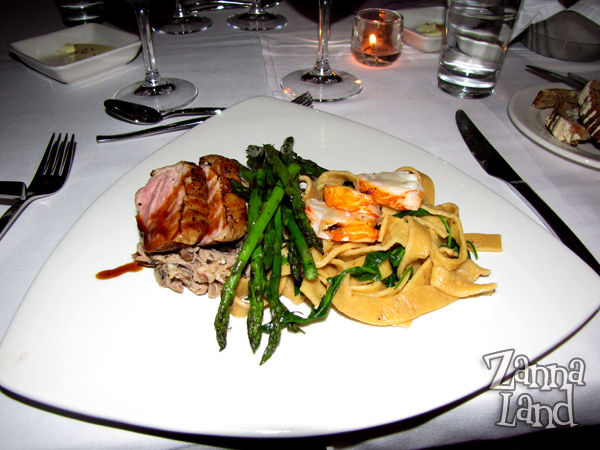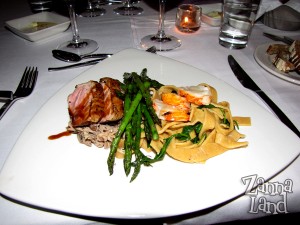 Before dessert, Chef brought out the pastry and dessert chef, who explained to us the gorgeous creations we were about to receive. They almost looked too good to eat. Almost.
Our dessert wine was Perrin et Fils Vinsobres (Syrah/Granache), 2007, Cotes du Rhone, France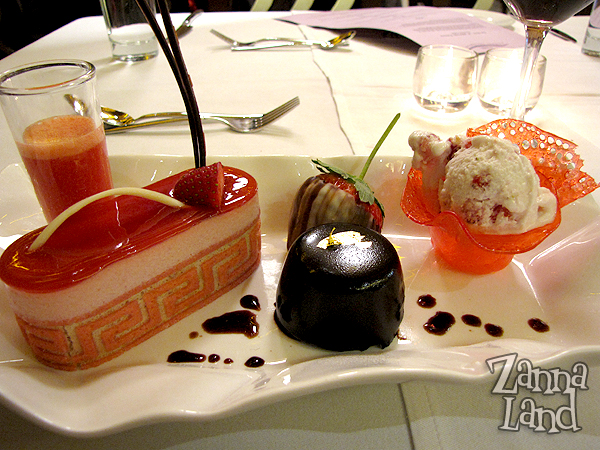 This was an absolutely wonderful night for my mom and me. We ended up having our own private table because some of the guests did not show up for the event. However, we were not lonely. The staff at The Wave and the cast members from Tables in Wonderland (especially Athena, thank you so much!) made us feel extra special and taken care of all night. We were visited by Jim Killam, the wine importer and sommelier responsible for our selections, as well as the distributor who sells those selections to Disney. The head chef spoke with us more than once and explained all the details of the courses and let us know about upcoming events as well. It was a unique experience we won't soon forget. Tables in Wonderland knows how to take care of you!
As for those upcoming events, I thought I'd share them here with you as well.
Tables in Wonderland Presents:
The Wave… of American Flavors Discovery Dinner
Thursday, March 18, 2010
6:30 p.m. Reception.  7 p.m. Dinner
Location: The Wave… of American Flavors at Disney's Contemporary Resort.
$92 per person, includes tax and gratuity. The event is limited to 50 Guests.
The Wave… of American Flavors Discovery Dinners continue in March by celebrating Santa Sweets Tomatoes as our guest farmer.
Santa Sweets, Inc. is the country's only grower and packer of Santa Sweets™ grape tomatoes, selling its harvest of 3,000 acres to a wide variety of foodservice operators and just about every large supermarket chain in the country. They are also the only grower of UglyRipe™ tomatoes. Their heirloom UglyRipe™ tomato is quickly becoming a favorite among chefs and consumers alike. All of their products are also available as USDA-certified organic. In fact, they are one of the largest growers of organic tomatoes in the United States.
Headquartered in Plant City, Florida, Santa Sweets growing locations include Florida, North Carolina, New Jersey, and Mexico.
Tables in Wonderland Presents:
Raglan Road™ Irish Pub and Restaurant
DOWNTOWN DISNEY — Pleasure Island
Tuesday, March 30, 2010
7 p.m. Reception.  7:30 p.m. Dinner
Price: $115.00 per person, plus tax. Gratuity is included. The event is limited to 63 Guests.
Master Chef Kevin Dundon is delighted to bring a taste of modern Irish cuisine to DOWNTOWN DISNEY in the form of Raglan Road Irish Pub and Restaurant. Chef Kevin is also chef/proprietor of the 5-star Dunbrody House Hotel & Cookery School in Wexford, Ireland and brings his philosophy on great food to the menu at Raglan Road.
Join Chef Kevin for a very unique dining experience in the beautiful surrounds of the Raglan Room. This oak-paneled room was built using original woods from an old Georgian mansion in Dublin. Throughout the restaurant you will find antique furnishings, grand fixtures, marble adornments, leaded glass, and ornate detailing.  The entire pub was built in Ireland then shipped to Orlando.
The menu is inspired by the best of traditional Irish cuisines, using the finest quality ingredients with delicate complementary flavors to create remarkable dishes served with a stylish twist.
Chef Kevin will give a detailed description of each dish on the menu before you decide which wonderful option to choose. Guest will also be treated to a complimentary signed copy of Kevin's book "Great Family Food."
For reservations, please email [email protected] with the following information: your interest to book, your name, daytime phone number, home address, and the number of people in your party.  You will be notified on a "first-come, first-served" basis. Your credit card will be taken over the phone once your reservation is confirmed.
{I am a member of the Walt Disney World Moms Panel, but did not receive any special treatment or discount for attending this Tables in Wonderland event. We just love Tables in Wonderland!}