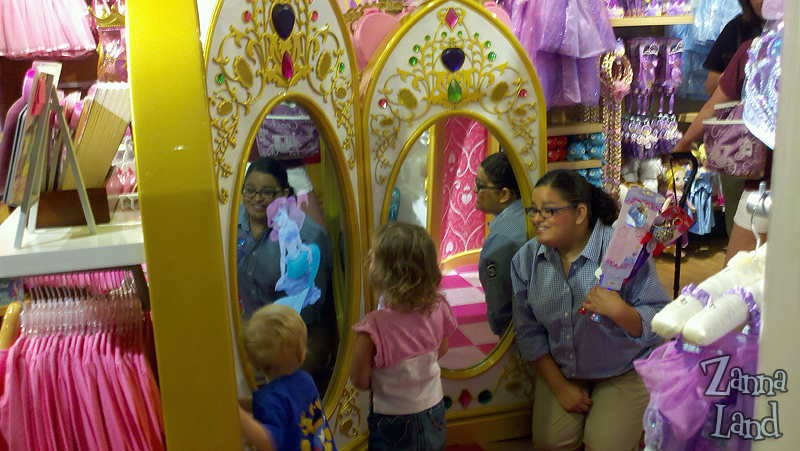 Remember my recent coverage of the opening of my Tampa area Imagination Park Disney Store? The cool lock and key to "Unlock Imagination" and how each day a child would be chosen to turn the key? Well now your child could win the opportunity to do just that at the brand new Times Square, New York location, along with an amazing prize package too!
There's only one week to enter, so read the details below and get right on that —
Disney Launches Online Search for Child to "Unlock Imagination" at Disney Store in Times Square
One Week Only to Enter Disney's Family.com Sweepstakes for a Chance to Win Ultimate New York Prize Package
PASADENA, Calif., Oct. 19, 2010 — Disney announces an online contest on Family.com to win a trip to the grand opening celebration of Disney Store's Times Square, New York City location on November 9 and a starring role during the star-studded opening ceremony.  The crown jewel of Disney Store's slate of store openings around the world this year, the Times Square location will be celebrated with magical festivities including celebrity appearances, live musical performances, a parade of Disney's most beloved characters and interactive experiences storewide. Beginning October 19, Disney fans will have just one week to register online for the chance to join the fun in-person, win a $250 shopping spree, and have the distinction of their child taking the stage to turn the key to imagination and officially unlock the all-new Disney Store in Times Square.  The lucky family will also meet award winning singer Jordin Sparks during a private VIP reception after she performs Disney's "Beauty and the Beast" theme song, which she rerecorded to celebrate the 2010 release of the Blu-Ray and DVD.
To participate, families should visit www.Family.com/sweeps/disney-store between October 19-26 and register for Family.com's Disney Store Times Square Grand Opening Sweepstakes. Details will also be shared on Disney Store's Facebook page and through its Twitter feed. One lucky family of four will be notified on October 27 and then set to pack their bags for a 3-day/2-night trip to New York City (November 8-10). See www.Family.com for complete details and official rules.
The lucky winners will join VIPs, celebrities, tourists from around the world and New York guests in exploring the magical new store. Centerpieces include:
Two-story Disney Princess Castle complete with its "talking" Magic Mirror
Colorful Lucite trees spring up throughout the store, showcasing custom Disney content
Disney-Pixar CARS-branded Ridemakerz interactive custom car building experience
Disney Store Theatre that allows guests to customize their experience by selecting their favorite Disney film clips, videos, classic animation and more
To find a Disney Store, guests can visit www.DisneyStore.com/storelocator or call (866) 902-2798. Guests can also sign up for email alerts at www.DisneyStore.com/Updates, become a fan on www.facebook.com/DisneyStore or follow us on Twitter www.twitter.com/DisneyStore to stay connected to your favorite destination.