(and then find a way to get paid for it.) That's the old saying, right? That is definitely the way I have looked at my quest for a dream job over the years, I just haven't figured out the latter part of that equation quite yet. I'm not worried, even though some days I feel like a dried up old prune at 35, a good friend of mine's mom didn't go back to school and become a nurse until her 40's. She has always been my inspiration when I remember to think, "it's never too late!". My mom could be another example, having reinvented herself several times over the course of her lifetime. She began as a ballerina at Radio City Music Hall (in the Corps de Ballet, not the Rockettes) at the age of 16, continued to dance and teach until she was in her 40's, then ventured into the world of homemade ice cream shop and restaurant ownership with my father. Later, when I got into the Travel world, she followed me there in the field of cruises, and is now a multi-million dollar cruise agent 12 years going. (She'll be celebrating her 70th birthday the end of August!)
When I wrote my first 'published' work [I use the term loosely because I published it myself…there is a whole subculture of zine-writers out there and I was proud to be a part of them, if only for a short time. It takes a lot of time and energy (and expense) to be constantly promoting yourself and looking for distributors of your work, and then hoping for good reviews as well.], this was actually the topic I covered, my quest for my "Dream Job" (or, My Life as a Slacker). Reflecting back on that piece now, 5 years later, I am starting to realize that the one piece missing in my quest…is the actual QUEST.
I'm not going to open my google inbox some morning and find a "Congratulations, you're hired at your Dream Job!" email…okay, well that's a bad example, because I probably have about 45 of those in my spam folder right now, along with Nigerian lottery winnings and lots of other Royalty that wants me to hang on to their inheritances because I'm just THAT special…But my point is this, as with anything in life, if you want it, you've got to go get it. Get busy livin' or get busy dying. Life is like a box of chocolates…I could go on with innumerable life-lessons from movie quotes if you'd like…no? Ok, I'll stop.
So then what *is* my Dream Job™? From a very young age, I always loved writing. I loved making up stories, either in my head or in papers for school, or in journals I'd keep. For a time, I thought I'd become a teacher, or even a lawyer because I loved to do speech writing and public speaking (despite my neck turning BRIGHT red whenever I did so, I made it to the state finals in Virgina for Forensics in high school – public speaking Forensics, not CSI stuff). Then I went back to the writing idea and thought I'd give Creative Writing for Children a try. Of all my college classes, that (and Medieval Architecture) was my favorite. However somehow in that time frame, I just got lost in the sea of classes and became pretty overwhelmed and took a semester off. It was a weird time. While I was working at my long-time job as a waitress, I got the brilliant idea that working at Disney World was THE best idea ever. That started my time a Cast Member, which I'll discuss here soon (but you can read about it at afterthemouse.com too).
Eventually I wanted a 'real job' (aka weekends off) and got into Travel (which is what I'd gotten my degree in: Travel & Tourism Management). Then I got married, and had babies and never really went back to work full-time. I tried my hand at a few things; The Disney Store, selling travel from home, going back to Disney with their Travel Co, and lastly working as a barista at Starbucks (because I just like coffee THAT much). All the while wishing I could write and get some magical dream job where I got paid to do so.
What kept me from writing though, was the fact that every time I put fingers to keyboard and began to type, I didn't have any made-up stories to tell. I somehow just kept telling my own stories…about my crazy family, some of their heartbreaking tales, my childhood, my thoughts on things. "Who would want to read THAT?" I kept telling myself. So I'd get an idea of something to talk about, and just push it back further and further until I forgot about it. Fear of failing kept me from ever trying.
And the day came when the risk to remain tight in a bud was more painful than the risk it took to blossom.~Anais Nin
Well, apparently, it's taken me 35 years to blossom. The women in my family always have had a high threshold for pain. 😉 Even when I decided back in 2004 to write that zine (and I had an essay published and contributed to another well-known zine), the fear came back so I stopped. Well now the fear is gone. I am here and I'm going to share my thoughts and stories and silly tales with the world, even if that world consists of me and my friends on Twitter.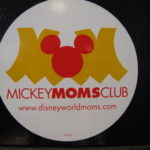 Will I ever get 'paid' to do this dream job? Odds are, not too likely. But I should think positively, right? Maybe writing this blog and connecting with others will lead to something wonderful, and in turn to something else amazing. Who knows what the future will bring. My true dream job would be to work for Disney World again in some aspect. Last year I tried out for the Disney Mom's Panel. I did not make it past the first cut, but I will keep trying because it is a goal I'm ready to work for. Disney has been a part of my life for, well, all my life and I'm just now making the wonderful connection between writing and Disney-and I'm a mom! I know there's a great future there and I intend to see it through. After all, all it takes is faith and trust, and just a little pixie dust, right?
What is your dream job? Has it changed over the course of your life? What are you doing to get to that goal? I'd love to hear from you.