The last time I visited Downtown Disney Marketplace with my family, my son wanted to go into Arribas Brothers because he knew they had swords. He's always loved swords and since the similar shop that once lived inside Cinderella Castle is now gone, this is one of the few places to see them.  We visit the parks and resorts so often, I admit I sometimes take for granted all that Walt Disney World has to offer because we sometimes rely too much on "oh, we'll see it next time". So it had actually been a while since I checked out the Arribas Brothers store.
I've always had a soft spot for the store as well. As a child, watching someone create art out of glass right before your eyes is always astonishing. Later, when I took a high school trip to Europe, we stopped in Toledo, Spain. There we visited shops that sold hand-crafted swords as well as damascene.
Damascene, or damasquina as the locals call it, is the ancient Moorish art of inlaying gold (or copper or silver) against a matte steel backdrop. The originally light grey steel is scratched and the gold is hammered into the crevices in intricate designs. Then the steel plate is baked in a kiln and blackened while the gold melts into the crevices. When it has cooled, the artist may use special hammers to pound delicate marks into the re-hardened gold. There are two types of damascene: the Spanish, which often features birds or people or scenes out of history, and the Moorish, which features geometric designs. The name comes from the city of Damascus, which was once renowned for its damascene.1
I remember bringing home a brooch for my mother, and then being so excited to show her some of the same designs and explain how it was made to her when we visited Disney World the next year.  It was fun to know a little bit of the history behind what was being sold at Disney. It's also always nice to look beyond the t-shirts and yes, even Vinylmation figures, and see different styles of art and collectibles.
The Arribas brothers, Tomas and Alfonso, were taught the family art of glass cutting as young men in Spain. They began their affiliation with Disney way back in 1964 when they met Walt Disney at the World's Fair in New York City and later opened a studio in Disneyland in 1967. It wasn't until the brothers had already been established with Disney that they branched out into glass-blowing, glass sculpting, and damascene. Of course now they have locations all over the world from Tokyo to Paris to Hong Kong. And of course – at Downtown Disney Marketplace.2
I thought I'd share some pictures here with you! Here is a photo tour of just some of the amazing items available in the store: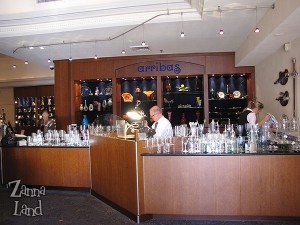 There is still much, much more to see so be sure to check out Arribas Brothers next time you visit Downtown Disney Marketplace.
1 – http://toledo-spain.info
2 – http://www.arribas.com