As parents we've probably all taken our kids to an event primarily aimed at adults and then wondered "how do I keep them happy?". If you are looking forward to Epcot's 14th Annual International Food & Wine Festival for all its delicious gourmet fare and adults-only drinks, you may worry about how you'll keep your little ones entertained. Luckily, you're in Epcot! Even if you leave the rides and attractions Epcot is known for behind on your visit to the Food & Wine Festival, there will be no shortage of activities to keep the wine in your glass rather than a whine from your stroller.
Here are 5 to get you started:
5. KidCot Stations – There are KidCot stations in 11 World Showcase locations as well as in The Land and The Seas pavilions which feature a FREE mask that your kids can decorate. At each station, a cast member gives your child's personal creation a stamp and attaches a paper cut-out, each themed to the KidCot location.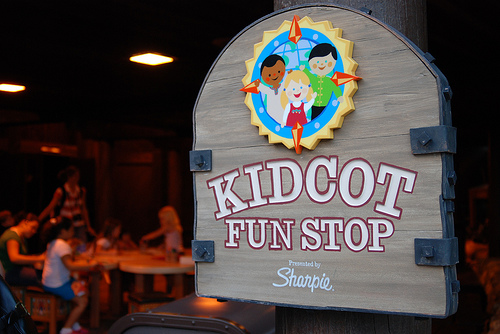 The wonderful thing about the World Showcase KidCot Stations is that whether it is their first visit or thier 20th, your kids will still love to create a new mask and add to it at each stop. This attraction is aimed at preschoolers, but I have to admit, my oldest son enjoyed it until he was almost 10, and my 9 year old daughter still loves to do it!
4. World Showcase Passport – Passport gift sets are available for purchase in many Epcot merchandise locations, as they have been for years now. I remember getting my passport stamped when I was about 11 and asking many cast members to write my name in their language as well. Now they come with stickers for each country, and a space for the cast member to write a message in their native tongue. This is a great activity for kids that may not want to decorate a mask, but still want an "International" souvenir to take home.
3. The Flavorhood, hosted by Edy's Ice Cream – I'm not sure I need to say more about this new addition to the Food & Wine Festival – it's ice cream! This fun spot will let the whole family test their "flavorology" and learn their ice cream personality. Ice cream can also be purchased here. A great spot to recoup before heading out for more international tastes! Did I mention the ice cream?!
2. Kim Possible World Showcase Adventure – This interactive adventure is one of the best additions to Epcot in recent years. Be sure to head to a pick-up location early to reserve your "Kimmunicator" because this is now a very popular attraction (you receive a Fast Pass type ticket to return and pick up your Kimmunicator in a certain time frame, this is so there aren't 30 groups heading to the same mission at once).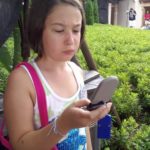 Once you receive your first mission, follow the directions that appear and you'll be in for all sorts of surprises and fun for the whole family. Each mission takes about 30 minutes to complete but can take up to an hour, so be sure you have allotted time for at least one. After one mission you can either turn your Kimmunicator in at a marked location, or continue on to defeat other baddies around the World Showcase. My personal favorite is the China mission, we visited areas of that pavilion we'd never seen before and the whole family loved the surprise finale of that mission.
1. Eat to the Beat Concert Series – True, your pre-walker, pre-schooler or tween probably won't be familiar with the line up of great performers for this concert series, but don't let that deter you. As you know, kids LOVE music. What better way to relax between tastings than jamming along to Big Bad Voodoo Daddy or En Vouge, among others? This year 5 new acts are added to the series, which perform 3 times nightly and range from R&B to jazz to classic rock and more.
In addition to the above suggestions, Epcot's International Food & Wine Festival is a wonderful way to introduce your children to other cultures through food and hopefully even expand those growing taste-buds. Your child may surprise you by requesting
a new gourmet favorite for dinner
after trying it at the Food & Wine Festival. Remember to be adventurous yourself and try new things and use the above tips to entertain the kids between bites.