This year, Disney Parks asked, "What will you celebrate?" and offered up free admission on your birthday as one answer to that question. Many have been wondering what next years marketing campaign would bring about. Disney announced today that celebration is still important, but this time it's celebrating the gift of volunteerism.
Disney Parks have been giving back for years in many amazing ways, with their VoluntEars program being one of the most well known. Now hoping to incite some of that same spirit of giving among Disney guests, they have rolled out the Give a Day, Get a Disney Day program for 2010.
As announced yesterday, Disney now has an official blog, which contains more details on the promotion. To make this even more fun for participants, Disney has brought the Muppets in for this campaign. Muppet humor abounds on their "Cheers for Volunteers" Tour site. The tour will be traveling across the US, Puerto Rico and Canada teaming up with local organizations for even more volunteer opportunities. The site has several fun features such as desktop wallpaper, games and site flair, including the two images you see in this entry. You can also follow the fun on twitter with @DisneyParksTour.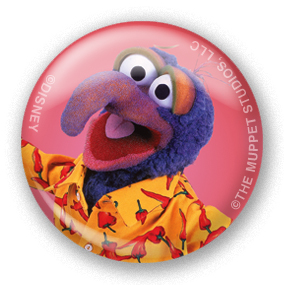 Beginning January 1, 2010, guests can register for a day of volunteer service with participating organizations and reap the benefits of giving back and a thank you from Disney in the form of free park admission. If guests do not wish to use their free admission, they may donate it to a Disney-chosen charity, receive a special FastPass for certain rides for up to 5 guests in their party (there is limited availability for these based on first come-first served), or choose a collectible Ear Hat figuring with trading pins.
Mouse ears off to Disney for initiating such a wonderful program. In this day of 'what's in it for me' getting back to grass-roots volunteerism will have endless benefits. Disney has just sweetened the deal by rewarding your efforts. Let's all hope the desire for families and individuals to help others extends far beyond a one day event, and builds lifelong traditions.