I had the distinct pleasure and honor to be able to attend the first-ever Mickey Moms Club Party, put together by the wonderful Disney Moms Panel and the PR Team from Disney World. With the upcoming 2010 Disney Moms Panel search, it was a lovely surprise to see this invitation in my email a few weeks ago. The Mickey Moms Club comprises applicants of past Disney Moms Panel searches that did not make the cut but were still given a special place online to gather, share tips, get the latest news and use some great tools and downloads of park maps, recipes and more! Every registered member of the MMC was invited to gather on Sunday, August 23, 2009 for a special viewing of Illuminations: Reflections of Earth at Epcot, enjoy some refreshments and meet other MMC members! Best of all, we were allowed up to 5 guests, so it wasn't something where we had to leave our families at home while we had all the fun.
I will admit, as excited as I am and as hopeful as I remain to some day make the cut for the Disney Moms Panel, I clicked "RSVP yes" before I even fully read the invite, I just KNEW I had to be there! As luck would have it, it coincided when we were already going to be in Orlando, celebrating my mom and daughter's birthdays. Even if we hadn't, driving up from Tampa would not have been too difficult. As I've mentioned in the past, I've gotten to know many Disney Moms Panel members via Twitter, as well as two of the very special PR people, Laura Spencer (@LauraSpencerOne) and Leanne J (@LeanneJ), so I was very excited to potentially meet some of my 'idols' and hopefully get to know even more MMC members. I knew not all the Disney Mom's Panelists would be there, but it was exciting nonetheless.
We checked in and were told due to weather issues (it had been raining on and off all week) the refreshments had been moved indoors. Yay! We were told to head to the World ShowPlace building, and as the cast member tried to describe it, I said, "The old Millennium Village building, right?" She said, "Yes! You're the first person that knew what that was!" I remember viewing the Millennium Village ages ago, I guess it was about 9 years! We filled out our name tags – I wrote "ZANNA" in big letters on mine hoping to connect with anyone I knew from Twitter, and headed over to wait for the doors to open.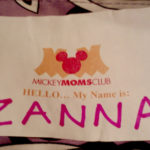 Once we entered the World Showplace building, I was in awe. It was beautifully lit and there seemed to be endless tables of goodies! Tables with pretzels and popcorn, tables with huge cookies & rice crispie treats, tables with sodas, juices, water bottles and plain and chocolate milk, AND! freezers with Mickey Premium bars, Mickey cookie ice cream sandwiches and other frozen goodies. Amazing!!! In addition, there were pub tables set up with candles glowing inside beautiful colored glass holders for us to enjoy our goodies and mingle. It went on forever too!
I was there for about 5 minutes when a mom came up and remarked on my diaper bag. We had a long conversation about the pros and cons of designer diaper bags and I think I converted her to my bag's brand 😉 (Ju-Ju Be in Purple Paisley for the record :P) My husband told me I should've gotten her name and given her one of my cards, but in my excitement I forgot. Anyway, nice talking to you!


I kept looking at people's name tags hoping to find someone I knew…I saw Disney Mom Cathy (@DisneyMomCathy) and Disney Mom Anna(@BeautyGirlsMom), Disney Mom Jackie (DisneyMomJackie) and Disney Mom Joanne (@JoJoey – who I did not follow on twitter but I do now!). Also there was Disney's Leanne J. and another Disney PR person, Annette (not sure if she has a twitter account!). I tweeted about my location within the party, because I knew of at least 3 friends from twitter that were there but I hadn't seen yet. Suddenly, someone came up to me and said, "You're…ZANNA!" I said, "Yes, I am!!" 😀 That person was Kristen (@KristenWDW) on twitter and her lovely family from Massachusetts. Obviously we had tons to talk about since we had the Massachusetts connection. I looked down after two minutes and my daughter and her oldest daughter were playing on the floor together already. They became instant friends. Her younger little girl was adorable as well and her husband was great too. We had fun talking until it was time to head over to Illuminations.
The location for viewing was right between the two World Showcase Plaza shops. I must say, viewing Illuminations from there is almost like a completely different show! The fireworks seem to go up even higher into the sky and it was simply beautiful. After the show, Kristen suggested we walk around and look for Laura since she had tweeted she was watching Illuminations too (see how valuable twitter is? 😉 ) so we did and sure enough we found her at the exit of our little viewing area. I introduced myself and we talked about twitter and I thanked her for the wonderful evening. Leanne was there too so we let her know how much fun we all had and how grateful we were for the experience. Laura said that she and Leanne had been talking and realized how fun it would be to get everyone together like this, and that the name tags were such a great idea so we'd all know who we were meeting. She also said it would be the first of hopefully many future get-togethers like that. We hope to be a part of any future parties for sure! We also got some fun MMC and Disney Moms Panel swag on the way out – unexpected fun, just like Disney is famous for!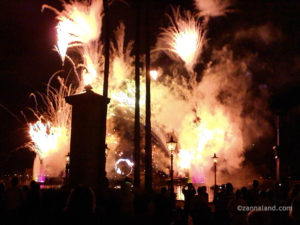 All in all it was a magical evening and I am so grateful the stars aligned to let our family be a part of it. Everyone wishing my daughter a happy birthday was just the icing on the delicious cake that night! My fingers and toes are crossed and I am showering daily in pixie dust, in hopes that next year at this time, I'll be one of the
Disney Moms Panel
moms in a pink polo, but if not, I'm happy just to be a part of the magic.