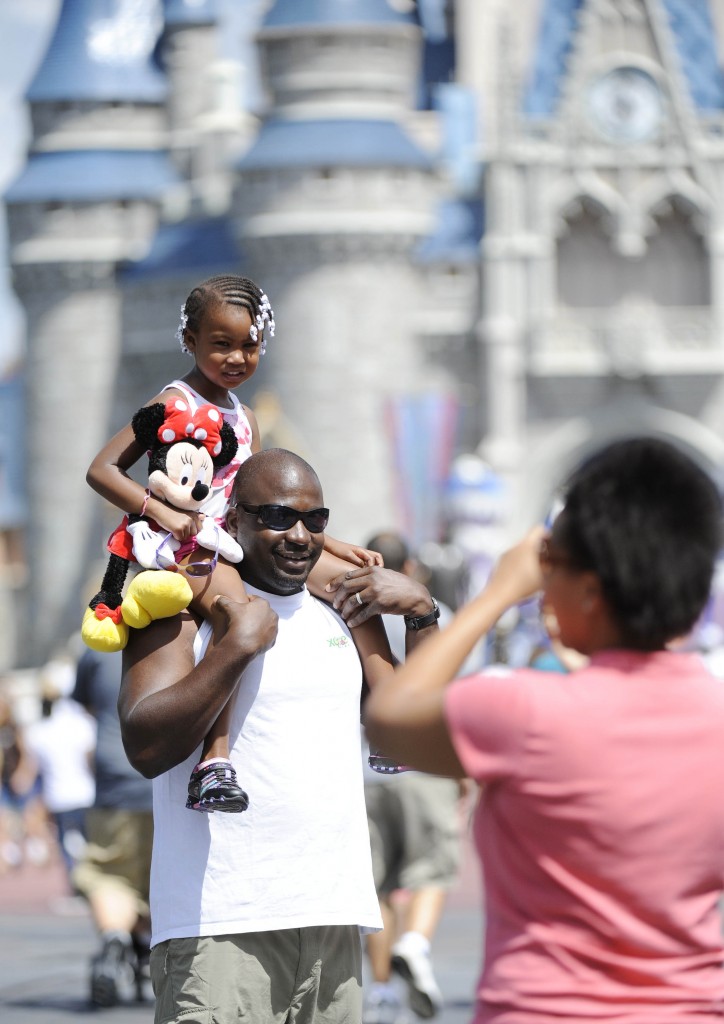 NEW YORK (Sept. 23, 2010) – In 2011, Disney guests will become the stars of a nightly spectacular when photos taken in the park during the day become larger-than-life projections on Cinderella Castle at Walt Disney World Resort or "it's a small world" at Disneyland Resort. This groundbreaking new experience will celebrate the family vacation memories created in Disney theme parks every day.
And this week, Disney guests will begin starring on television, too, as part of the new "Let the Memories Begin" campaign. For the first time, Disney Parks is featuring the home videos and snapshots of real guests in television ads and other marketing that will allow an audience of millions to share in true-life, heartfelt moments.
"A Disney vacation is the perfect way to create family memories that will last a lifetime," said Tom Staggs, chairman of Walt Disney Parks and Resorts, at a media announcement Thursday in New York. "We'll spotlight those 'only-at-Disney' moments with family and friends during our 'Let the Memories Begin' campaign."
A just-released survey of U.S. and Canadian families conducted for Disney Parks by Ypartnership, a noted research firm that tracks consumer insights and trends in travel, showed that vacation memories hold a special place in family history.
Nine out of 10 parents said they planned their vacations with the express hope that they would result in a lasting family memory, the survey showed. And those memories stuck with them – nearly three-quarters said they think back "often" or "very often" on their favorite vacation experiences.
'Memories in the Making' to be Shared on Disney Park Icons
Beginning in January 2011, some Disney parks guests will find that the memory they just made has become a larger-than-life image during a "Let the Memories Begin" nighttime experience.
At Walt Disney World Resort, the guest photos will be projected on the soaring spires of Cinderella Castle in Magic Kingdom. At Disneyland Resort, the iconic façade of "it's a small world" will be the canvas for the show.
In both locations, Disney PhotoPass photographers will capture guests caught up in the Disney experience – a memory in the making – and as many as 500 photos will be used in each location every day, producers estimate.
The nighttime show will use the latest in high-intensity projection technology to create vivid visuals that seem to defy the architecture of the building. A new song commissioned for the show will provide an emotional context for these images of the Disney guest experience.
For TV Ads and More, Disney Parks Issues a 'Call for Memories'
Beyond seeing their own projected photos in lights, guests also could become the stars of Disney Parks television commercials, online campaigns and social media opportunities that will showcase to the world the power of memories.
The campaign kicks off this week with a TV commercial created from videos posted online in social media forums.
For future TV commercials and other advertising and marketing programs, Disney Parks is asking guests to share their memories by uploading photos and videos at a special "Let the Memories Begin" online hub at www.DisneyParks.com/Memories. From a first meeting with a princess to a laugh-filled watery touchdown on Splash Mountain, Disney Parks is looking for videos and photos that capture those never-to-be-forgotten experiences.
Some memories will be shared online, while others may be selected to share in print ads, brochures and other marketing – including television ads to air across the United States and Canada.
With real visitor images on iconic attractions and home video featured in commercials, the storytellers at Disney Parks are letting guests tell their own stories in 2011, Staggs said.
"We wanted to give our guests a powerful way to share the memories they create every day in our parks," Staggs said. "Essentially, this becomes our first user-generated show and our first user-generated marketing campaign.
"A day at a Disney park is filled with magical experiences that become cherished and unforgettable memories – and now we're helping our guests share those memories with the world.
You've made Disney vacation memories and captured them in photos or video. Now you intend to share them with the world by posting them online.
Disney Parks has created a place where you can share those memories and view the Disney memories of other vacationers – with the possibility that they'll be shared with yet more people in a Disney television "spot" or in print or online communications.
As Disney Parks launches "Let the Memories Begin" with communications that acknowledge making memories as "the masterpiece of parenthood," the company also has launched a website for sharing and viewing memories. Guests can upload their photos, videos and text-only memories at DisneyParks.com/Memories. They can even categorize their memories by theme, emotion and location.
The DisneyParks.com/Memories website (also available soon in Spanish and French) has a simple-to-use interface for uploading, viewing and searching Disney memories. The functionality also will be part of the Disney Parks pages on Facebook, YouTube and MySpace.
Memory submission is as easy as 1-2-3:
Choose to share your memory on DisneyParks.com/Memories; Facebook.com/WaltDisneyWorld; Facebook.com/Disneyland; Youtube.com/DisneyMemories; or Myspace.com/DisneyParks.
Describe your memory. Memories can upload as photos, videos or text-only.
Then all it takes is hitting the "submit" box and, once reviewed, a lifetime Disney memory is stored and shared.
On the heels of a series of television commercials created with brief home video segments, Disney Parks is looking for more "user-generated content" for future TV commercial spots, print advertisements, newsletter articles and vacation-planning video segments relating to "Let the Memories Begin."
More Ways to Make Disney Vacation Memories in 2011
To help make special memories last a lifetime, in 2011 Disney Parks is adding new theme park experiences in California and Florida, new vacation opportunities on the high seas with Disney Cruise Line, a new luxury resort on a breathtaking lagoon in Hawaii, and new ways to explore the world with Adventures by Disney.
Here's a snapshot of what's in store:
World of Color at Disney's California Adventure

"World of Color" (Disneyland Resort): "World of Color," the new nighttime spectacular presented in Disney California Adventure park, brings classic Disney and Disney•Pixar animation to life with nearly 1,200 powerful fountains, larger-than-life projections, lasers, fire, music and special effects.

Disney California Adventure Expansion (Disneyland Resort): Next up for the continuing expansion of the park is the first major attraction based on the modern Disney classic, "The Little Mermaid." The Little Mermaid ~ Ariel's Undersea Adventure will treat guests to a musical retelling of the classic motion picture as the best-loved songs come alive in magnificent scenes all around them.

Star Tours Coruscant

New Star Tours 3-D Adventure (Walt Disney World Resort and Disneyland Resort): Bridging that "long time ago" between the two "Star Wars" trilogies, Star Tours: The Adventures Continue will take flight in 2011 and take voyagers to thrilling destinations throughout the "Star Wars" galaxy. And it will all happen in brilliant, 3-D technology.

Disney Cruise Line: The Disney Dream, the newest ship of the Disney Cruise Line, launching January 2011, will bring to life grand innovations and more, offering a cruise experience from stem to stern that caters to preferences of the entire family. The Disney Wonder cruise ship will "go west" in early 2011; and new West Coast itineraries for Disney Cruise Line will include, for the first time, Alaska cruises sailing from Vancouver.
Aulani, a Disney Resort & Spa, Ko Olina Hawai`i: A first-of-its-kind Disney resort in Hawaii creates a perfect setting for family fun. The new resort, which includes traditional hotel rooms and Disney Vacation Club villas, is being built on 21 acres of oceanfront property, 17 miles from Honolulu International Airport and approximately 30 minutes from Waikiki.
Adventures by Disney: In 2011, Adventures by Disney guests will step off of planes, cruise ships and camels into living chapters of history during seven- and nine-night Egypt itineraries. These guided travel vacations allow families to visit destinations they never dreamed possible – including Italy, South Africa and China – with the assurance of the Disney name.