Over the weekend we met up with friends who have just relocated to central Florida and walked around Downtown Disney. I hadn't seen the construction progress on Pollo Campero – the new Latin chicken restaurant opening soon – since McDonald's closed down, so I thought I'd share what looks like a really cool design. Love the colors and the stonework!
EDIT: Thanks to Keith from MouseMisers for clearing up the "Fresh A-Peel" signs that I thought were part of Pollo Campero. We now know that Fresh A-Peel is a new fresh concept named (featuring fresh salads, sandwiches, fruits and healthy snacks) plus vegetarian, gluten-free, sugar-free, low-sodium or organic offerings.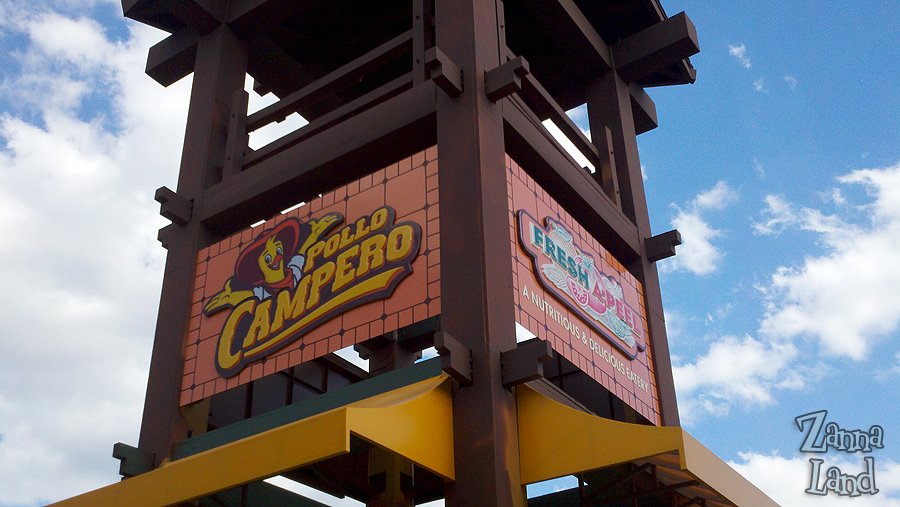 Coincidentally, as I was walking through Downtown Disney after taking pictures, I got a notice on my cell phone that the Pollo Campero twitter account added me! From the looks of their account, they do giveaways and specials, so be sure to follow them on twitter and "like" their facebook page as well.
I can't wait to welcome them to the Disney family and experience the menu first-hand. The Downtown Disney location is set to open in November, which is right around the corner now.