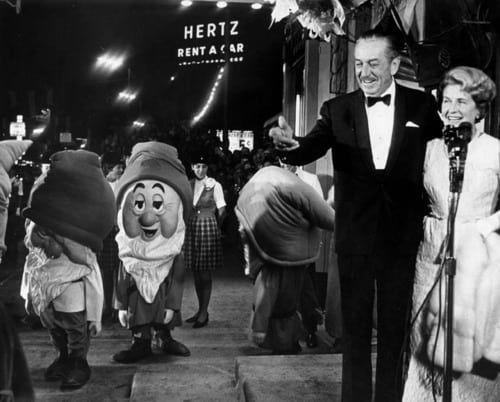 When I first heard rumors of a film being made based on the arduous twenty-year attempt of Walt Disney to obtain the film rights and subsequently produce the Mary Poppins story, I didn't want to get my hopes up. It is a well-known bit of history that author P.L. Travers was not too keen on signing over her rights, and quite picky about filming and production. Now that this rumor is a reality, I am beyond excited and thrilled!
While I have always had an extreme interest in all things Disney, it's really only been since I was an adult, and really the past few years, that I developed a love of anything Disney history-related. After attending several Disney D23 fan events and hearing original Imagineers and animators speak, I have longed for a behind-the-scenes story of the Walt Disney Company's early history and the personalities that made it what it was.
I will still hope for that Walt Disney bio pic, but understand with the restraints on the company today, we may never get an accurate film with all the juicy details Disney nerds live for. The next best thing would be a film covering a certain aspect of company history, and Saving Mr. Banks seems to fit that bill. Tom Hanks will be a perfect Walt Disney and I cannot wait to see how he does Uncle Walt justice. The film is shooting in Los Angeles and at the actual locations of much of the original history, which also makes me ridiculously excited.
Here is the official press release detailing the production and those behind it:
Two-time Academy Award®-winner Tom Hanks ("Philadelphia," "Forrest Gump") will essay the role of the legendary Disney (the first time the entrepreneur has ever been depicted in a dramatic film) alongside fellow double Oscar®-winner Emma Thompson ("Howard's End," "Sense and Sensibility") in the role of the prickly novelist.  Before actually signing away the book's rights, Travers' demands for contractual script and character control circumvent not only Disney's vision for the film adaptation, but also those of the creative team of screenwriter Don DaGradi and sibling composers Richard and Robert Sherman, whose original score and song (Chim-Chim-Cher-ee) would go on to win Oscars® at the 1965 ceremonies (the film won five awards of its thirteen nominations).
          When Travers travels from London to Hollywood in 1961 to finally discuss Disney's desire to bring her beloved character to the motion picture screen (a quest he began in the 1940s as a promise to his two daughters), Disney meets a prim, uncompromising sexagenarian not only suspect of the impresario's concept for the film, but a woman struggling with her own past.  During her stay in California, Travers' reflects back on her childhood in 1906 Australia, a trying time for her family which not only molded her aspirations to write, but one that also inspired the characters in her 1934 book.
            None more so than the one person whom she loved and admired more than any other—her caring father, Travers Goff, a tormented banker who, before his untimely death that same year, instills the youngster with both affection and enlightenment (and would be the muse for the story's patriarch, Mr. Banks, the sole character that the famous nanny comes to aide).  While reluctant to grant Disney the film rights, Travers comes to realize that the acclaimed Hollywood storyteller has his own motives for wanting to make the film—which, like the author, hints at the relationship he shared with his own father in the early 20th Century Midwest.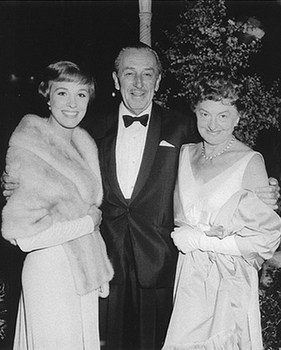 Colin Farrell ("Minority Report," "Total Recall") co-stars as Travers' doting dad, Goff, along with British actress Ruth Wilson (the forthcoming films "The Lone Ranger" and "Anna Karenina") as his long-suffering wife, Margaret; Oscar® and Emmy® nominee Rachel Griffiths ("Six Feet Under," "Hilary and Jackie," "The Rookie") as Margaret's sister, Aunt Ellie (who inspired the title character of Travers' novel); and a screen newcomer—11-year-old Aussie native Annie Buckley as the young, blossoming writer, nicknamed "Ginty" in the flashback sequences.
            The cast also includes Emmy® winner Bradley Whitford ("The West Wing," "The Cabin in the Woods") as screenwriter Don DaGradi; Jason Schwartzman ("Rushmore," "Moonrise Kingdom") and B.J. Novak ("NBC's "The Office," "Inglourious Basterds") as the songwriting Sherman Brothers (Richard and Robert, respectively); Oscar® nominee and Emmy winner Paul Giamatti ("Sideways," "Cinderella Man," HBO's "John Adams") as Ralph, the kindly limousine driver who escorts Travers during her two-week stay in Hollywood; and multi-Emmy winner Kathy Baker ("Picket Fences," "Edward Scissorhands") as Tommie, one of Disney's trusted studio associates.
            "Saving Mr. Banks" will be directed by John Lee Hancock ("The Blind Side," "The Rookie") based on a screenplay by Kelly Marcel (creator of FOX-TV's "Terra Nova"), from a story by Sue Smith ("Brides of Christ," "Bastard Boys") and Kelly Marcel.  The film is being produced by Alison Owen of Ruby Films (the Oscar®-nominated "Elizabeth," HBO's Emmy®-winning "Temple Grandin"), Ian Collie of Essential Media (the Aussie TV documentary "The Shadow of Mary Poppins," DirecTV's "Rake") and longtime Hancock collaborator Philip Steuer ("The Rookie," "The Chronicles of Narnia" trilogy).  The film's executive producers are Ruby Films' Paul Trijbits ("Lay the Favorite," "Jane Eyre"), Hopscotch Features' Andrew Mason ("The Matrix" trilogy, "Dark City") and Troy Lum ("Mao's Last Dancer," "I, Frankenstein") and BBC Films' Christine Langan (Oscar® nominee for "The Queen," "We Need to Talk About Kevin").
            Hancock's filmmaking team includes a trio of artists with whom he worked on his 2009 Best Picture Oscar® nominee, "The Blind Side"—two-time Oscar® nominated production designer Michael Corenblith ("How The Grinch Stole Christmas," "Apollo 13"), Emmy®-winning costume designer Daniel Orlandi (HBO's "Game Change," "Frost/Nixon") and film editor Mark Livolsi, A.C.E. ("Wedding Crashers" "The Devil Wears Prada").  Hancock also reunites with Academy Award®-nominated cinematographer John Schwartzman ("Seabiscuit," "Pearl Harbor"), with whom he first worked on his inspiring 2002 sports drama, "The Rookie."
            "Saving Mr. Banks" will film entirely in the Los Angeles area, with key locations to include Disneyland in Anaheim and the Disney Studios in Burbank.  Filming will conclude around Thanksgiving, 2012, with no specific 2013 release date yet set.
What do you think of Saving Mr. Banks? Will you be first in line with a spoonful of sugar when it's released?