This morning I woke up to a nice rainy day here in ZannaLand, and I thought I'd share my favorite things to do in Disney World when you experience some of Florida's infamous "liquid sunshine".
Of course, the first thing to remember is that you will not melt. Unless there are some hurricane-force winds going on or crazy lightning, Disney will remain open for your use. Certain rides with all or portions of the ride outside may temporarily shut down (especially if lightning is present) but the rest of the World will be there for those daring enough to get soaked and keep on walking.
One way to help those of stout-heart and spare shoes is the now-famous Disney rain poncho. While working at the Magic Kingdom's merchandise shops I can assure you, when the rain starts, these ponchos are worth their weight in gold. Wait, they don't really weigh that much, that's a bad example. Um…they're really really valuable!! The ponchos Disney originally sold were bright yellow with Mickey Mouse on the back. Of course wearing them made you look ridiculously silly, therefore some fun souvenir photos were to be had!
In 2003, Disney made the switch to clear ponchos, so you weren't *quite* as funny-looking (and you could spot your family members easier!). I have noticed that the most recent ponchos we purchased [it is the law that if you buy ponchos, you must forget them on every subsequent visit so you need to buy more when it rains again] are much thinner than they used to be, and the hood is sort of useless in keeping the rain off your face. If you have a baseball cap, wear that under the hood. You can also of course buy other ponchos at discount stores ahead of time but again, the key is remembering to carry them with you.
If, however, you arrive to the Walt Disney World Resort and see on the local weather that there is a 99% chance of rain all day every day of your visit, there are some activities to make you forget all about the rain rain rain coming down down down. Here are my top 3:
3. Innoventions This area of Epcot's Future World is chock-full of activities to keep the whole family entertained. These buildings are located to the east and west of Future World, as you walk in the main entrance beyond Spaceship Earth. They have undergone many facelifts since their Communicore days with SMRT-1 (a robot that answered your questions with the latest in 1980s voice recognition technology) and the EPCOT Poll (a census-like poll where guests answered questions and learned group results at the end).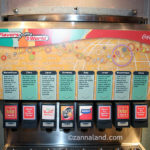 Innoventions East features environmental activities including The House of Innoventions and the Test the Limits Lab. Innoventions West offers more interactive exhibits such as the favorite The Great Piggy Bank Adventure. Also included as part of Innoventions West is Club Cool (formerly Ice Station Cool) where guests can enjoy free samples of popular soft drinks from around the world, sponsored by Coca-Cola. Be sure to try the Beverly from Italy – it's delicious! 😉
2. Resort Hopping on the Monorail This is a favorite activity of our family any time, but it's especially convenient during a storm, because you never have to get wet once you hop on the Resort Monorail from the Magic Kingdom or the Transportation and Ticket Center. There are some truly unique shops and restaurants you can explore and enjoy whether you're a hotel guest or not. In addition to being a fun rainy day activity, our family makes sure to tour the resorts each holiday season. I will discuss more on that in upcoming entries, but it is truly a magical experience the way Disney decorates for the holidays.
The loop from Magic Kingdom takes you first to the Contemporary Resort which always has some fun shopping to experience as well as the popular must-reserve dining spot Chef Mickeys, as well as the delightful culinary addition of The Wave on the first floor. Another treat on the ground floor (no pun intended) is the coffee and espresso bar Contemporary Grounds, which serves delicious lattes. Our family also loves the arcade at the Contemporary and has spent many hours there accumulating tickets to turn in for prizes.
Next stop on the monorail is the Polynesian Resort. The decor alone is reason enough to spend some time here – the lush gardens and waterfalls will relax even the most frazzled park visitor. Here you'll find shopping with a tropical flair and items not found in other locations. Delicious meals, desserts and coffee await at the Kona Cafe (one of my favorite restaurants on property). Here's a secret – you can also get Dole Whip at Captain Cook's Snack Co. inside the Polynesian! You don't even have to be inside Magic Kingdom to enjoy this popular treat. Breakfast lunch and dinner are also served at Captain Cook's, if you'd like more than dessert.
The final stop on the monorail resort loop is the Grand Floridian Resort and Spa, Disney's flagship resort. While here you can enjoy the elegant atmosphere, shops and restaurants, listen to music or just explore the lobby. There is a Basin White location within the Grand Floridian which offers unique items not found in the Downtown Disney location, so it's worth a visit if you love their soaps and bath bombs as much as I do.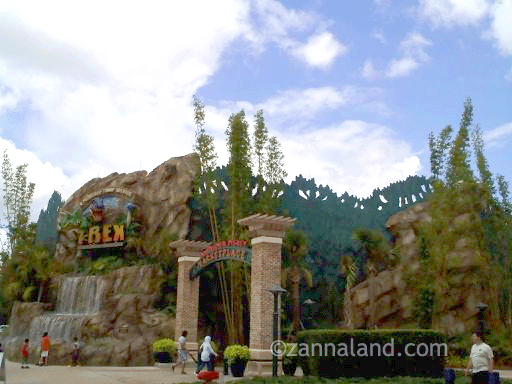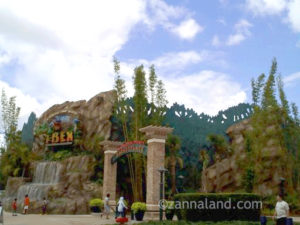 1. Downtown Disney From World of Disney to the Lego Imagination Store to Once Upon a Toy to Days of Christmas, there is no end to the rainy-day shopping available in Downtown Disney. You will also not be short on dining options – Rainforest Cafe, T-Rex Cafe, Wolfgang Puck, Earl of Sandwich, Raglan Road…I could go on and on! Downtown Disney Marketplace also offers unique shops like Basin with soaps, lotions and more or the new TrenD shop offering boutique-style Disney clothing and accessories. Don't forget Downtown Disney Westside and its new Princess Diana royal gown and artifact exhibit, Disney Quest for interactive gaming in addition to more restaurants and shops worthy of discovery. One word of caution, even on sunny days, parking and crowds at Downtown Disney are on the high side. It's no secret that this is a great location for a rainy day change of pace, so plan accordingly.
However you choose to spend your rainy day at Disney, remember Mickey can't control the weather (as much as I've been wishing for a clear dome with air conditioning placed over Disney World on the hottest of summer days there!). As frustrating as it might be to have your vacation interrupted by ride-stopping, shoe-soaking rain…you are still in the Happiest Place on Earth and it's truly how you react and make the most of all Disney has to offer that sets the tone for the success or failure of your trip. Some of my happiest memories are of wearing cloth napkins on my soaking shoulders inside Germany's Biergarten, laughing at how we'd just run through the rain and puddles to get there. A change of plans doesn't have to mean a short-change in the memories.