Check out the interesting news out of Universal Orlando Resort this morning – an all-new uniquely-themed value resort will be built on-site, opening in 2014. The resort will be half family-suites, half traditional rooms, offering both value and moderate-priced experiences. I do love mid-century design so I'm excited to see how this unfolds before us! Here's the official news and some artist renderings below:
ORLANDO, Fla. (July 9, 2012) – Universal Parks & Resorts and Loews Hotels & Resorts will build a new hotel development at Universal Orlando that will add high-quality, high-value options for families wanting an affordable on-site experience.
Universal's Cabana Bay Beach Resort will offer two distinct experiences within the development's multiple buildings: 900 family suites, capable of sleeping six, that include kitchen areas and 900 standard guest rooms – offering both moderate- and value-priced accommodations. It will be operated by Loews Hotels & Resorts and is scheduled to open in 2014.
The hotel will be themed differently than anything else currently available at Universal Orlando. It will evoke the driving vacations so many Americans grew up enjoying with their families – spending time at sweeping motor courts just off the highway, where families relaxed and played after a long day's drive. The new hotel's hip, vintage look will be accented with bold design, dramatic, clean lines, bright, period colors and touches of neon. Inside areas including the lobby, dining areas and large, comfortable rooms will follow suit. The hotel will have two themed pool areas.
"Our new hotel will give guests an affordable, incredibly themed on-site hotel experience unlike anything else at our resort," said Tom Williams, chairman and chief executive officer, Universal Parks & Resorts. "Our new family suites and family-value pricing will give our guests on-site options they've never had before."
The hotel will be built on a 37-acre site within Universal Orlando Resort and adjacent to Universal's Islands of Adventure – just off Hollywood Way and Turkey Lake Road. Site work will begin soon. Pricing information, opening timeframes and room on-sale dates will be released over time.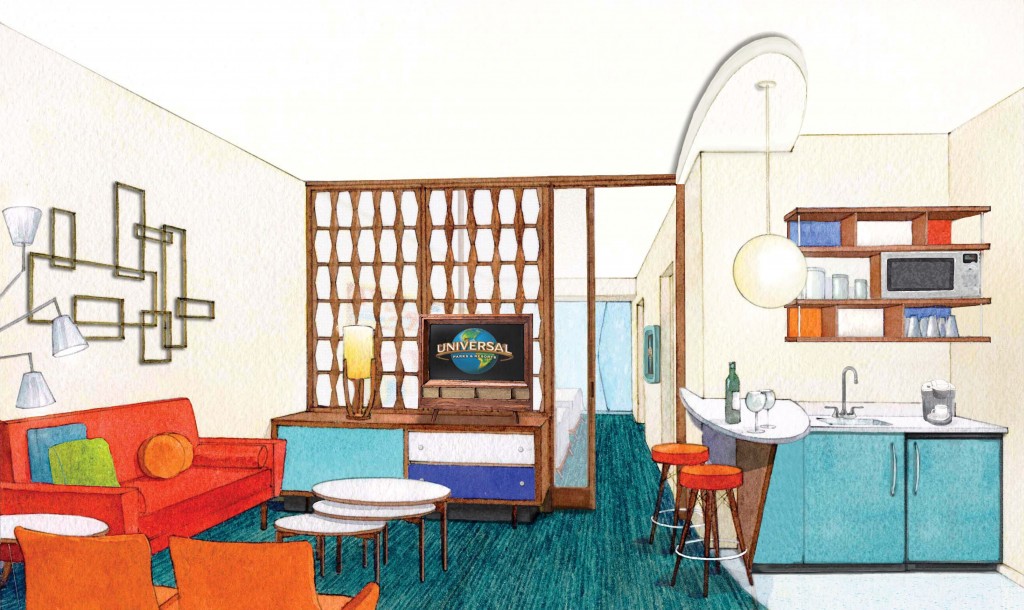 The new hotel will allow families to choose between value pricing or the higher level of benefits and service that come with staying at other on-site Universal Orlando hotels – Loews Portofino Bay Hotel, the Hard Rock Hotel and Loews Royal Pacific Resort. It will provide early park admission, proximity to Universal's Islands of Adventure and Universal Studios and resort-wide charging privileges – but will not offer complimentary Universal Express Unlimited Access.
"The Cabana Bay Beach Resort furthers our goal of operating special and distinct properties in important markets," said Paul Whetsell, Loews Hotels & Resorts president and CEO. "This is another important step in our plan to expand the Loews system in major markets across the United States."