Since first learning of Duffy the Disney Bear's popularity in Japan's Tokyo Disney Sea, I've been a huge fan and supporter of his presence here in the US Disney parks. I love reporting on Duffy's new outfits and special edition Duffy bears already in costume.
So of course I was in attendance today when 750 Walt Disney World Annual Passholders received a special t-shirt commemorating Duffy's one-year anniversary in the parks here. Also part of this event was a Duffy book release and signing by the illustrator, Monty Maldovan. This new story book tells the tale of Duffy the Disney Bear and is sure to be a favorite around these parts. The illustrations are simply darling.
I'm continually amazed at what Disney gives back to its guests and annual passholders and today was no exception. Of course, the best part was walking through the door to my little guy and giving him Duffy's new shirt and book. He was SO excited. As you can see, so were Duffy and friends: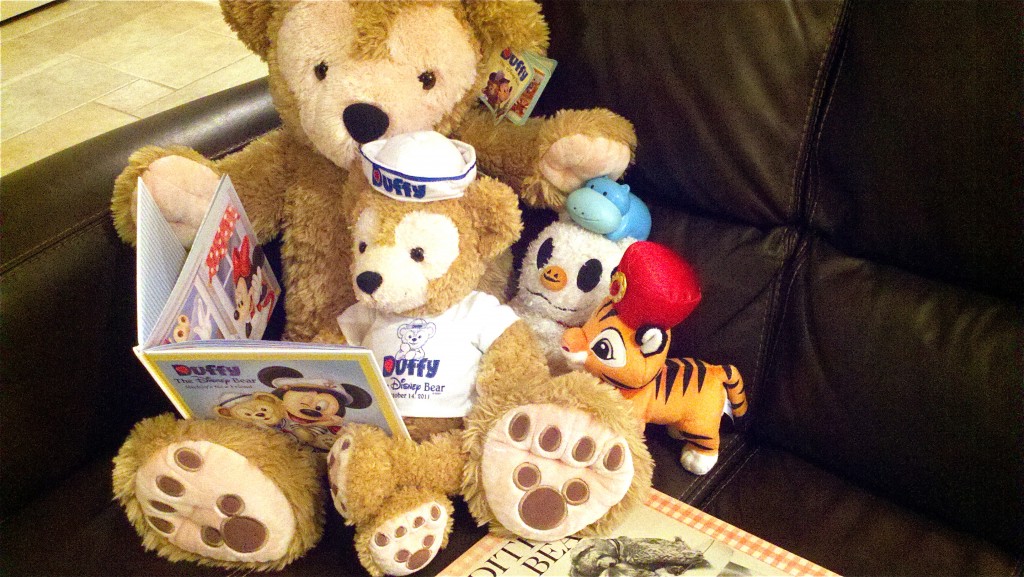 Thanks once again to Disney Parks for a memorable day!
*This photo scene is an homage to one of my very favorite children's books – Edith and Mr. Bear
 by the talented Dare Wright.