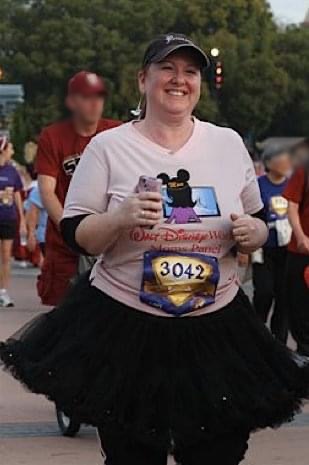 I registered for my first runDisney race back in 2010. It was the Mickey's Halloween 5K, part of the first-ever Disney Wine & Dine Half Marathon Weekend that year. It was a different time and I made so many new friends and connections through Twitter. We were all calling it #EpicOctober and meeting up at various times. I was also meeting up with my fellow Walt Disney World Moms Panel (now planDisney) panelists, as it was my first year on the panel. I had never run anything in my life and was very, very worried I would not be able to complete the 5K. So, I didn't go. I was ashamed, embarrassed and vowed that I would do a runDisney 5K someday, especially after meeting up with all my friends who did it and listening to all the fun they had on the course. So, I registered for the 5K during the Disney Princess Half Marathon Weekend. And this time, I actually did it!
Fast forward many years, and many, many runDisney races have taken place. Over that time, I did a handful of 5K's and one 10K back in 2016. I then took 7 years off. A lot happened in my life between then and now, and I began to focus more on my health and fitness. I lost 75lbs over the past 2 years, and though I've been vegetarian since 2012, I went vegan in 2018, and have been ever since. After these changes, I decided to get back into runDisney races, and vowed that 2022 would be my "Year of runDisney" and I would do all the races I could this year. I bounced back with the Walt Disney World Marathon Weekend races in January of 2022, where I did the 5K and 10K again. I had caught the runDisney bug and decided to challenge myself and register for the Disney Fairytale Challenge as part of the Disney Princess Half Marathon Weekend – this was doing the 10K and Half Marathon (plus I did the 5K too). Me? Do a half marathon?? I spent the next months being anxious and worried, while still knowing I had it in me to complete it. And I did.
I was not fast, I cried about 5 times (happy cries), but I did it. I am now a half marathoner! The next set of races were the runDisney Springtime Surprise Weekend – celebrating races from runDisney past, including the fan favorite Expedition Everest 5K and the Twilight Zone Tower of Terror 10 Miler.
I wanted to register for the Challenge and do all of the races, but in trying to get both my husband and I registered, I was shut out of the Challenge and the 5K. I was able to register both of us for the Race for the Taste 10K and the Twilight Zone Tower of Terror™ 10 Miler. Closer to the races, I received an email from Enterprise, the official rental car of Walt Disney World, about partnering with them to cover the races and share my experiences on social media. Of course, it was an immediate YES from me, and what follows is my sponsored account of the runDisney Springtime Surprise Weekend Celebrates Yestermorrow.
As part of our partnership, Enterprise provided a rental car for me as well as a stay at Disney's Animal Kingdom Lodge. I was very excited for both of these experiences. We started out by heading to the Car Care Center right near Magic Kingdom Park to pick up the Enterprise rental car. It was a seamless process, and it wasn't just for me, the others getting their cars or dropping them back off were helped quickly and with minimal effort on the guests part. I picked up my super cool Dodge Challenger in bright orange and knew this was going to be a fun weekend.
We then headed over to Disney's Animal Kingdom Lodge. It was again so easy to check-in, I just did it on the 'My Disney Experience' application on my phone and didn't even need to stop at the front desk. We could head straight to the room and unlock our door with the app or a MagicBand. We were given a standard view room, but really lucked out as our view was of the area where some of the animals come at the end of the night, so we really saw so many animals right from our balcony! There were 6 giraffes we could see often, three or four zebras (including a cute younger one), some Ankole cattle, waterbuck, impala, crowned cranes, and more (including bunnies and squirrels which are just as exciting to me). It was so cool to wake up and see giraffes right outside.
Disney's Animal Kingdom Lodge is one of my favorite resorts in all of Walt Disney World Resort anyway, so I was so grateful and excited to get to spend 5 nights there. There are so many options for dining. The pool area is wonderful, and the rooms themselves were so peaceful and comfortable. When I first checked in, I had the balcony door open and was texting my friends that all I could hear was the gentle clicking of the bamboo trees in the distance. I was in heaven.
The next day, after breakfast at Disney's Polynesian Resort, we set out to the ESPN Wide World of Sports Complex for the runDisney Health & Fitness Expo. This is where you pick up all your bibs for the races, your race shirts, and you can also shop for fun merchandise from runDisney partners and official runDisney race weekend merchandise too. It was super easy to pop over in our Enterprise rental car and just park and head in. It's a really fun way to start off every race weekend, because you are immediately surrounded by others who are doing the same thing you are, having fun, getting excited for the upcoming races, and of course taking photos at the many photo ops all around ESPN Wide World of Sports Complex. We got our bibs and found out we were in Starting Group 2 for the 5K and the 10 Miler, but Starting Group 1 for the 10K. What luck! I've said before I'm not fast, so getting any extra time from being in a closer starting group is always a bonus that I appreciate greatly!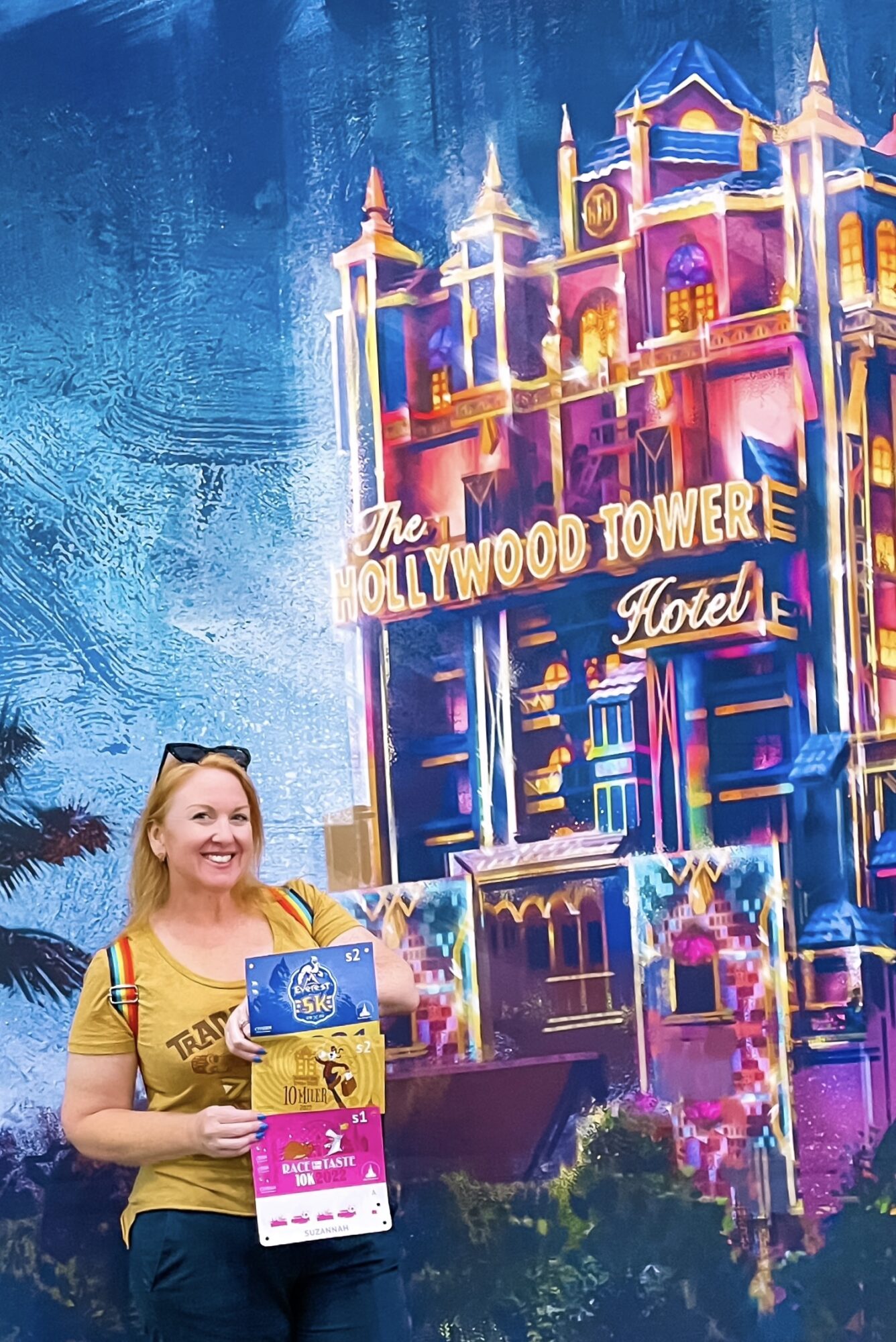 After getting all of our race info and bibs, we headed back to the resort to just chill before the first race – a night race! The Expedition Everest 5K always took place at night in prior years, so they kept with that tradition, and it didn't start until 10pm. This was my first ever night race, though many of my friends had done either this race or the Disney Wine and Dine Half Marathon Weekend races that took place at night previously. It was kind of strange being up so late and just waiting for the race to start. I'm still not sure if I prefer that to the early morning 2:30am wake-up calls of the other races I've done.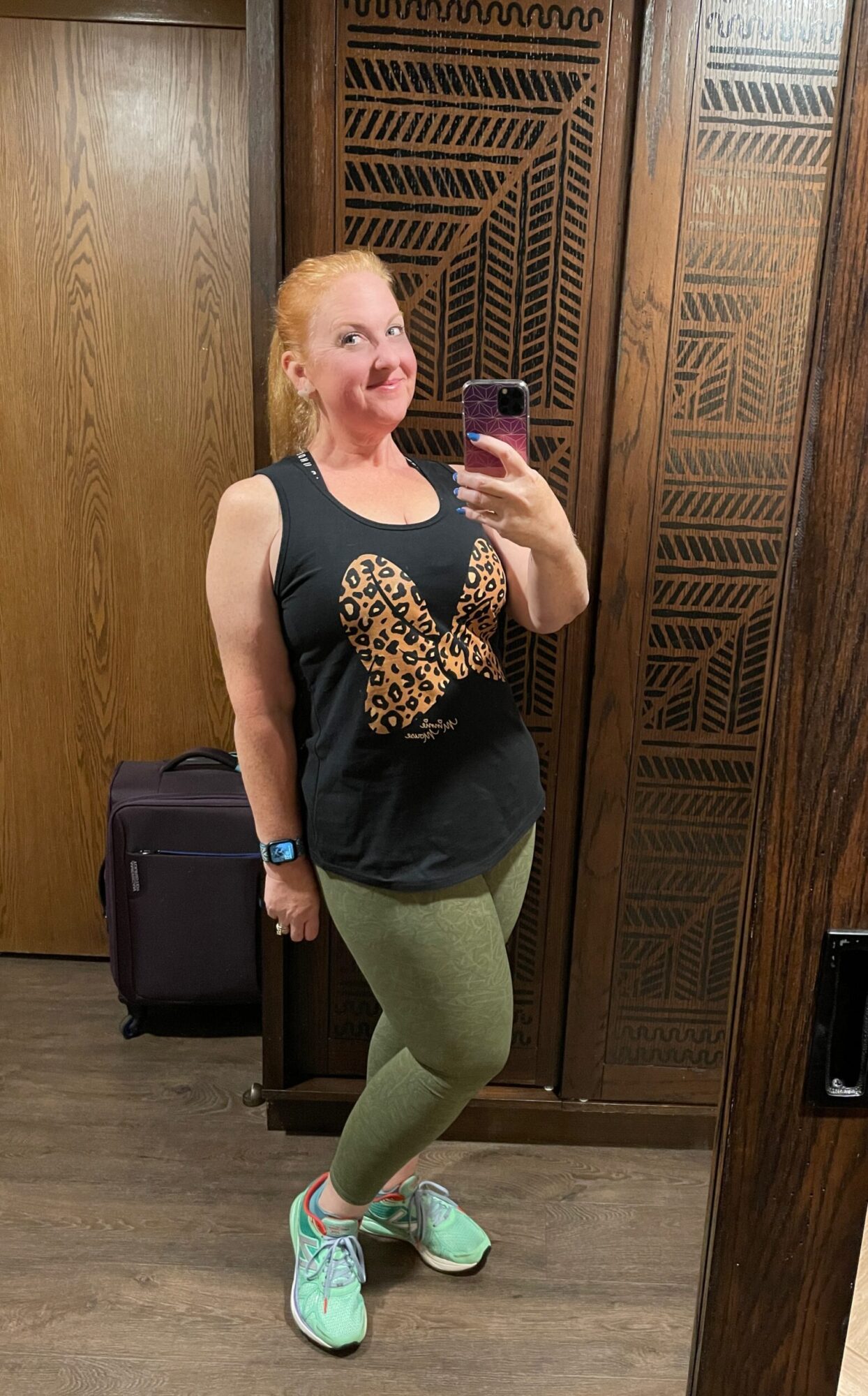 runDisney Springtime Surprise Race Recap:
Mother Nature had some other ideas about our nighttime race, and there was worry about rain and lightning. So, in an abundance of caution not only for the racers, but also the amazing volunteers working the course, the course was shortened for the 5K. The scavenger hunt, which was all digital on an app this year, was also postponed getting everyone to finish the race as soon as possible and reduce the risk of weather affecting things. The course had the last half a mile taken off, but by the time we walked to and from the start and finish line, we had all definitely done a 5K that night. Luckily, the rain held off and we didn't get drenched, so that was a very good thing. It was so fun running through Pandora: World of Avatar at night, with the bioluminescence and all the background sounds of creatures of Pandora in the distance. I loved it.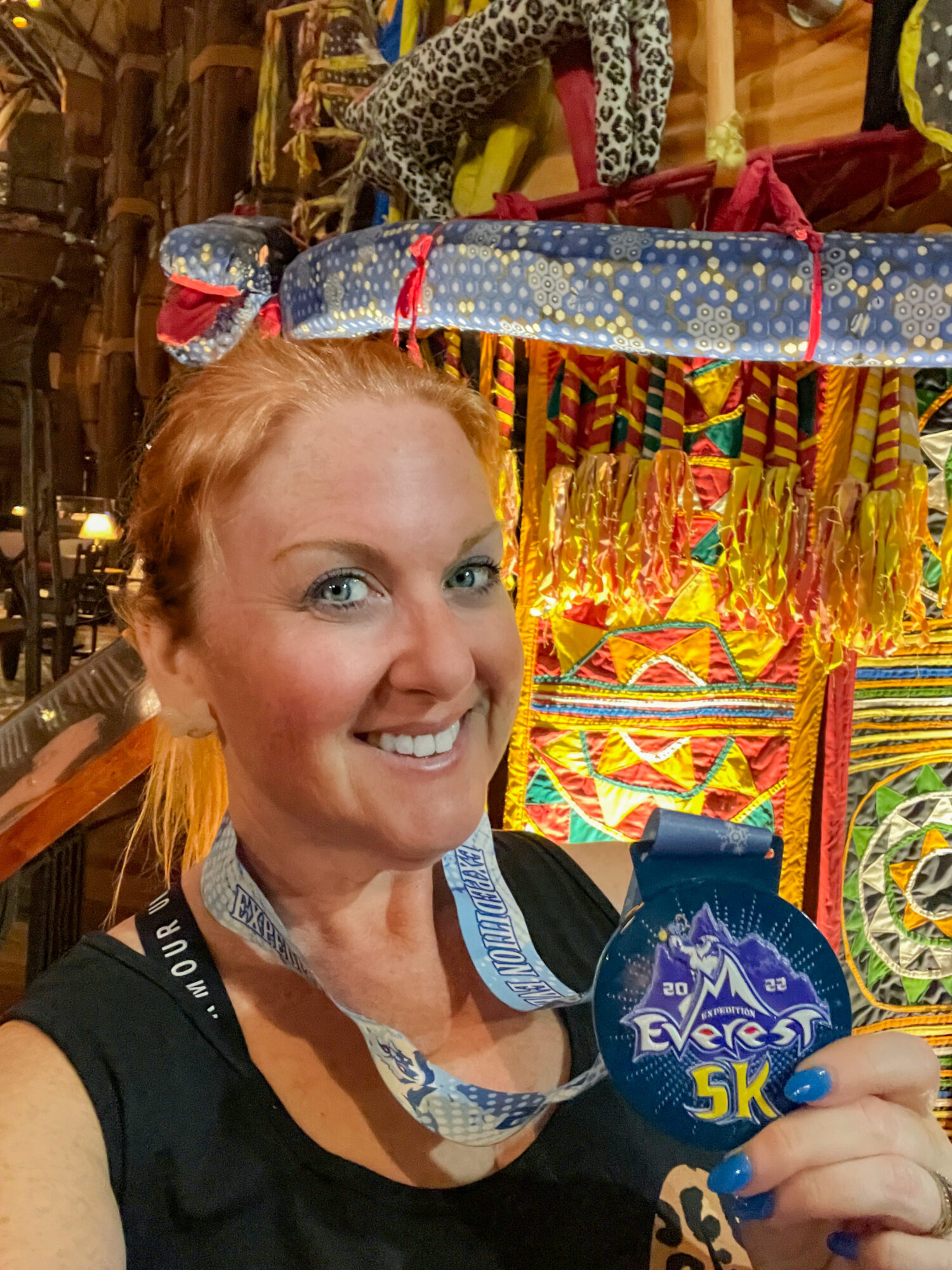 The medal for the Expedition Everest 5K has always been a compass, so I was very excited to finally get one myself. It was truly one of the most fun 5K's and unique ones as well. I would sign up again in a heartbeat!
The next day, we had a day of rest before the early morning race times began on Saturday. We hung around the hotel, had some pool time, and our family visited so we could all have dinner together from Sanaa at Disney's Animal Kingdom Lodge – Kidani Village, before we had to head to an early bedtime.
Saturday morning, we were up bright and early (well, not so bright, it was still very dark out at 2:30am). Having the Enterprise rental car meant we had a little more time to head over to EPCOT and park for the Race for the Taste 10K. My husband Scott and I headed into our starting group 1 and did some stretching before the race began. The runDisney crew always does an amazing job of hyping up the crowd at such an early hour, in rain or shine, cold or heat. This day, the humidity was at about 99% and it was like running through soup, but that didn't stop the fun.
We saw so many fun characters along the course and seeing our friends racing along with us made it even more special. Having the runDisney PhotoPass photographers along the course ensures you'll have some great memories of the race day and seeing the photos pop in on your app after the race is always a highlight.
Being locals, we aren't the type to pack in non-stop theme park action during the race weekends. We can go to the parks most of the time, so we like to take the time to relax at our hotel and unwind between races during the runDisney weekends. Saturday night we took advantage of the delicious dining options at Disney's Animal Kingdom Lodge and had some dinner to go from Victoria Falls Lounge and the Mara. It was an early night again as we waited for the 2:30 alarm to go off Sunday morning!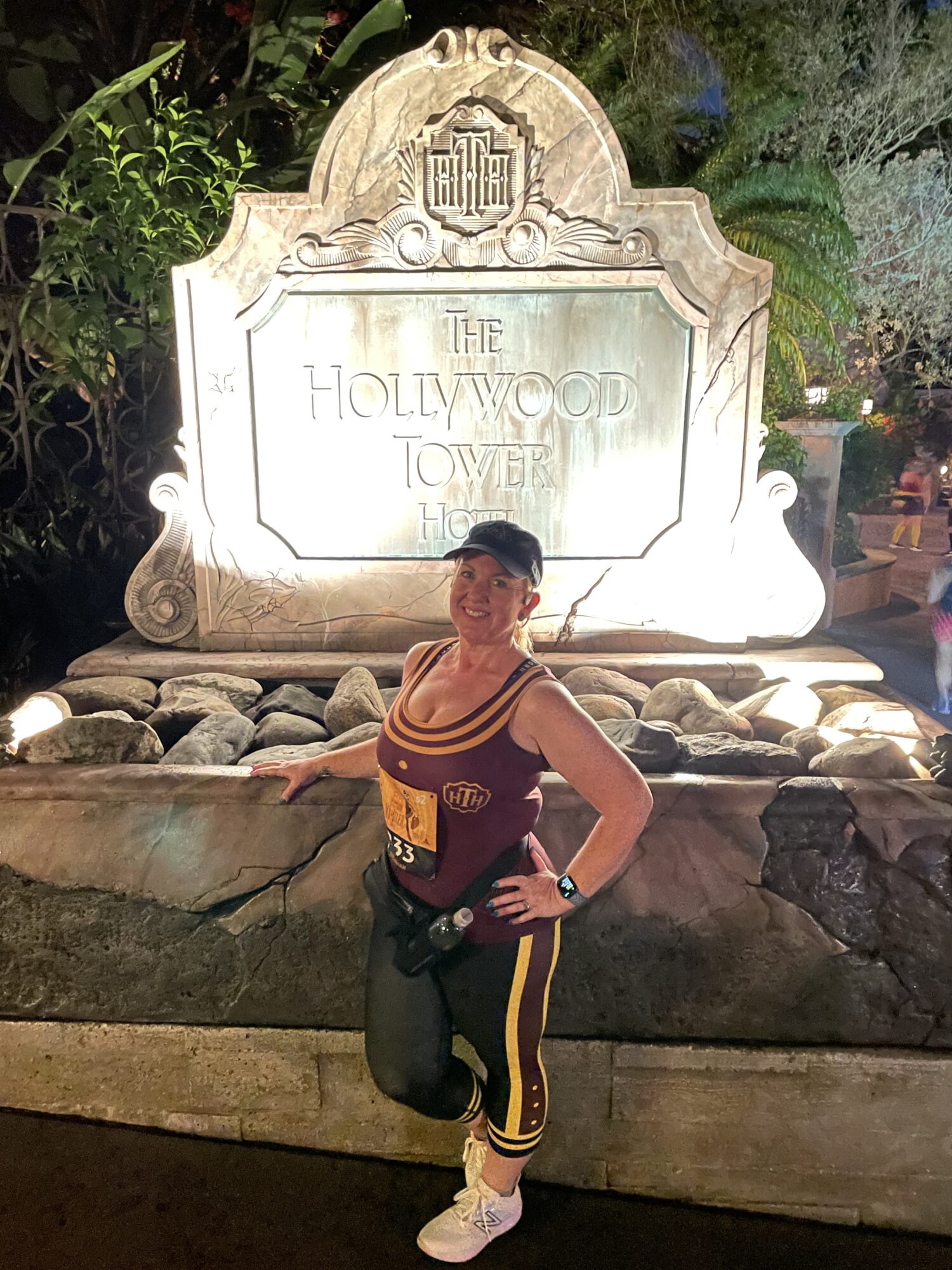 The Twilight Zone Tower of Terror™ 10 Miler was the last race of the weekend, and all of my friends were in the same starting group as Scott and I, so it was a very fun morning as we laughed and got ready to race. Two of our friends ran the whole race, while my other one (Amanda, who got me into runDisney races to begin with) run/walked with us the whole way. The humidity was less savage this day, so it was a great race day.
The runDisney character stops and entertainment along the course was all themed to the Tower of Terror and 1939 (the year the elevator first dropped into the Twilight Zone). It was great fun. I had already done 13.1 miles in February, so I knew I could complete this 10-miler, and each race I ran a little more and walked a little less, so it was all a great feeling of accomplishment too. Unlike the other two races, we finished this one after sunrise, so we got to see the sun rise over EPCOT, after running through Disney's Hollywood Studios and for the first time ever – Star Wars: Galaxy's Edge! I will never forget those moments.
Finishing the final race with my husband and my friends was such a wonderful experience. The runDisney Springtime Surprise Weekend Celebrates Yestermorrow was a success all around! We finished up our morning with a family breakfast at Boma in Disney's Animal Kingdom Lodge which has so many wonderful options for everyone to enjoy. After all the racing, we took a much-needed nap. Despite my lack of any real training, I was feeling great and ready to head over to a park and enjoy our last full day of this race weekend.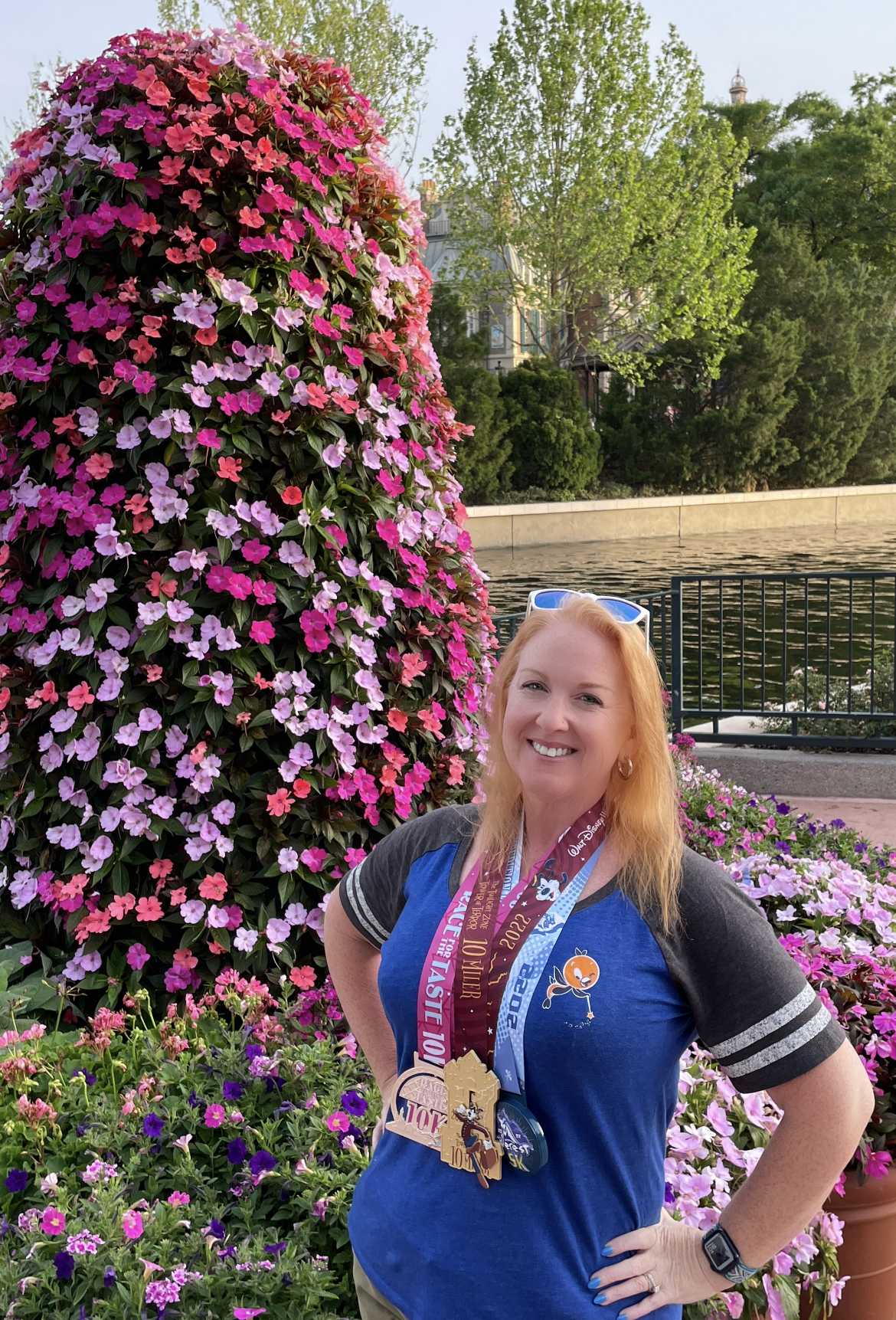 We popped over to EPCOT in our Enterprise rental car and enjoyed some of the delicious bites from the EPCOT International Flower & Garden Festival, going on now through July 4. We ended our night watching Harmonious and wandering through Disney's Yacht and Beach Club Resorts to check out the Easter egg displays before heading home for a good night's sleep.
The next day, reality crept back in as we checked out, returned our rental car (super easy, we didn't even have to go inside, we just handed them the keys and they said we were all set!) ,and headed home and back to work. I can't thank Enterprise enough for really making this runDisney weekend an epic one with so many fun moments along the way, I'll remember it for a very long time. I can't wait for the next set of runDisney races – see you in November!
*Opinions expressed are solely my own and do not express the views or opinions of Enterprise.
I'd love to hear about your runDisney race experiences in the comments below!