It's been about 6 years since I've had a home office set up, despite my working at home for the last almost 7 years. After I moved, and moved again, I just had too much other stuff going on to worry about setting up an actual workspace for myself. We moved into this house that we had built right behind Cinderella Castle a little over 3 years ago, and we've slowly…very slowly worked on decorating various spots (with the help of my adult children who still live here and are great with projects).
We recently converted a mess of a "game room" (where we had an old living room set, my 10 year-old's Disney Infinity collection, and our board games stored) into an actual home theatre. While it's not quite model-home standard, it was done 100% by the kids, a little bit by me, and even Scott helped. So every time we go in there, I think of the fun few weeks of crazy trips to Lowe's and IKEA and realizing we broke yet another drill bit or discovering that the platform has a few soft spots in it…but loving all those memories.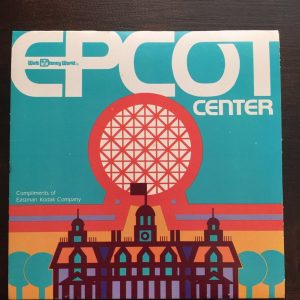 I snagged this from an ebay listing, because my map is still in a box somewhere 😛
EPCOT Center Inspiration
The impetus to start these projects was because one of the reasons we picked this house was the glorious upstairs loft space, and it had become a catch-all for years of accumulated boxes of random stuff, and somewhat an extension of my 10 year-old's room, so he could run around and play in a bigger space. Creating a dedicated movie room made me realize we really owed it to ourselves to make the rest of the upstairs something to be proud of, and useful, rather than piles of boxes and toys. So, next up was the office nook.
The difference between this space and a normal office with a door, was it is completely open to the upstairs, and slightly visible from downstairs looking up. So I wanted something that didn't clash with anything else in the house. The teal/blue color is probably the one carried through most of the house, so it was a good starting point. I had hopes of making it a personal space for all of *my* random Disney collected items and things that generally make me happy, so I wanted it to be bright and colorful. Naturally, my thoughts turned to the original 1982 color pallette of…EPCOT Center.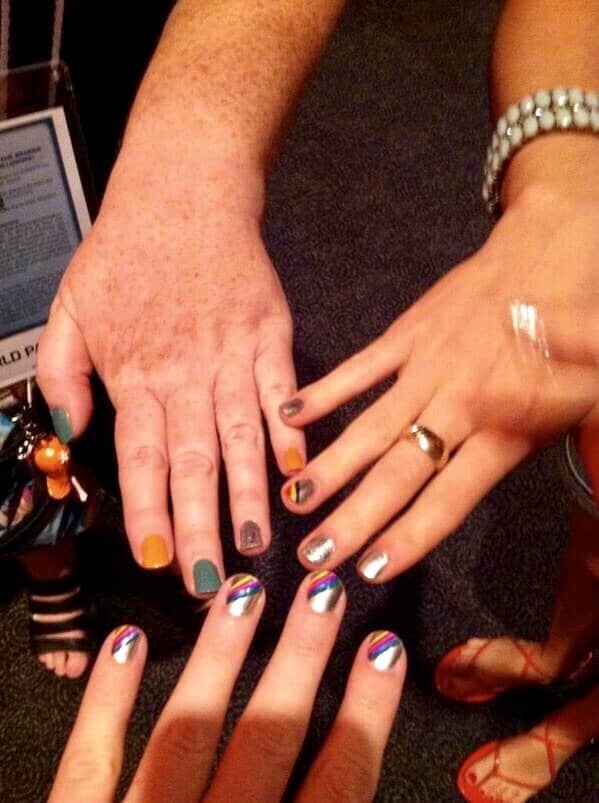 While it's not a direct "EPCOT-themed room" the colors and some choices were definitely inspired by that original EPCOT Center guide map that has stuck with me all these years. Back at the EPCOT 30 celebration that D23 put together, I painted my nails to match the guide (my friends did their own tribute in nail polish as well). Most of EPCOT Center, including its various color and design schemes has just stuck in my brain all these many years. So when I had a chance to start over and create the office I really wanted, it was a natural choice.
Without further ado, here is the finished office: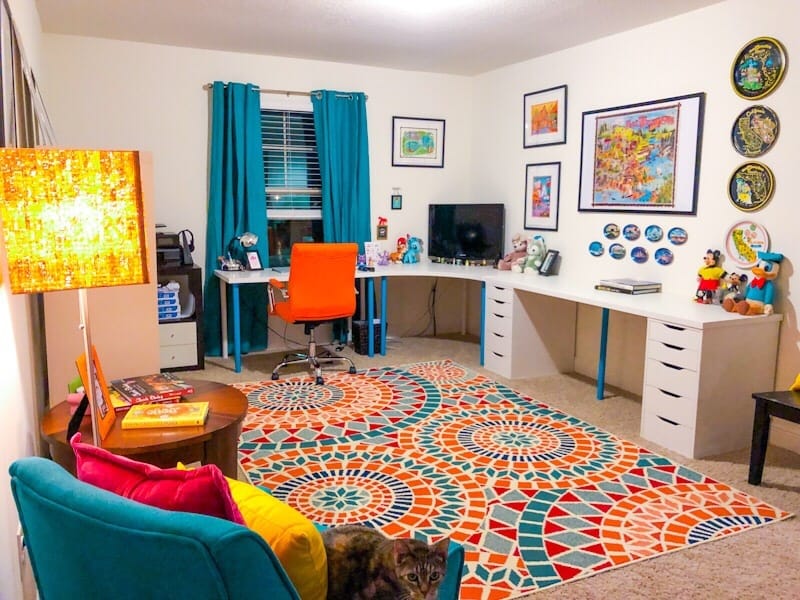 I was initially going to paint a wall that teal/turquoise blue color, but I decided to go with curtains instead so I could finally get some of my many prints up on the wall. I'm sure I'll add more to it as I uncover more boxes full of things I carefully stored away over the years, I've already added to it since taking these photos. Also, I am *fully* aware that I have the office decor of a 12 year old's room, but really, that's where my brain is most of the time. I may not play with all my toys I've collected, but it makes me very happy to look at them. (Which is probably some sort of sad psychological statement about me, but I'm ok with owning that.)
I'll post the rest of the photos in a gallery, including a before photo so you can see how much had to happen to get to this point. Feel free to click to enlarge any of the photos to see any details and scroll through the gallery. After seeing previews of the gallery, it looks like a lot of the details were lost in the resizing and uploading, so I'm going to add the original photos to flickr for anyone that wants to see higher quality versions of the photos below.
Overview

These toys on the right are from my childhood or my siblings

Kitten cameo!

night view

Some of the collection

Orange Bird came to roost

I had these Shag prints up in another part of the house, but stole them for the office because the colors went well

Stella the kitten cameo

Those top prints are now framed and on the walls

With the light on

Found more books to put out

Those prints now up

The carpet reminded me of both EPCOT and Morocco in World Showcase

Before – a mess!
Where to Buy
90% of the office comes from IKEA, including all the desk pieces and frames. Cheap is good. Here's a rundown of specific pieces – if I could link to them, I did, and NONE of them are affiliate links haha.
IKEA Linnmon Table Top – I got the 39″ and a 78″ top along with the corner piece all in white
IKEA Linnmon Table Legs – in white and blue (I hoped the blue would match more but I'm ok with it 😛
IKEA Alex Drawer Unit – 2 of these in white – everything comes in other colors if white isn't your thing I almost did all black but had the bookcase in white already so wanted to keep it clean looking.
IKEA KALLAX Storage Unit – This is actually an old EXPEDIT piece, but they've now discontinued that and made it KALLAX. I think the EXPEDIT just had wider edges on the outside. This also comes in multiple colors.
IKEA KALLAX Smaller Storage Unit – This holds the printer, paper, ink etc. It's also an old Expedit, and has a 2 drawer add on and a door add on in two of the cubbies.
In addition to the different colors, you can usually add on wheels to the smaller storage units if you want, or the drawer units, but I'm using them in place of table legs so didn't need to move them around a lot. There are also different styles of legs as you'll see. I really sound like an IKEA commercial.
The curtains are from Target:
The desk chair, area rug, accent chair, and floor lamp are from Wayfair:
I'm kind of obsessed with accent pillows, so I figured I'd tie some things together with those. I really thought the red in the rug was a dark pink when I ordered that pillow, but it all worked out in the end. The pillows are from Pier 1 because they are always having a pillow sale:
Sunbrella 20″ Knife Edge Pillow in Canvas Sunflower – these seem to be no longer available, but they came in a set of two. I got them solely for the size (lumbar) and color, they are technically outdoor pillows, so they won't fade in the non-existent direct sunlight of this office.
The table next to the chair is just old and put there because I thought it needed a table but didn't want to buy one. It's a little big and the wood doesn't match but eh, I think it works. If anyone has any questions on anything else specific, the prints or collectibles, just ask, I'm happy to explain details, artists, etc.
I hope any EPCOT Center fans out there appreciated my attempt at capturing the colors and in turn the feel of such an inspirational place.
Many thanks to my son Christian for going on IKEA runs, helping me assemble furniture and putting the prints in frames (and pushing me to work on the office to begin with!) I hope you enjoyed the tour – if you did, I'd love for you to share it! Thanks for visiting my office of future past.