I've written before about the wonderful hotel options at the Hilton Bonnet Creek and Waldorf Astoria Orlando. We stayed there back in 2015 for their Race Weekends package, and I'd been there before with my friend Amanda, on a girls weekend getaway, full of fun, food, and sunburn in my case. Back then, I called these hotels the "best kept secret in Walt Disney World," and while I think that word has gotten out, there are still many people that don't even know where these resorts are located. Food and Wine Weekends may just change that.
A great way to get introduced to these beautiful properties is one of the many event weekends they have going on throughout the year. The aforementioned Race Weekends are a great option for runDisney races; they really give you extra fun for your races, with all sorts of great amenities to enjoy. They also have Florida Resident rates, breakfast included packages, and more. Last night we were invited to experience a taste of their Food and Wine Weekends. These weekend menu options extend the "Magical Dining" menus that happen all over Orlando in September, with proceeds going to various charities, and are a perfect complement to the Epcot International Food & Wine Festival.
Food And Wine Weekends Breakdown:
The Food and Wine Weekends offer special tasting menus at 3 of the restaurants throughout the Hilton Bonnet Creek and Waldorf Astoria. The best part (for me and many of my friends) is that they also offer full vegan menu options at each of these locations.
A couple of weeks ago, I enjoyed the vegan Magical Dining menu at Zeta Asia, and it was truly amazing. I was very happy Amanda made that reservation because I didn't know it existed and I'm still thinking about the menu items we had (I am officially in love with the vegan Bao Buns and the Bibimbap)!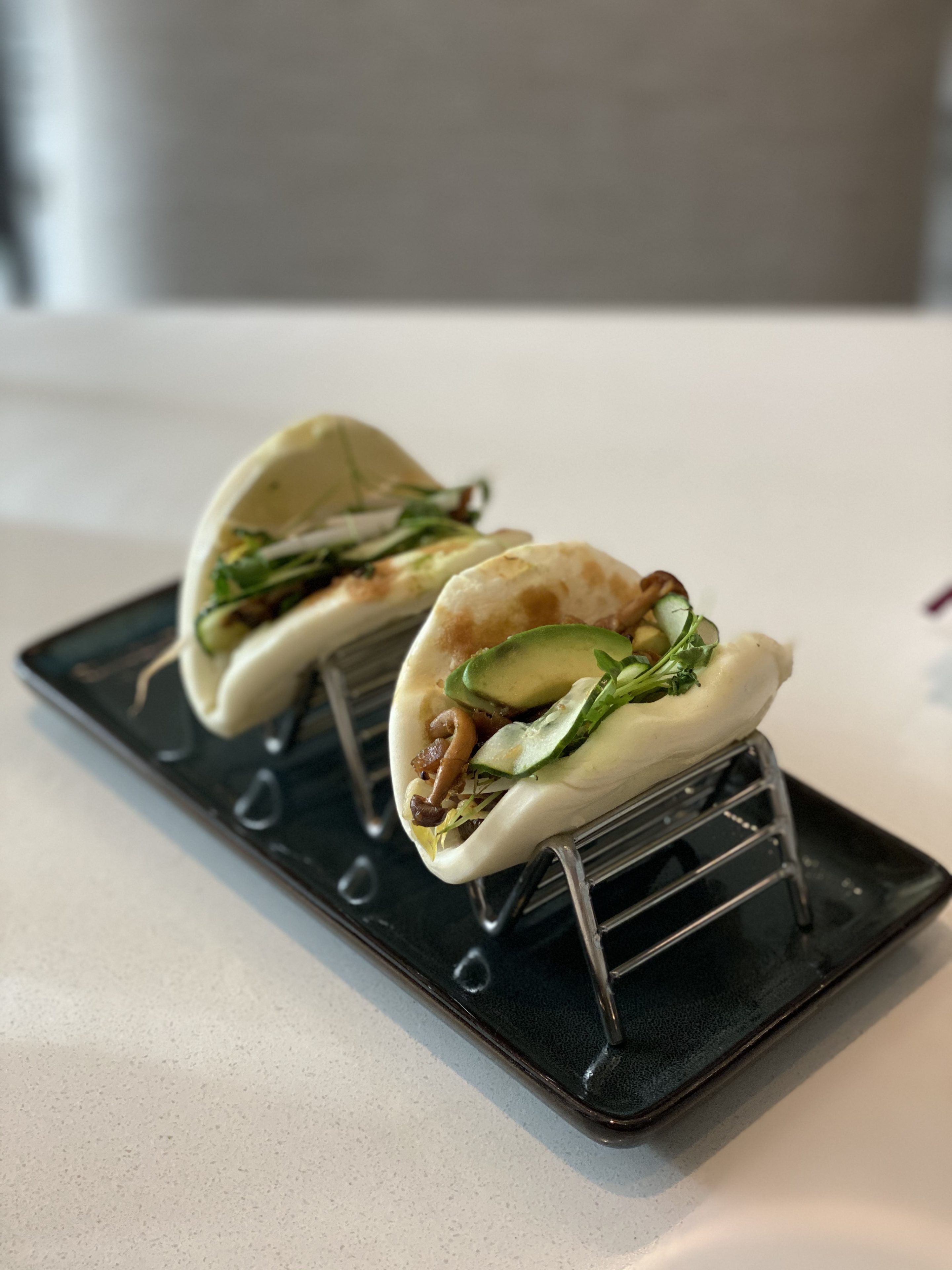 You can find ALL of the Food and Wine Weekends menu options, including Peacock Alley's "Bar du Chocolat and Champagne tasting" and the Myth Bar's "Pop Culture" with house made fresh fruit popsicles, organic ice pops, and "poptails" for the adults, in this guide from Hilton Bonnet Creek.
Vegan Options:
Last night, we were treated to the vegan Cauliflower Salad from La Luce, the Vegetable Fricassee from Bull & Bear, and the Impossible Bibimbap from Zeta Asia. These were all wonderful choices, and honestly, I was full after the first option, and absolutely stuffed by the 3rd. I somehow made room for the two vegan desserts we were offered, a dark chocolate and passion fruit dessert from Bull & Bear, and the special request dessert available in the hotels when you request a vegan dessert: fresh fruit sauce over a coconut tart, with fresh berries and whipped non-dairy cream. They were both SO wonderful, it definitely didn't feel like a thrown-together vegan option, which is often the case with desserts. Check out photos in the gallery below from the evening and some of the hotel properties. Just click to enlarge any photo:
We were also treated to a vegan cocktail, since the one they were serving that night had sheep's milk in it. We were given a modified "Bee's Knees" with agave instead of honey. It was very floral and lovely. You can order this at Peacock Alley any time! You can watch the bartender create this drink for us, as well as chefs creating the amazing nitrogen-cooled chocolate pictured above, any time on my Food and Wine Weekends Instagram story highlight.
I hope I've tempted you a bit to head over to the Waldorf Astoria Orlando or Hilton Bonnet Creek and experience their Food and Wine Weekends for yourselves. It really is a wonderful experience, and such a nice, relaxing, crowd-and-line-free way to enjoy some culinary delights. I was hosted for our tasting experience, but I truly do love these properties and think they are such a nice getaway from the hustle and bustle of the nearby Disney hotels. Did I mention the lazy river? 
If you've never been, enjoying a Food and Wine Weekends tasting menu is a great way to get over and explore the properties before staying the night (but staying the night is also a great way to end your Food and Wine Weekends evening!).
Have you stayed at either of these properties, or enjoyed their Food and Wine Weekends, or their stellar dining options?
I'd love to hear your thoughts or if you plan to check it out. Let me know in the comments below or drop me a line on social media, I'd love to chat about it! Thanks for reading.
Disclosure: As mentioned, I was hosted by Hilton for this tasting event, but my thoughts and opinions are, as always, my own. 

FOLLOW THE ZANNALAND TEAM ON SOCIAL MEDIA, WATCH OUR VIDEOS, VLOGS AND PODCAST TOO: 
We thank you for your support and for sharing the love!