While I've been to New Orleans before, never during Mardi Gras, and it's certainly not a destination with a family reputation. With that in mind Universal Orlando Resort has been bringing Mardi Gras to central Florida for years now. One of the highlights is the Mardi Gras parade, where guests receive beads from the passing floats – a favorite for kids in the crowd. This year's parade takes guests on a journey through the earth's different ecosystems with elaborately themed floats including: bayous and swamps, rainforest, coral reefs, the deep blue sea and Polar Regions. Every year, the parade's hand-crafted floats are built by Blaine Kern Artists – the same company that designs the floats for the Mardi Gras parade in New Orleans.
Universal also puts together a French Quarter Courtyard, where guests can enjoy authentic New Orleans bands every night before the headliner concert. Since 2006, more than 20 bands have traveled straight from The Big Easy to Universal Orlando to perform Blues, Jazz and Zydeco music for partygoers – adding to the authenticity of Universal's Mardi Gras celebration. The French Quarter also features delicious Cajun cuisine, including jambalaya, gumbo, beignets and much more. We were able to sample the gumbo, jambalaya and beignets and they were pretty darn good! Spicy and authentic!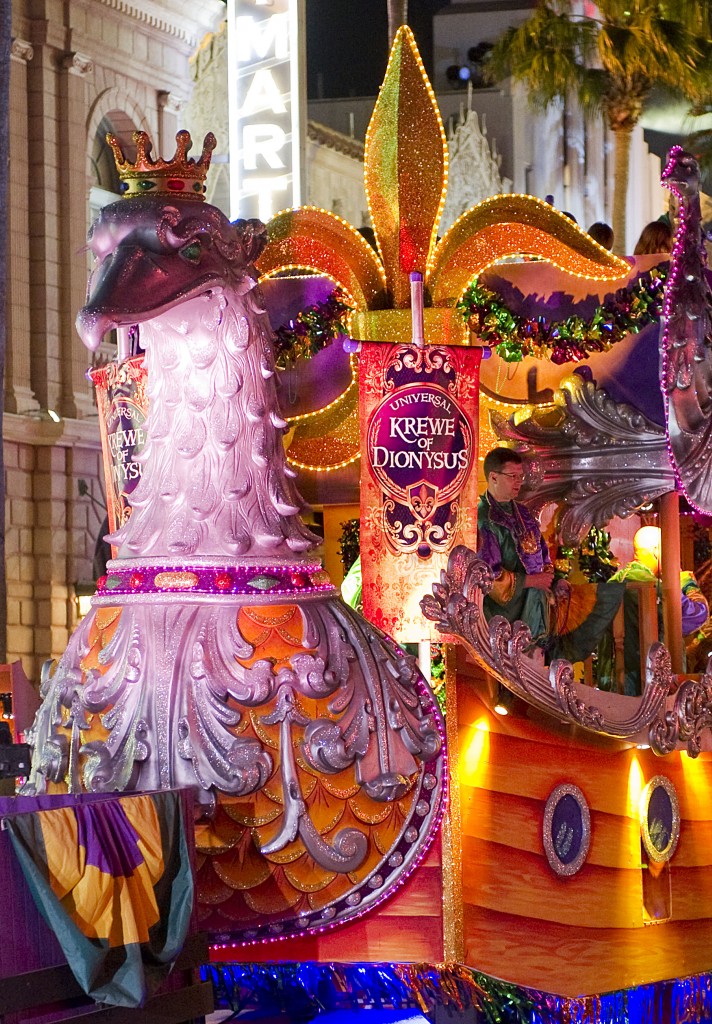 In addition, there are headline bands performing each Friday and Saturday, which is included in the price of park admission! We saw Big Time Rush, which was very well-received by the local tween crowds. Speaking of crowds, this is one of two caveats I have for families heading to Universal Studios Florida for these events. We had been here for the Christmastime events, with Mannheim Steamroller performing. Let's just say there are a few more people in the park to see Big Time Rush vs. Mannheim Steamroller. When we arrived at 4:30, guests had already staked out their spots for the concert at 8:30 after the parade. We had to make our way from the lakefront area where we'd seen the wonderful parade to the stage area for the show and trying to maneuver through the crowds – with strollers, was pretty scary. While I can appreciate the amazing value of a free show like this, when it's geared toward families, better crowd control and exit pathways could be worked on.
The second issue I had was with the amount of alcohol being served. This isn't so much a Universal issue as I had the same report during Epcot's Food & Wine Festival. Seeing employees walking around selling jello shots just gives off a different vibe, however. I get that it IS Mardi Gras after all, an event not exactly known for teetotaling. I don't pretend to shield my children from the realities of adults on vacation, but that much alcohol in any environment makes me uncomfortable, and it is billed as a "family event"
That said, the little kids show we were treated to when we first arrived was super cute, with costumed characters dancing to zydeco music and throwing beads at the end. The kids in the audience all loved it and it was a great way to get them introduced to the music and excitement of the event. I think overall it's a super fun event for families and adults alike, maybe just plan to get the stroller-set home after the parade.
Here are the remaining performers and performances for Universal's Mardi Gras:
| | | |
| --- | --- | --- |
| Mardi Gras Event Dates | Headliners (performing in the Music Plaza) | New Orleans Bands (performing in the French Quarter) |
| | | |
| --- | --- | --- |
| Friday, March 16 | J. Cole | Lil' Brian & The Zydeco Travelers |
| Saturday, March 17 | Sugar Ray | Lil' Brian & The Zydeco Travelers |
| Friday, March 23 | Hot Chelle Rae | J.J. Caillier & The Zydeco Knockouts |
| Saturday, March 24 | B.o.B | J.J. Caillier & The Zydeco Knockouts |
| Friday, March 30 | Plain White T's | Soul Project |
| Saturday, March 31 | Prince Royce | Soul Project |
| Saturday, April 7 | Cyndi Lauper | Rockin' Jake |
| Saturday, April 14 | KC & The Sunshine Band | Big Al & The Heavyweights |
;
You can see the rest of my photos from the evening at my Flickr account!
;
I was provided entrance to Universal Orlando Resort and dinner for my family and myself on the night we attended, but this in no way affected my review or opinions contained herein. Thanks to Universal Orlando for a great night.
;
More information about Universal Orlando Resort may be found at UniversalOrlando.com.