During the non-stop events of last weekend, I had quite a few Zannaland team members covering things in the Orlando area for me. Scott Otis, friend and conservationist, agreed to cover the grand opening of SeaWorld Orlando's newest attraction – Turtle Trek.
Before we get started, a bit of news as I reported on twitter last week, SeaWorld and Busch Gardens are saying good-bye to plastic bags at their theme parks within the year. Here's why, according to SeaWorld:
The eco-friendly move will save an estimated 4 million plastic bags per year from both entering landfills and impacting wildlife. SeaWorld routinely rescues marine wildlife such as endangered sea turtles that sometimes mistake plastic bags for a favorite food such as jellyfish.  The company began the transition in 2011 when SeaWorld San Diego discontinued the use of plastic gift bags. SeaWorld Orlando is eliminating the bags this month in celebration of the opening of its new attraction TurtleTrek.
Guests visiting Turtle Trek first explore two massive naturalistic habitats, home to gentle manatees and gliding sea turtles, learning what makes each species so precious. Families then enter a domed theater and what happens next has never before been seen and is a first at any theme park in the world.
Inside the dome, they'll be surrounded by a hyper-realistic, 3D 360 degree film that takes them on the amazing life journey of a special sea turtle named Nyah. The experience is all around guests and even above them – not just in front of them or only on one screen. It's this all-new and immersive way of showcasing a sea turtle's epic adventure that is the heart of TurtleTrek. And for the first time, SeaWorld guests are given a turtle's eye view of the ocean's wonders.
TurtleTrek is as inspirational as it is astounding. There's a call-to-action at the end of the experience:  SeaWorld urges guests to join in conserving the world we share. "Do a little, do a lot, but join us and do something to help the world and its animals," said Brian Morrow, the attraction's chief designer. "TurtleTrek is about the everyday heroes who can make a difference in nature."
And there's even more at TurtleTrek: Families will love competing on the fun (and educational) "Race for the Beach" video game that plays out on massive video screens at the new attraction. And TurtleTrek's gift shop is unique in the way it continues the attraction's inspiration and guests will see exactly how a portion of each dollar spent benefits in-the-field research to help save animals.
Here is a slideshow of images taken by Scott Otis at the grand opening of the Turtle Trek Experience:
[slideshow id=1]
The inspiration behind TurtleTrek:   
•    No animal's life journey is more incredible than that of the sea turtle. From hatching on a beach and making the mad dash to open waters to the dangers and hazards they face as they mature and return to the very same beach to lay their own eggs, their tales of life underwater have in the past been impossible to show. And no theme park in the world is better equipped than SeaWorld to share that journey with millions of people.
•    In the same way SeaWorld brought attention to the plight of the manatee – the park's attraction, "Manatee Rescue," created interest that helped to save the species – at TurtleTrek, the park showcases the vulnerable sea turtle and asks everyday heroes across the globe to help make a difference in saving animals in the wild.
•    In the nearly 50 years since SeaWorld's rescue programs began, more than 20,000 injured, orphaned or ill animals have been rescued, cared for and in most instances, returned to the wild. That's more than one animal per day since 1964.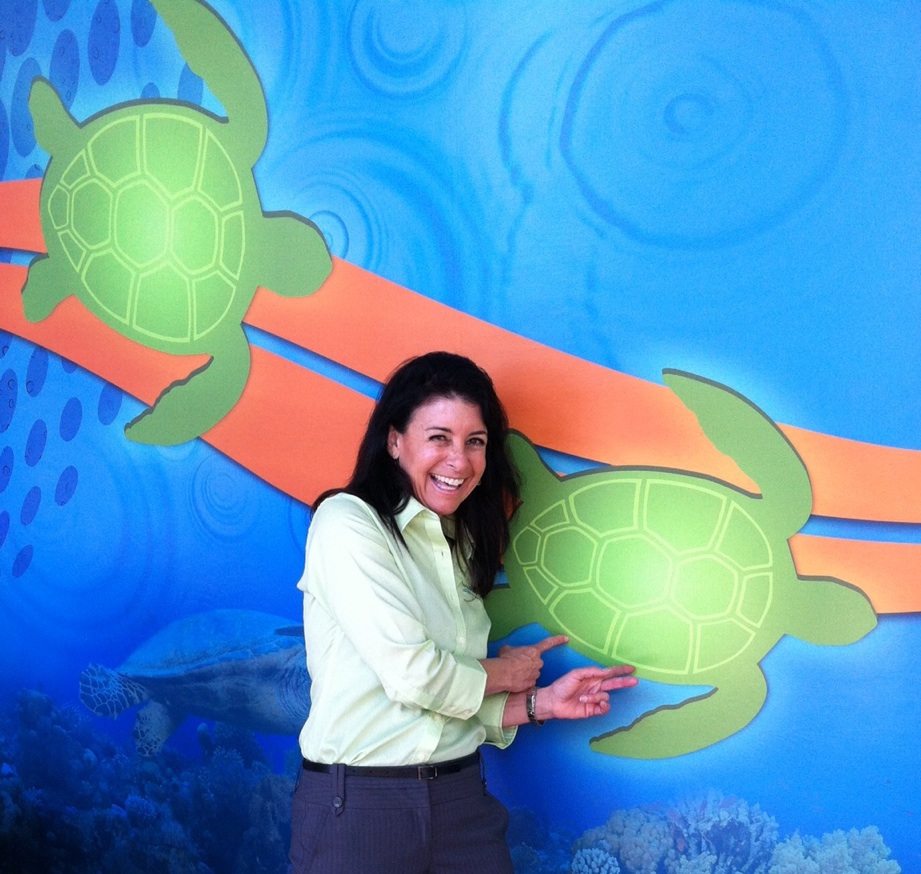 The dome that brings the film to life:
  •    For the first time, designers have married a state-of-the-art animated film and powerful projection system with a fully domed theater, allowing for a seamless, 3-D virtual environment, all around the guests, even over their heads.
•    A fine silver coating on the dome allows each screen to focus the projection light back toward the guests.  Each fleck of silver is like a tiny mirror.
The 3-D/360-degree film that showcases the epic journey of one sea turtle:
•    The animated film goes well beyond the concept of high-definition or even virtual reality. In fact, it could be considered "high-reality."
•    Each frame of the film has approximately 26 million individual pixels (more than 13 times what is considered "high-def")
•    The film is shown at 60 frames-per-second (twice as fast as the human mind can register movement).
•    Combined with the dome and the powerful projection system, the result is one of the sharpest, most spectacular 3-D films ever created.
•    Each animal featured in the movie – from our hero sea turtle, to thousands of fish and down to the smallest anemone – began its life on an artist's drawing board. Every movement of every creature was then animated independently.
•    More than 12 species of sea animals are brought to life for the animated film. And each one was approved by SeaWorld educators and animal experts.
•    Chances are you're looking at this fact sheet on a standard computer monitor that's 1,024 pixels wide by 768 pixels high – a total of slightly more than 780,000 pixels. The dome screens at TurtleTrek have more than 26,000,000 pixels.
•    You won't find this movie on Netflix. At nearly 950GB, it would take you nearly 3 months to download the six-minute movie at home. If anyone was ever to create a full-length film at this resolution and complexity, it would take nearly five years to download.
•    The dome itself creates a huge projection area.  The dome is so large, it takes 34 projectors and 368,000 lumens of light to fill it with a 3-D, 360-degree movie.
•    TurtleTrek's movie is actually two.  To create the astonishing 3-D, two films run simultaneously. One is for the left eye, the other for the right.
•    The sound system at TurtleTrek includes 22 discrete audio channels that have all been mixed on-site. This allows for 3-D sound and pinpoint placement of audio effects.
•    A typical surround sound system has a 5.1 arrangement – 5 sound channels and 1 channel for low frequency effects.  The sound system at TurtleTrek is 18.4 and is rated at an amazing 32,000 watts.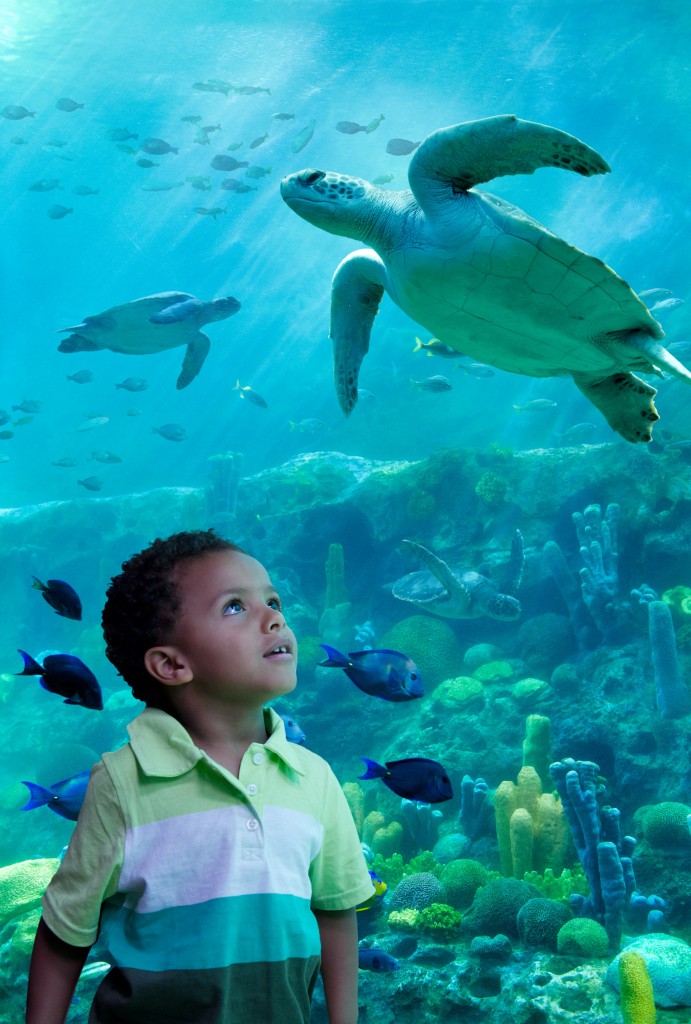 The real-life animals that live at TurtleTrek

A one-of-a-kind 3-D/360-degree movie is only part of TurtleTrek's allure. It's also two massive, naturalistic saltwater and freshwater habitats, home to sea turtles and manatees, some of them rescued and cared for by SeaWorld's animal team.
The attraction's sea turtle residents have been deemed non-releasable by the Florida government — due to genetics, illness, or being orphaned -– and have found a permanent home at TurtleTrek. Since 1973, SeaWorld Orlando has rescued, cared for and returned hundreds of endangered manatees and since 1980 returned more than 1,200 sea turtles back to their natural waters.
Sea Turtles
•    Sea turtles are truly a global species found in temperate and tropical seas worldwide. They have survived in the seas for more than 200 million years and are among a small group of reptiles that depend on the sea for survival.
•    TurtleTrek will be home to a variety of adult and juvenile sea turtles, including hawksbill and green sea turtles. Guests can view these exquisite creatures gliding past them from above, or through a below-water window.
Manatees
•    Florida's tropical waters are home to a great diversity of life and perhaps none are more rare and endearing than the manatee. All manatee species can be found in warm tropical and subtropical waters in North America, South America, and West Africa.
•    At TurtleTrek, four West Indian manatees can be seen from above, or below water as they swim by or graze on a leafy snack. Each gentle giant in the exhibit was previously rescued by SeaWorld – the global leader in rescue and rehabilitation of manatees.
Fish
•    More than 1,500 Caribbean-native fish live in the saltwater habitat. The tropical varieties guests can view within the sea turtle habitat include angelfish, surgeonfish, file fish, butterfly fish, and many more.
•    Approximately 200 freshwater fish will accompany the manatees in their habitat. There will be fish native to Florida such as large-mouth bass and bluegills; and exotic fish that can be found in Florida waters such as pacu and red-tail catfish.
To learn more, visit SeaWorldParksandEntertainment.com or call toll-free 1-888-800-5447. Additionally, SeaWorld Parks & Entertainment created the SeaWorld & Busch Gardens Conservation Fund, a non-profit, private charitable foundation committed to supporting wildlife and habitat conservation, research, education and animal rescue programs worldwide. Learn more at SWBG-ConservationFund.org.