That's right, Disney has done it again, partnering with an extremely popular fashion brand to make a winning combination of style and whimsy. With the incredible success of the Disney Dooney & Bourke collaboration, it's no surprise that Vera Bradley was next in line for a Disney twist. I know as I walked through the parks, Vera Bradley is what I see most aside from the Disney Dooneys. Now, I think the parks will be a colorful, floral explosion of Disney fun!
For those unfamiliar with Vera Bradley, the designs are known for floral and bold, colorful prints in a soft fabric style. Each bag usually has as much function as it does form, with pockets for cell phones, strap options, and, best of all – they are machine washable! I know that is a big concern with accessories you take on a vacation, especially to Disney Parks where bags can take a beating getting put in and out of attractions. I think the Vera Bradley and Disney partnership will be a long and successful one!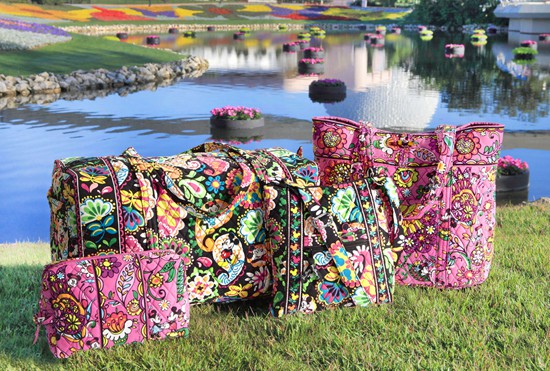 Here is some more information from Steven Miller's Disney Parks Blog post today:
Disney Theme Park Merchandise worked closely with Vera Bradley to develop two new patterns that will appear on items this fall. I spoke with Cathy Dawson, merchandiser for accessories at Disney Parks, about these colorful additions. "We are thrilled to introduce Vera Bradley to our accessories assortment," exclaimed Cathy.
"In recent years, we've seen several guests in our parks and resorts sporting fun, colorful bags by Vera Bradley. Even our Disney Cruise Line team recently added some items by Vera Bradley to the Disney Dream and Disney Fantasy. We thought it would be wonderful to add a splash of Disney to these popular and colorful accessory items."
The new Disney-inspired patterns have names, which is something Vera Bradley does for all of their patterns. Cathy said the black pattern is called "Midnight with Mickey," while the pink pattern is named "Just Mousing Around." These patterns will be seen on duffel bags, totes, cosmetic bags and more.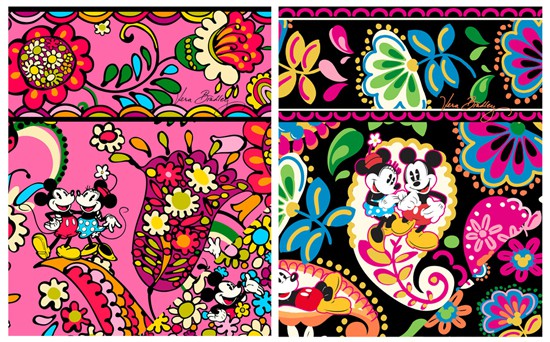 When released this fall, guests will find these items at select locations in Disneyland and Walt Disney World Resorts. They will also be sold via the Disney Parks online store at a future date.
What do you think of the new collaboration? Are you a current Vera Bradley fan or will this make you a convert?