When rumors first swirled a few months back regarding the Walt Disney World Resort's Fantasyland expansion with blueprints featuring an entire separate area devoted to princesses, critics lambasted the unconfirmed choices for aiming to exclude little boys and focus solely on Princesses-in-training. On September 12, 2009 at Disney's inaugural D23 Expo in Anaheim, those rumors were proved completely-TRUE. Disney countered the worry about leaving boys in the dust with promises of opportunities for boys to be knights-in-training. Walt Disney Parks and Resorts Chairman Jay Rasulo assured the crowds in attendance that Fantasyland would be for families not just girls. What I find interesting is that a company which has received constant criticism concerning its gender stereotypes and teaching little girls to aspire to be princesses, is now still under fire when promoting a place where all can imagine and explore.
Fantasyland has been around in its current form for decades. Have generations of boys refused to go to Cinderella Castle because a GIRL lives there? Do girls not want to ride Peter Pan's Flight because a BOY is the main character? As with most arguments against a popular phenomenon, I think there is too much scrutiny going on. Little girls loved Toy Story even before Jessie showed up. Little boys in turn still love Beauty and the Beast, Sleeping Beauty, Little Mermaid…all the masterpieces Disney has produced. A story is a story and a child is not bound by adult definitions of what he or she is "supposed" to identify with.
Despite those facts, Disney has still made an effort to entertain both genders with this new Fantasyland expansion. There will be a knight-in-training section in the Cinderella area and there will be a new restaurant featuring everyone's favorite neanderthal, Gaston (who still uses antlers in all of his decorating). However, who is to say that only boys will want to be knights in training or girls will want to do the planning for Aurora's 16th birthday celebration? I think we need to leave aside our worry about boys being entertained or girls being catered to and just relax and enjoy what Disney does best, weave a tale of magic. By doing so, our children and our children's children may all experience the wonder that is ever-present at Disney's parks, without over-analyzation and debate about what they are allowed to appreciate.
As far as the specifics on Fantasyland expansion, there are many sites out there with more detailed information and pictures, but I will share some highlights. Fantasyland will be expanded not replaced, however Toon Town will pretty much be lost in the new plans. Goofy's Barnstormer will remain and according to Imagineers, Mickey's presence will still be felt, but they are keeping mum as to where and how that will play out. An all-new Dumbo attraction will be built, with not one but two actual Dumbo rides as well as an interactive game queue so there will be no more shuffling in the sun while you wait.
Fairy Tales will receive the royal treatment, with several new areas full of activities and chances for interaction with everyone's favorite princesses. As mentioned above, you will be able to help the 3 fairies from Sleeping Beauty plan a 16th birthday party for Aurora, since she missed out. Cinderella's appearance will transform from rags to her ball gown before your eyes. There will be special locations to explore from Beauty and the Beast including Gaston's Tavern and a more elegant Be Our Guest restaurant themed after the ballroom scene in the movie. Ariel will not be forgotten and in fact she'll get her own ride where guests can go under the sea and experience some favorite scenes and music from the movie.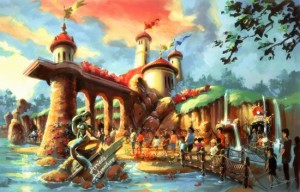 Perhaps what I am most excited about will be the addition of Pixie Hollow, which has enjoyed great success in Disneyland. Disney World's Pixie Hollow will be one of the last new sections of Fantasyland to be built and guests will be magically shrunk to pixie-size and be able to explore the Hollow from a fairy's perspective. Tinker Bell is my favorite and I love all things pixie-dusted so I can't wait to see and be a pixie!

If Fantasyland does not make all your dreams come true, there is also the announcement of the all-new Star Tours 2 – Pod Racers – in 3-D. This new take on the outer space adventure will be landing in Disney's Hollywood Studios in 2011 as well as Disneyland. As you can imagine the motion ride simulator possibilities of a pod race scene from Star Wars Episode 1 are endless. Add 3-D technology to that and I'm sure the experience will be unforgettable.
One thing is certain, 2010 and beyond will usher in an amazing new era at Disney's Parks. While the memories we experienced as children may not be repeated, new memories await visitors old and new to the place where Dreams Do Come True…no matter who you are.
images ©Disney and courtesy of wdwpress.com (via @DisneyParks on twitter) and attractionsmagazine.com