Disney Publishing is asking Disney fans the question – "Have you ever wished you could tag your friends as Snow White or Woody?"  Well now you can! They've  just launched a Facebook application entitled "Disney Bookmarker" that allows Facebook users to "cast" their Facebook friends as their favorite Disney characters.
Facebook users can cast their friends as their favorite Disney characters from:
Toy Story
Finding Nemo
Cars
Alice in Wonderland
Snow White and the Seven Dwarfs
The Little Mermaid
Beauty and the Beast
Disney characters create emotions not only for kids, but also for parents. Now parents and adult Disney fans have the opportunity to tag their friends in a photo of the characters together. Have a friend that always reminds you of Dory? Or an Aunt that reminds you of Ariel? Now you can share that with all your Facebook friends and family.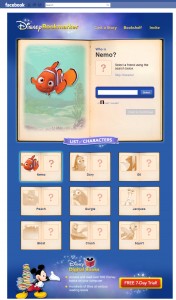 Facebook users will receive a 7-day free trial of Disney Digital Books (DDB) for using the application. DDB is a comprehensive library of over 600 children's books online. Children will find favorites from popular Disney themes, such as Mickey Mouse, Winnie the Pooh, Toy Story, Disney Princess, Cars, and Hannah Montana, along with many other classic Disney stories.
To access the Disney Bookmarker app directly, use this link: http://apps.facebook.com/disneybookmarker/