One of our family's traditions since living in the backyard of Walt Disney World is celebrating birthdays in the parks. We also have a tradition of spending Mother's Day at the Epcot Flower & Garden Festival, and of course enjoying the holiday decorations in December. However there is little that can compete with the magic of being at Disney for your birthday. Our upcoming trip will combine celebrations for my mother – turning 70 this week (and I don't worry about sharing her age because she doesn't look a day over 55!) and my daughter will be turning 9 on the last day of our vacation.
There are several things you can do to make your birthday more special at Disney, including ordering gift baskets, flowers or balloons to your Disney resort, or special ordering a small cake ($21) to be delivered (with song of course!) as you dine in a Disney restaurant. In addition, there is one very important, completely FREE thing which you should do first and foremost upon arriving on Disney property: Tell EVERYONE it's your birthday!! Tell the front desk when you check in at your resort, tell them at the ticket sales booth, guest relations or City Hall at the parks, and tell them at every Disney restaurant at which you dine.

When you tell them at the ticket booth or guest relations of a park, you will be given a free button proclaiming to the world that it is your birthday. A cast member will write your name on the button and once you put it on, the magic begins. Cast members will pass you by and say, "Happy Birthday!"
Perfect strangers
walking past or waiting in line with you will say, "Happy Birthday!". Your server at a Disney table-service restaurant will even bring you a special Disney cupcake with a candle and sing to you!
We told the front desk at Disney's Beach Club Resort it was our daughter's birthday and she was greeted with a nice surprise one day as we were relaxing in the room. This is not guaranteed, but worth a try, tell everyone!!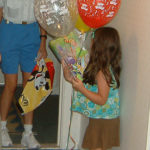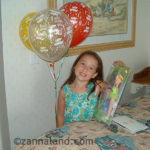 If you are getting a special
Bibbidy Bobbidy Boutique
make-over on your birthday, you will receive a special "Birthday Princess" sash. I'm not sure what is available at the new
Pirate League
in Magic Kingdom, but I'm sure they do something special as well. Part of the fun is finding out the little surprises and treats Disney has in store for birthday boys and girls (no age limit to that title! 😉 )
Of course this year is the Free Admission on Your Birthday promotion at the Disney Parks, which is a wonderful way to celebrate! And if you have annual passes or admission tickets already, there are other options that ensure you receive some Disney magic on your special day. Whether or not you make visiting Disney on your birthday an annual tradition, don't be shy and enjoy celebrating YOU in the Happiest Place on Earth!