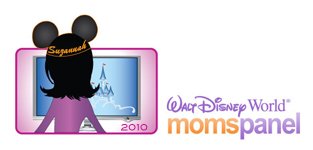 A little over a year ago, I was floating in a surreal dream of having actually achieved my dream of being selected for the Walt Disney World Moms Panel. It's hard to imagine a time before my Moms Panel journey began…but I thought I'd try to reflect back on it after an action-packed year. Of course, my year has been doubly blessed because so much has happened as a result of the blog as well. I am grateful for all that this past year has brought, in terms of friendships, personal successes, lessons learned and dreams come true. The wonderful thing about dreams coming true…once they do, you get to move on to the next dream. And let me tell you, a girl can get used to dreaming big!
In putting together the video I'm about to share below, I remembered when I first started looking into DisneyWorldMoms.com and watching the official video Disney released announcing the 2009 panel. I recall watching the video and seeing the faces of the moms and dads on the panel and just thinking, "That will never be me. I can't imagine." (but at the same time secretly hoping) The people on the panel seemed like rock stars to me; people you admired from afar but could never be a part of their world. Despite that, I had a dream…and now not only am I one of the chosen few Walt Disney World Moms Panelists, I call each and every one of them friend.
The internet is an amazing place in its ability to bring people together. Even if I hadn't been chosen for the panel, I still might have been able to meet everyone I've met in the past year, through twitter, facebook, message boards and even because of ZannaLand. That is another gift for which I am truly grateful. The fact that I was chosen just made this past year all the sweeter and full of magical twists and turns and showers of pixie dust.
I've spoken a bit before here about my personality. One of the biggest shocks when people meet me in person is that I'm not the real-life personification of my online persona. I wish I was…but the truth is I've always struggled with being shy and I'm usually the person that will shrink back into the background if given the chance. It's something I embarrassingly never even thought about when I applied to the panel – "oh, I'll have to actually speak on video and meet people and *gulp* be outgoing!" So that is another gift of this past year – learning to be more sociable. I'm still taking baby steps I'm in that department and each time I meet someone from twitter or facebook or a fan of the Moms Panel, I get a little more comfortable. THAT is thanks to the patience and understanding of  my fellow Moms Panelists and everyone I've met that's really shown me it's okay to just be me. I'm getting there!
Anyway, enough rambling about me! I just wanted to take a moment to drink in all that's happened since one year ago and the amazing journey that started with the thought, "I can do that." As Walt himself said, "If you can dream it, you can do it." I realize many people who have attempted this particular dream may be a bit heartbroken right now…and that's understandable. Many of us took several years to achieve it, some have made it but moved on to other paths. That's the important thing; keeping your passion alive and seeing what pathways open up for you. Every Disney fan is an amazing person full of heart and soul, pink jacket or not.
In the course of reflecting on this past year, I finally got around to something I'd wanted to do for months now – make a video slide show of all the Moms Panelists to date! No matter what year we joined the panel, we all have something special to bring and an amazing bond among us. I put this together as my little thank-you love-letter to the Walt Disney World Moms Panel, the panelists and those behind the scenes that have made dreams come true for going on 4 years now. The video is pretty heavy on last year's training trip, simply because that's what I had the most pictures and memories of. However, we truly are one big pink family and cannot wait to meet and welcome the newest panelists as they start their magical journey. For more on our 2010 training trip, check out fellow Moms Panelist and all-around great guy, Marc Lorenzo's video (which puts mine to shame!). 😉
I will be returning to the panel again in 2011 so you're still stuck with me! 😉 Much love and thanks to *everyone* that's followed along and made the past year so very special to me.