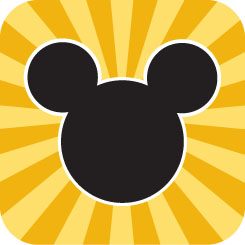 When I first met Disney Dad Doug Ingersoll last February, I also was lucky enough to get a sneak peek at his new iPhone app. It looked so cool then, and now it's available to the world! Doug Ingersoll is no stranger to Disney planning and guides, having written The Complete Idiot's Guide to Walt Disney World among other travel guides. Of course it was only natural that he'd venture into the world of applications for the iPhone, iPod Touch and iPad. Here is all the official info about the Walt Disney World Complete Travel Guide app —
Walt Disney World Complete Travel Guide iPhone Application available now on iTunes
Carmel, Indiana (May 14, 2010) – The Walt Disney World Complete Travel Guide is the ultimate portable travel guide to Walt Disney World. Available now on the iTunes store, this complete guide includes all four theme park maps and a Walt Disney World property map. It has detailed attraction, restaurant, and resort reviews. It also has quick planning guides on different Disney vacation topics. Created by travel guide author and Disney Moms Panel member Doug Ingersoll, you get the information you need to find your way through the most magical vacation of your life.
The Walt Disney World Complete Travel Guide includes:
Attraction reviews with age-based ratings, detailed ride descriptions, Must Do! ratings for top destination attractions, favorites tagging for future reference.
Dining reviews with sample menus, locations, Disney Dining Plan status, cost estimates, cuisine types, and character meal information.
Resort reviews with descriptions about amenities, transportation, resort class, and location.
Park Maps for all four theme parks are marked with locations of attractions, restaurants, and essential amenities. Attraction and restaurant markers are linked to their review pages. The Walt Disney World property map is marked with major roads, parks, and resorts.
Planning Section pages offer quick reviews of important Walt Disney World planning topics, like FASTPASS, Extra Magic Hours, Magical Express, sport and recreation options, major annual events like the Food and Wine Festival and Mickey's Not-So-Scary Halloween Party, annual crowd and weather trends, and important phone numbers.
About the Walt Disney World Complete Travel Guide
Compatible with iPhone, iPod Touch and iPad. Requires iPhone OS 3.0 or later

Retail Price: $4.99
About Doug Ingersoll
Doug Ingersoll is the author of The Complete Idiot's Guide to Walt Disney World, and is a member of the Walt Disney World Moms Panel. As the author of his popular guidebooks, Doug has helped first time visitors quickly plan and prepare for their Walt Disney World vacations. As a member of the Walt Disney World Moms Panel, a panel of Disney-selected parents that provide direct planning advice on the actual Walt Disney World website, Doug has helped provide personalized recommendations and planning suggestions to guests.
His attraction, dining, and resort reviews target helping first time vacationers navigate through the wide array of options and unique travel features that you encounter on a Walt Disney World vacation.
Doug is not an employee of Disney, and his opinions here and in his guidebooks are not endorsed by Walt Disney World, and do not necessarily represents Disney's positions or opinions.
…
You can see more screen shots and become a fan of the Walt Disney World Complete Travel Guide on Facebook too. Happy downloading!