I love a good festival. Art, Food, Renaissance, Fools, I'm always up for a festival. I've written many times before about the various established Epcot festivals. Originally begun to bolster lower attendance weeks at Walt Disney World, the first modern, well-promoted festival at Epcot was the International Flower and Garden Festival, which began in 1993. I missed the first couple of years, but when I moved down in 1995 and began working for Walt Disney World, it became a tradition to attend. The Flower and Garden Festival always revolved around Mother's Day and back then, Disney provided a free photo op (much like they also used to at Mickey's Not So Scary Halloween Party and Mickey's Very Merry Christmas Party). It became a Mother's Day tradition to attend with my mom, enjoy all the fun topiaries and floral displays, dine in France, and get our photo taken together. Also in 1995, the Epcot International Food & Wine Festival began. I remember how exciting those first years were; being able to stroll around World Showcase and sample smaller bites from countries that may not have a full pavilion, but have some great flavors to offer. It was a fun time.
Now, there are very few "low attendance times" at Walt Disney World. People now plan their visits around the festivals, in order to try the food items, or take part in the many seminars and sessions offered. Another addition over the years was runDisney appearing on the scene, with some races around the festivals, making it even more well-attended. And, of course, Epcot drinking teams also became a thing, giving Food & Wine bit of a reputation for drunken hordes roaming the World Showcase Promenade. That is not to say these festivals are not still enjoyable, just that they have considerably changed over the years, and become an entity unto themselves. As a local, it's still fun to go on a weeknight and try the foods, or perhaps splurge on a dining event offered. My husband and I did the Parisian Afternoon last year and had a lovely time. There is always something new to see or experience, so you really can get out of the festivals what you want.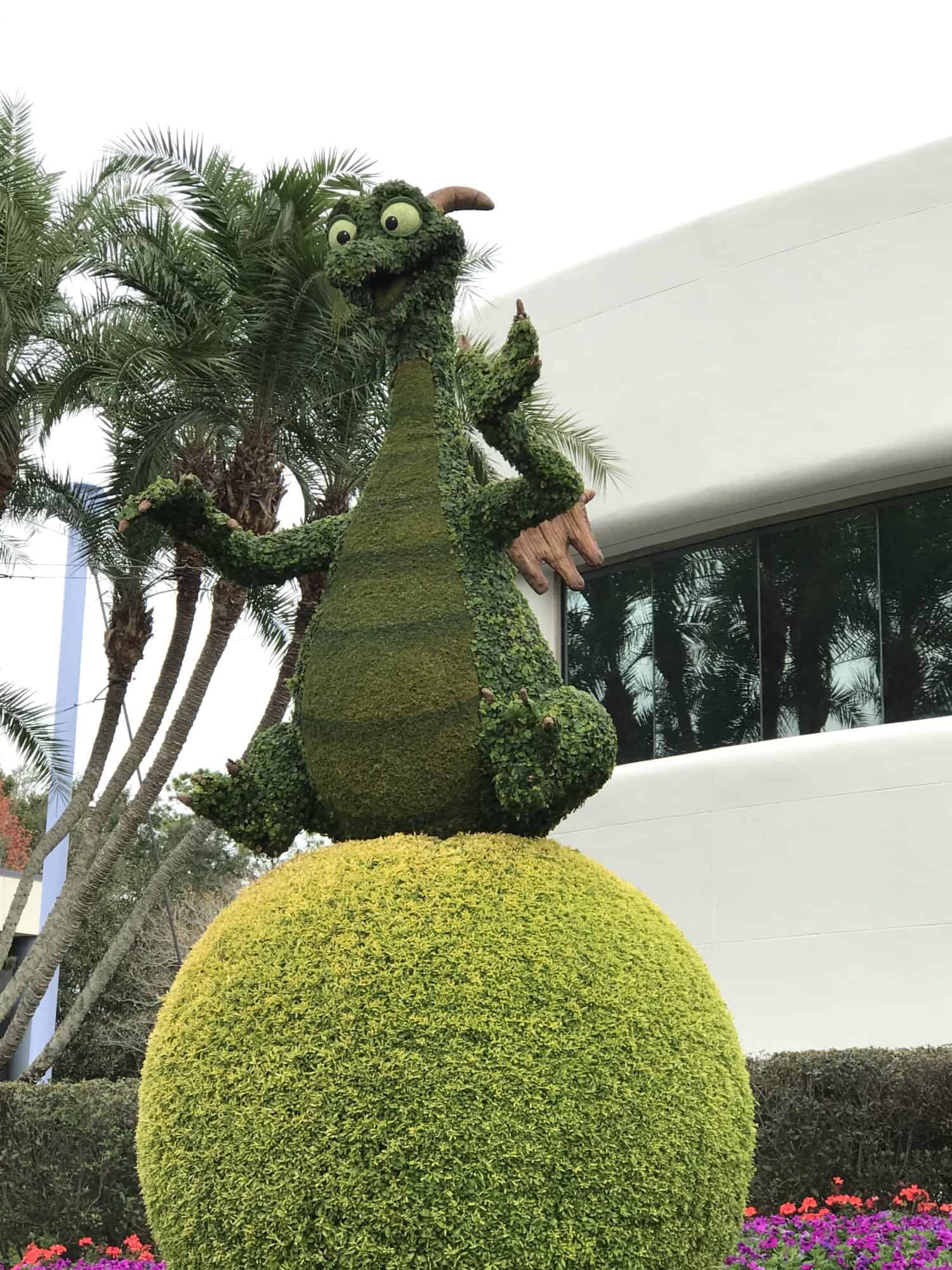 Enter #ArtfulEpcot. Quietly sauntering into the festival scene in the middle of January this year, the Epcot International Art Festival became an INSTANT hit. And I do mean instant. There was very little info provided about this festival far ahead of time. We saw a few photos of "artsy food" which, yes, looked amazing, but I don't think I was alone when I thought, "oh, it'll be Food & Wine in February…" and also wondered how they would pull off these artistic food creations under the usually extreme conditions of festival food booths. Then, I walked into Epcot the first Friday it opened, saw a perfectly crafted Figment topiary, complete with two tiny wings, eyes big and yellow, horns of a steer…he really was a lovable fellow. Sorry, it's impossible for me not to break into song when discussing Figment. Anyway, I sort of fell in love, again, with Epcot.
Of course it was more than just a Figment topiary to make me appreciate this new festival. I attended an event which highlighted the various food creations, merchandise, and entertainment offerings within the festival. Every cast member on hand who spoke about their area of expertise was so passionate and excited. That excitement was contagious, and I soon realized this was something very different from just another festival. As we strolled around Epcot, I saw more and more reasons why this was going to be a big hit.
There are many different types of Disney fan out there. I've spoken about what kind I am before, and though there are most certainly no wrong or right type of fan, there are many others like me, who love the history of the Walt Disney Company, the pioneering advances and different thinking that made it succeed, even while it was doomed to fail. We Disney history nerds love the original concept, hopes, and ideals that EPCOT Center stood for both in Walt's initial idea, and the 1982-1994 incarnation of the theme park once known as EPCOT Center. I have professed my love for this park endless times. That park doesn't really exist today, but you can see glimpses and sparks of it if you know where to look. As an EPCOT Center fan, it's completely normal and acceptable behavior to stare at wall carpet, marvel at the ride system within Universe of Energy (Ellen's Energy Adventure), or watch Impressions de France on repeat, while the rest of the park may be lining up for characters or Frozen or Test Track. That is not to say we can't also enjoy some of the park's current lineup. It is to say, we miss original EPCOT and all that it represented to us.
What the Epcot Festival of the Arts has done is found the perfect mix, to entertain the masses, and delight those who dearly miss what EPCOT once was. How? Well, for starters, the entire design of the festival speaks to EPCOT in a modern way. Muted, watercolor style images of park icons, including the original EPCOT Center logo, make my 1980's heart sing. Figment is the "mascot" of the festival, but not in an annoying, or out of place way. He represents the very spirit of art, appearing in each World Showcase country, in a work of art hailing from the country you are in, only Figment-ized. A perfect way to get kids (and adults) interested in art and seek out more knowledge about the pieces featured, the countries, and art in general. This "scavenger hunt" featuring Figment is actually available as a paid activity. You purchase a Figment's Brush with the Masters Scavenger Hunt map for $6.99 from several possible locations, and then match the Figment artwork to the artwork featured in the World Showcase pavilions. Turn in your map when you're done, and you'll get a prize. It's fun either way!
Speaking of art, there are not one but two mini-galleries of original and concept art at the festival. Artists, Imagineers and Disney Legends Herb Ryman and Mary Blair have their artwork displayed within (another EPCOT Center holdout) the Odyssey restaurant. There we can see huge versions of Ryman's original concept art for EPCOT and its Future World pavilions, as well as a selection of  Mary Blair's South American-inspired art pieces. Also within the Odyssey are free – yes FREE – informational sessions from topics like the animation ink and paint process, to different types of tea. There are also paid sessions on specific art topics which include take-home items from the lesson too. As you stroll around World Showcase, there are also classes like origami making or anime drawing in Japan, various chalk displays around the world, and fun photo ops where you become part of a famous work of art. Animation Academy, once held at Disney's Hollywood Studios, also makes a reappearance in Innoventions during the festival.
The hit of the festival since it opened has been the Paint By Numbers Mural found between Future World and World Showcase. You are given – again, completely free – a tiny cup of paint and a paint brush and told to paint anywhere from 3-5 (depending on how busy it is) squares matching your color to your number. For the first few weekends, it was a Future World image, the full size version of what is available at character meets as the backdrop in the front of Epcot. Last weekend, the mural design was changed to a World Showcase image, which was also a big hit. When the murals are completed, they are changed out for blank canvases and guests can start all over again. It is sponsored by Glidden's line of Disney-inspired paint names, so that adds for a fun connection.
The seven "Food Studios" (see full list of menu items at that link)as they call the food booths at this event, may be small in number, but the varied items almost all take a unique spin on a classic food item, or highlight favorites with an artistic twist. My favorites were the Classic Reuben, which looks anything but classic with it's futuristic "rye curl" in place of traditional bread, and the Scallop with Chorizo found in America at The Artist's Table. Oh, and don't forget the jaw-dropping Piet Mondrian-inspired cake at Pop Eats! as well as adorable "chocolate easels" which are an edible work of art in the form of Figment, Mickey and Pluto, or Mary Blair designs. (Click to read full captions below)
Bridging the gap from classic art to modern, there are also many booths around World Showcase, featuring Disney artists and local artisans alike. Many of the artists are on hand to sign their work. It's a great way to build your art collection with some originals or prints and meet your favorite artists at the same time.
To top off all that this festival has to offer, at the end of the day, Disney on Broadway Concert Series stars appear at the American Gardens Theatre three times a night, perfoming hit songs from the ever-growing catalog of the Disney Broadway productions. As a huge Broadway musical fan, these shows were the perfect fit. I've seen two sets of performers and every show was incredible. Such amazing talent. The shows always seem to have a full house too, so I think this series has been very well received.
Word has spread fast online about this incredible festival, which has quickly become my favorite of the Epcot festival lineup. Every aspect of Artful Epcot fills me with joy, and I hope it returns for years to come, running all week long instead of just long weekends. My only fear is that this charming, quaint, interactive festival that offers so much for so many, will lose that charm if it expands too much. However, I'll put my confidence in the designers behind the scenes to ensure that doesn't happen. Part of what made the Festival of the Arts such a success is the way it mixed history with present day, classic with modern, and just enough included opportunities that you don't feel like you have to shell out premium prices (other than a ticket to the park), to experience all this festival has to offer.
There is just one weekend left to the Epcot Festival of the Arts, so I urge you to get down there, get some paint on your hands and chocolate on your face and ENJOY! If you've been, I'd love to hear what your favorite part of the festival was or what you hope is added next time around.