Disney California Adventure has had quite the history in its short 19 years of existence. February 8th saw DCA's 19th birthday, so to celebrate we thought we'd venture Up the Waterfall and discuss all the crazy changes this young park has experienced over the years. It's definitely had some…growing pains. Special thanks to Yesterland.com for all the incredible photos from California Adventure's opening days.
Personally, I did not get to enjoy Disney's California Adventure in its original or even secondary "glory." This was due to the fact that around the time it was built I was not only dealing with two kids under two, but I was still in California-is-a-foreign-country-I-may-never-get-to mode regarding Disneyland. (But once I did get to experience the Disneyland Difference, I fell head-over-heels in love!)
As a result of not visiting California Adventure for years, I missed a lot of the things we discuss in the beginning of the episode. Sure, I knew about Super Star Limo and the pun-filled Paradise Pier area, but that was sort of it. So this episode was really fun for me to discover some of these things for the first time too.
In this episode, we start out with the history of a second park on the west coast; where and what could have been. Next we chronicle how Disney's California Adventure first came to be. We cover all of the strange design and attraction choices that existed at park opening in 2001. Followed by the little changes and the major changes that followed.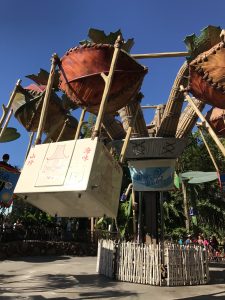 When I finally got to visit DCA in 2011, it was full of construction walls and not much else. Really, just Paradise Pier and World of Color were the highlights for me. Certainly, when I returned in 2012,  it was a whole new world. Cars Land, Buena Vista Street brought with it a new design standard. All the additions that came with those areas really improved the whole park, making it a must-see destination.
Rounding out the discussion, we share where we think the park will go in the future with the upcoming Avengers Campus. Above all, we ponder what will become of Disney California Adventure in the years to come. What do you think will happen?
We hope you enjoy this week's episode of Up the Waterfall!
How to Listen to Up the Waterfall
You can listen anywhere you download and listen to podcasts, including: 
(If there's a podcast service where you can't find our show, let us know and we'll get it added there!)
How to Watch Up the Waterfall
Head to our Up the Waterfall YouTube Playlist – where you can see our opening sequence and some unique images of the Disney California Adventure over the years. Here's the latest episode:
Feel free to comment below with your memories of
Disney California Adventure
, any questions or info you'd like to add, or if it's easier, head to the
Zannaland Facebook page
and join the discussion there with fellow
DCA
fans!
How Can I Learn More About This Episode?
Here are some of the books we referenced for this episode (the links will go to the item on amazon.com and are affiliate links – meaning no extra cost for you but a small portion goes back to zannaland if you make a purchase – thank you for supporting our site!):
Zannaland and Up the Waterfall Community – Let's Connect!
FOLLOW THE ZANNALAND FAMILY ON SOCIAL MEDIA, WATCH OUR VIDEOS, VLOGS AND PODCAST TOO: 
We thank you for your support and for sharing the love!