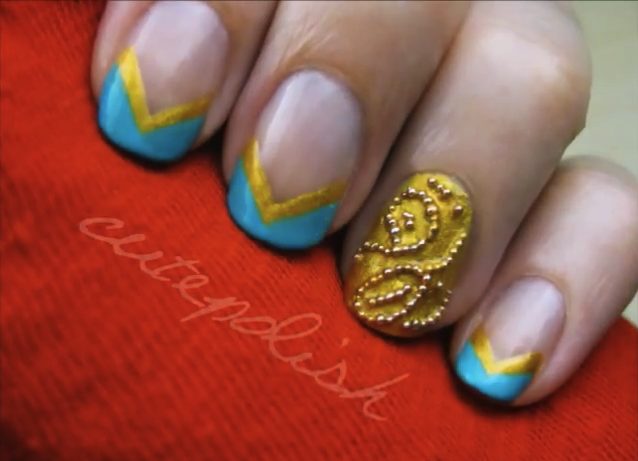 I am a fan of all things nail polish-related and after falling in love with Brave in theaters, when I saw this nail art tutorial, I had to share! It looks relatively easy too, even if you didn't want to go all out with the beads, the rest of the nails look like anyone can bravely attempt the design. 😉
The tutorial is done by Cute Polish which also has a whole line of Disney and other nail art tutorial on the Disney Style channel on YouTube.
Check out the video tutorial below!
This video is part of Disney's celebration of ONE BILLION views on its YouTube channels. This week, the company is celebrating these milestones with a special 10-day programming event on its YouTube network.  New original and exclusive videos will be introduced from across Disney, including Disney Parks, Radio Disney, Games, and Theatrical, and its YouTube content partners.
The program schedule includes:
6/24 – A nail art tutorial from CutePolish inspired by Disney•Pixar's "Brave"
6/25 – An exclusive short from Simon's Cat —  "Window Pain"
6/26 – A One Direction acoustic performance from Radio Disney
6/27 – A look at the new Cars Land at Disney California Adventure® Park
6/28 – An exclusive video from YouTube's ShanesDominoez, titled "Domorail"
6/29 – Episode 4 of Disney Interactive's animated Web series, "Talking Friends"
6/30 — "Rainbow Connection" performed by Anna Graceman
7/1 – The first-ever Club Penguin music video with DJ Cadence
7/2 – Behind the curtain at Disney's Tony® Award winning musical, Newsies
7/3 – The premiere of That's Fresh, a new cooking show from parenting network Babble
Check out all the videos at YouTube.com/Disney. I know I was really surprised at all the diverse and fun stuff on there!