On that fateful trip I often speak about in 1983, in addition to starting my obsession with Disney, I also began a new tradition of collecting matches. When I chose that particular item to collect, I never once thought a time would come when my collecting would become increasingly difficult to near impossible. Some of you reading this may remember, while others of you may have had your parents tell you – back in the 80's times were very different. Non-smoking sections were just becoming an option and if you could find one, it was usually only separated by a single table. With two smokers for parents, we were always in the smoking section so often times a new set of matches would be waiting for us on the table inside the cleaned ashtray. If they weren't, you simply had to ask the hostess, bartender, or server for a book and they would oblige without a second thought.
It wasn't until the litigious era of suing bars because a book of matches was found in the car of a driver who had caused an accident, that times began to change. Some restaurants turned to plain matchbook covers so as to remove that element of liability for not cutting off a drinker before damage was done. At the same time, tobacco companies were under fire for cigarettes' carcinogen effects as well as something new that was being studied – second-hand smoke. As the non-smoking section became a redundant request, soon it was a waste of money for most establishments to have matches printed and available. Now, almost 30 years later, it is almost impossible to find unique printed matches to collect.
Which is why I love my collection all the more. It is now a time capsule of sorts from both my childhood memories, and from a time gone by that can never be revisited again.  Of course the matches I collected on our many trips to Walt Disney World are what I'd like to share with you today. They offer glimpses of the way things used to be in the world – and the World. Matches from EPCOT with the original logo, Disney-MGM Studios, Pleasure Island, Fireworks Factory, and the original Chef Mickeys located in the Disney Village Marketplace. Tiny little treasure boxes almost as good as any E-ticket – to me anyway…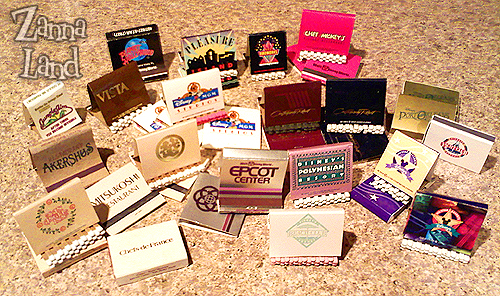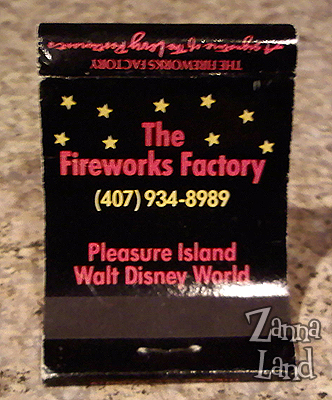 Do you have any Disney matches or another collection that is now defunct? I'd love to hear about them!