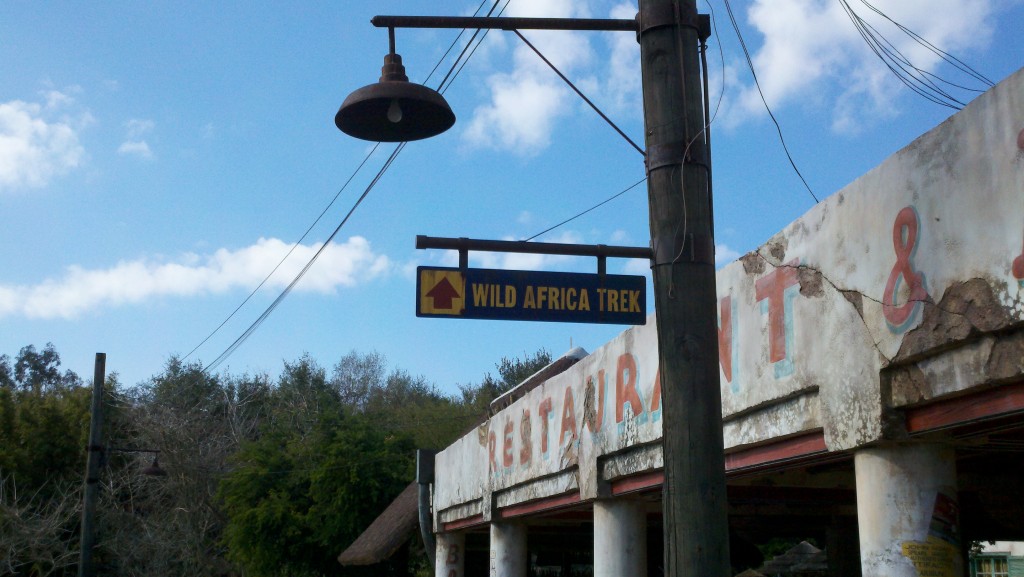 Disney's Animal Kingdom has always had a special place in my heart. I was there opening day and have had many a discussion with those that dismiss it as "boring" or having "nothing to do there".  To me, Animal Kingdom has always been a magical place of discovery and the best part about that discovery is that you are seeing things that are part of our great planet. It's fun to get swept up in Fantasyland or old Hollywood but when you see live animals living for the most part as they would in the wild and all the flora that surrounds them, it's kind of hard not to be amazed that we share this wonderful world with them.
In keeping with that theme of discovery, Disney's Imagineers have once again crafted a one-of-a-kind experience to dazzle even the most jaded theme park visitor. According to an Imagineer on our tour, this has been in the works for years, knowing that the guests wanted a more immersive experience at that park and they are pleased to see it come to fruition. Disney's Wild Animal Trek takes guests deep into the story that you first learn about in Harambe, Africa on the Kilimanjaro Safari and puts you right into the story yourself as you learn Swahili, dangle over hippopotamus and navigate a rope bridge over giant Nile crocodiles. In typical Disney fashion, you are also given the royal treatment as you pause two thirds of the way into your adventure to enjoy an African breakfast or lunch on the savanna platform as you gaze out at the majesty before you. Truly breathtaking.
Here are some Fast Facts on Disney's Wild Africa Trek:
Price: Varies seasonally, starting at $189. Park admission is required but not included in the Trek.
What's included?

complimentary metal water bottle to take in your harness and on your trek and take home with you.
a 3-hour walking, hiking, and vehicle tour of previously forbidden areas of Animal Kingdom's Africa.
breakfast or lunch for 30 minutes at the savanna platform.
binoculars for use during the safari truck portion of the trek.
complimentary PhotoPass CD of the photos taken by your guide that day as well as some stock animal photos for keepsakes.
amazing, once-in-a-lifetime views and experiences and memories to bring home with you!
Times: Treks are offered several times daily. Currently that is 8,9,10am and 12,1, and 2pm. According to Animal Kingdom Vice President Michael Colglazier, as park hours increase during the summer, trek times will change.
Requirements: There are a few pre-requisites for this adventure.
Weight Limit: 310lbs due to the safety harnesses used. They do weigh you at the outpost station before you get your harness vest on.
Carry-on Items: you are permitted to carry a camera or video camera but only if it can attach to the harness via clips provided. Lockers are provided at no cost to store any other items you have brought with you.
Age limit: you must be 8 years of age and at least 48 inches tall and 45lbs to join the trek.
Clothing: Closed-toed (preferably sneakers or walking/hiking type) shoes are a must. I would definitely recommend pants and long-sleeves, tho in the summer this might not be much fun, you DO traipse through bushes, tree limbs and other foliage that might scrape or scratch you with bare skin exposed.
Trek Size: groups are limited to a maximum of 12 guests. This is a good thing because it keeps the group small and intimate and you don't have to wait too long for any one part of the trek. You are also all given an ear piece to listen to your guide throughout most of the trek. This comes in handy as you travel through Harambe village at the start of the tour, and as you engage in your bush walk. You never have to worry about not hearing what the guide is saying.
Caveats: this trek does traverse two very high "rope bridges" across a river and some sunning crocodiles. While I am a little scared of heights myself, I had no fear going into this because a) it's Disney and b) the bridges are completely wrapped with netting at the bottom in the chance that you do misstep on one of the boards, you will not plunge to your death.
Additionally, that is exactly what the harness is for, you are safely clipped in to a powerful cable above with virtually no chance of becoming crocodile brunch. That said, those who are faint of heart should not go if there is any chance you will get on top of the bridge and say, nope, never mind! While there is a way for you to not cross the bridges and re-join your party later, it really is a highlight of the trek and not something I'd want to miss out on.
One last note, the harness vest can be a little heavy and weigh you down after a while. If you have a bad back or doing like being constricted like that, keep that in mind.
Bathrooms: you are given a chance to use the facilities before your trek begins  but once you set out, there are no restrooms for the fist two hours, until you reach the savanna platform. Once there you can also wash up before enjoying your meal.
Weather conditions: the trek takes place rain or shine – ponchos will be provided if it is raining and the safari truck will be covered (it was not yet during our preview trek so pictures will not show a cover) as is the savanna platform. The trek will be canceled with signs of lightening or other severe weather.
Special Dietary Needs: When you call to book your tour, just let the reservation agent know what your needs are – vegetarian, vegan, gluten-free, nut allergy, etc. Chefs will accommodate your needs. Kids meals are provided but still on the adventurous side, so if you know your child is a picky eater, be sure to bring this up at time of booking as well.
How to Book: Call 407-WDW-TOUR (407-939-8687) to book your Wild Africa Trek now. The trek officially opens to the public tomorrow, January 16, 2011.
…
Here is a preview of our tour below. Stay tuned for more photos and video with an in-depth description of the Trek on ZannaLand.