Long ago, in a galaxy far, far away there was a planet where it was acceptable, nay encouraged to get bad perms, wear white overall short shorts (oh yes, I said white overall short shorts!), and of course, coordinate your ensemble with matching plastic beaded necklaces, twisted together, forming the perfect accessory. Ladies and gentleman, that planet was called The 80's.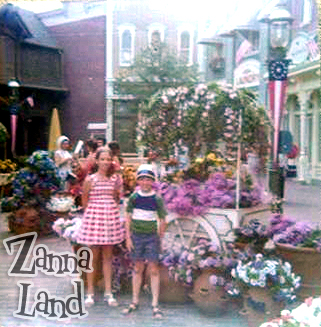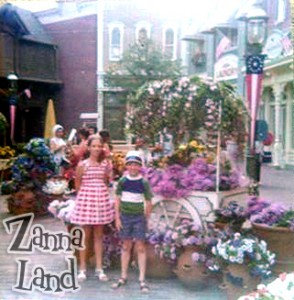 As most of you no doubt know, today is the anniversary of the official opening of Walt Disney World's Magic Kingdom in 1971, Epcot (or EPCOT Center as it was known at the time) in 1982 and later Epcot's Morocco pavilion in the World Showcase, in 1984. I thought it would be a fun way to celebrate those special days in history with my own little stroll down memory lane – Embarrassing Photo Edition. I know there was a picture of me as a baby on my first visit to Magic Kingdom, but I could not find that particular one. Instead, I found one of my sister and brother, proudly representing the 70's with their attire. The picture was taken in the Main Street Flower Market area, now of course long gone with the Emporium expansion. From the look of the banners, it must have been around the 4th of July, which would make sense because I would've been 6 months old, making my brother 9 and my sister 10. I wish we had more pictures from this trip since clearly they are full of Disney history.
Next up, to commemorate Epcot's anniversary, I wanted to share a picture from one of our earlier visits there. However, I've already shared quite a few, including my first 3-Season Salute Annual Pass photo and one of Dreamfinder, Figment and me. So I thought I'd share one with much more to comment on – mid-80's EPCOT!
In this photo you not only get the treat of the "Rainbow Bright" version of "Space Mickey" but see yet another bad perm on me, countless black rubber bracelets a la Madonna, really, really short shorts (in pink and white stripes no less), white sunglasses with twisted glasses lanyard and of course – a Swatch watch. I was about 13 here so you also get to enjoy my head tilt, which says, "I'm WAY too cool to be seen with Mickey – I mean, just LOOK at me".
Then, in honor of Morocco's opening day, I dug up some pictures from a 6th grade class trip to EPCOT. My best friend, Nalani Proctor and I some how managed to be the only two students my mom and dad had to chaperone that day, so we had our own itinerary for fun rather than staying with the class, since we knew EPCOT like the back of our hands already. There are quite a few posed photos like the ones below, including sombreros in Mexico and posing with a castle guard in the United Kingdom. Maybe I'll scan some of those in later…
I'm not sure why we are posing like we are in this photo, but I know my dad is the one that told us to do it. Maybe some sort of twist on a yoga pose? No clue. Oh, as I was previewing this post it hit me: maybe he wanted us to pretend we were granting wishes like Jeanie in "I Dream of Jeanie"?? In any event, you can see the shame that is tight, white overall shorts. I'm not in anyway sure of how I thought that was a good idea. My t-shirt underneath was a classic EPCOT baseball shirt with the EPCOT symbol in rainbow colors, but you can't see it under the overalls.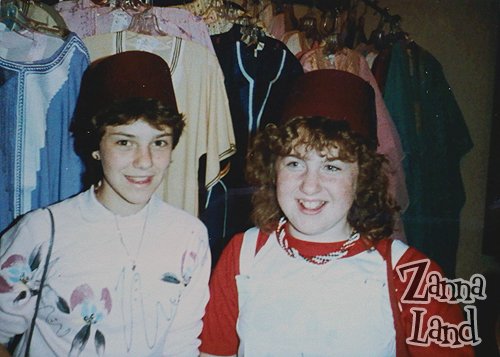 Here is a close-up of Nalani and I wearing a Fez. Highlighted here are my first of many bad perms, my super cool twisty plastic necklace (anyone remember those?) and my dire need for braces, which I would obtain a couple of years later. My friend is sporting the also-popular polo shirt-under-a-sweatshirt look, with short shorts. Ahh…Planet 80's.
I hope you enjoyed this look back at what seems to be a different universe entirely. Of course the funny part now is that many of the styles popular back then (plaid, neon colors etc.) are now "in" again today. Those who do not learn from history are doomed to repeat it, so they say… 😉
Most importantly, Happiest of Anniversaries to the Happiest Places on Earth…thanks for the memories, embarrassing or otherwise! Here's to 100 more wonderful years of Magic!