Things have been so busy around here at ZannaLand so I'm just now getting around to my recaps of the amazing 2nd annual Disney Social Media Moms Celebration. One of the many highlights for me (and as you remember, something I was hoping for!) was getting to meet wedding planner and ultimate dream maker, David Tutera. It was wonderful to hear him speak about making brides feel special, and to speak to him about how much he enjoys visiting the Disney Parks as well!
The Disney Social Media Moms Celebration kicked off at Disney's Wedding Pavilion, where attendees were treated to a Platinum Soiree welcome reception. Champagne flutes and a buffet of candy – not sure what could be much better than that. We were able to see some of the amazing wedding cakes that Disney Fairytale Weddings offer and meet with "Franck" from Father of the Bride (after whom the Wedding Pavilion salon is named) and "Edna Mold" from The Incredibles who entertained us in between speakers. Check out this photo tour of the evening's events: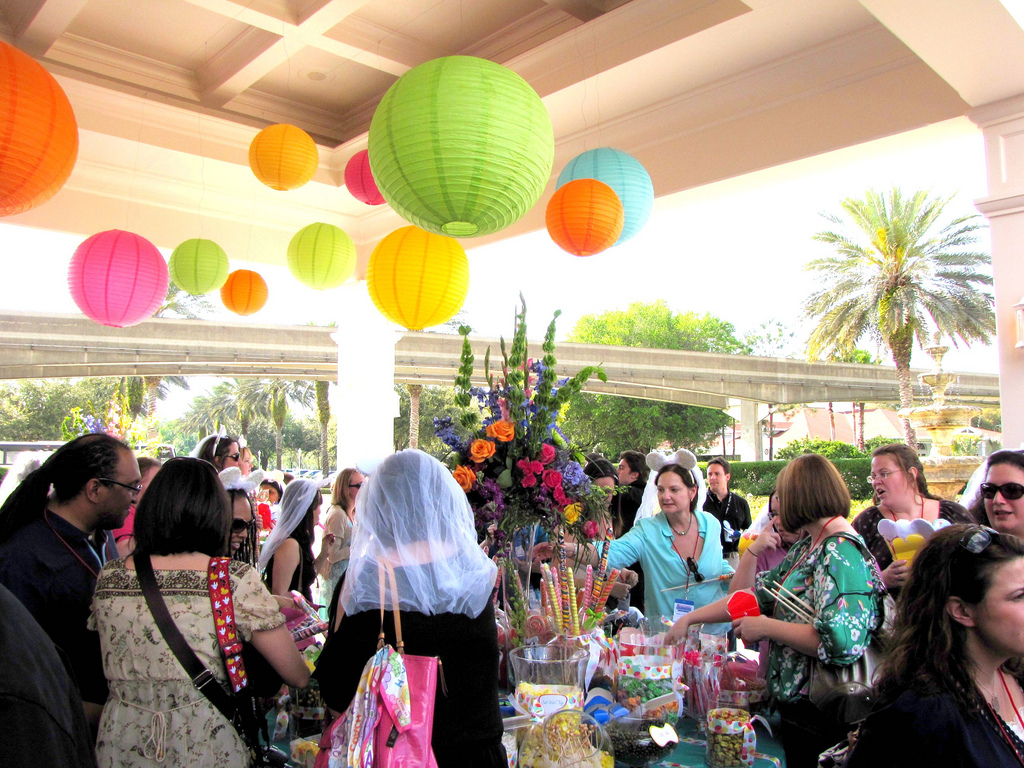 We then headed over to the pavilion for some amazing speakers and presentations.
Next, we were treated to a real, live Disney Fairytale Wedding vow renewal ceremony! The "wedding party" (aka Disney performers) danced down the aisle in fabulous attire as our almost-still-a-newlywed bride of 2 years joined her prince to renew their vows once again at Disney's Wedding Pavilion.
Outside, we awaited the bride and groom and I was lucky enough to stand across from David Tutera where I got a little more time to talk (okay, and take some pictures..he's just so darn handsome – look at that profile!)
The event was, in a word, breath-taking. I have been a fan of Disney's Fairytale Weddings from the start, but it was such a treat to be able to experience a little of what their magic is like in person, not to mention the wonderful speakers and sites we were able to see. It is still a hope and a dream that I will someday have a Disney vow renewal. My 15th wedding anniversary is coming up this October, but that might be a bit too soon to pull something off, so I'll shoot for the 20th. 😉
Stay tuned for more recaps from the Disney Social Media Moms Celebration coming up on ZannaLand!