Thirteen Fifteen years ago today, I was getting ready to walk down the aisle to greet my Prince Charming and begin our fairy tale life together. Of course, it hasn't always been a fairy tale, I'd be a little scared if it was! Our story began a lot more than 13 15 years ago too…almost 19 21 years ago, this long-haired boy that played guitar before school in the auditorium, asked if I'd go out with him. I said yes, and have been saying yes ever since. He told me he loved me the first week we met. Never having had a boyfriend before, I was a little dumbfounded by what to reply and simply said, "okay…" Soon, however, I fell in love with his every breath. He asked me to marry him less than a year later, when I was still 17, giving me a tiny diamond he got at the mall. I said, "yes, but…not for a while!".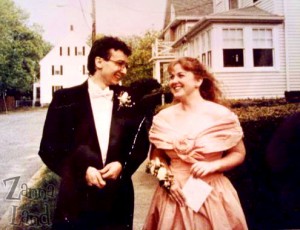 Years passed and we were inseparable, despite many predictions we wouldn't last 6 months. In 1995, I convinced him to pack up and move 1500 miles away to Orlando and work at Disney World with me. He had only ever moved once in his life, so this was a huge deal. Soon we decided that the time was right and he took that tiny diamond and added it to the diamond from my mom's engagement ring and added a new diamond on the other side, creating a past, present and future ring that held so many memories, with the promise of many more.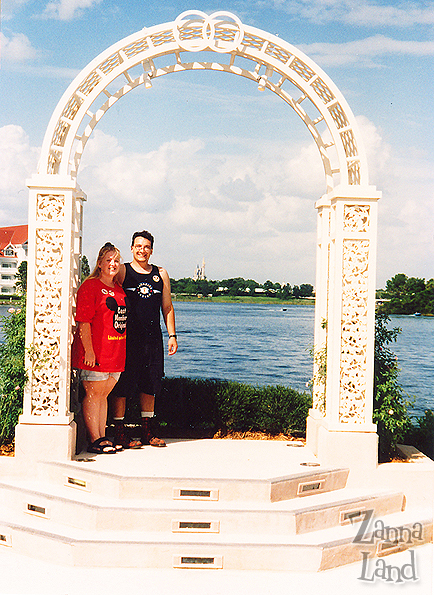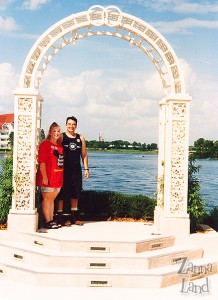 While working at Disney World, we had seen the building and opening of Disney's Wedding Pavilion. On our days off we'd head over to check it out, and dream of the ultimate Disney wedding. We were unable to afford a Disney Fairy Tale Wedding, and also could not get a priest to perform the ceremony outside of a church, so we decided to have our reception at the WDW Dolphin instead. It was much more affordable for us, and still gave us the special magic of a wedding at Disney. Planning the wedding was so much fun, and the staff at the Dolphin really took care of everything, we just had to decide what we wanted to eat and what kind of cake we preferred.
There were a few mix-ups along the way from the other vendors, but the Disney part was perfect. One issue was the florist who assured us he could find delicate tiny pale pink tulips to match perfectly with the Stargazer Lilies in my bouquet. When we arrived at the church, the tulips were HUGE and a deep dark pink. Nothing we could do at that point! The other issue was the balloons. Keep in mind this was the mid-90's (as the pictures of my poofy veil will reveal!) and I guess balloon arches were pretty popular, at least in my mind. I had this vision of a cool twisted archway of pink and white balloons framing our head table. When we walked into the reception hall, there were *single* balloons arranged in a sort of arch shape against the wall behind the DJ. I can laugh about it now. The issues definitely did not ruin the day, though, we had amazing food at the Dolphin, the cake was heavenly and I think everyone had a great time at the party.
We loved being able to take our families around the parks before the wedding too. That year was only the 1st annual International Food & Wine Festival at Epcot so we were excited to share that new experience with our friends and family.
Our rehearsal dinner was held at Chef Mickey's, and as you can imagine that was anything but quiet and reserved. We were so well taken care of and everyone had a blast. I can't recommend Chef Mickey's enough for a large group – you're just bound to have fun-and get completely stuffed before the big day!
Just a few of my treasured moments from October 26, 1996…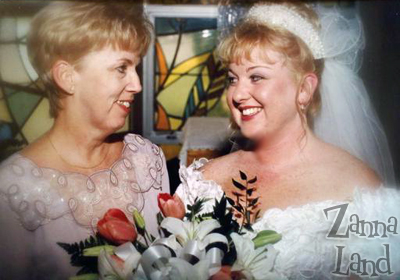 After the ceremony, I remember making the driver pull over (the photographer was following behind us) as I wanted to get a picture in front of the waterfall on the road approaching the Swan and Dolphin hotels. The sun was in our eyes, we were hot and squinting, but it was perfect and that backdrop is one of my favorite photos from the wedding.
Our first dance was to "The Way You Look Tonight" by Frank Sinatra, inspired at the time by the recent remake of Father of the Bride. If I couldn't have Franck plan my wedding, I could at least dance to the same song! I'm glad we went with it though, because it was a timeless choice and hearing it today instantly brings back memories of 13 15 years ago.
Thirteen Fifteen years ago seems both like an eternity ago and just yesterday. An eternity because SO much has happened in our lives. We've bought and sold 3 4 houses, moved 10 11 times to 3 different states (26 times and 5 states for me alone), have 3 amazing children and a wonderful family as well. I couldn't ask for anything more and feel like the luckiest girl in the world, today and every day. There are many more parts to this wedding story, but I will share those another year…and my dream is to renew our vows at Disney's Wedding Pavilion, completing the circle of Disney magic started so many years ago! Happy Anniversary J, I love you!