It's no secret that I am a proud child of the 80's. Also no secret that the reason I fell in love with Walt Disney World was my 1983 visit to EPCOT Center, when we stayed at the Lake Buena Vista Vacation Villas. I'm sure part of what made that visit so special is that my parents actually drove us down from Massachusetts. We stopped at historical sites on the way over and back, breaking up the 1300 mile drive, but the ultimate destination was Disney and this all new park we'd read about in Birnbaum's Official Guide – EPCOT Center. I've explained how a little purple dragon and his dream-finding friend are what really sparked (pun intended) my love of Disney but I wanted to go back to the 9 year-old me and see what she thought of things, as they happened.
Since I still can't locate my flux capacitor, I have the next best thing – my actual travel diary from that 1983 trip. I remember that blank journal so well; my mom had bought it for me in a sticker shop along with my latest Lisa Frank obsessions to add to my sticker books (I still have my sticker album which would be another awesome entry for my fellow 80's kids). It had a shiny silver cover with a rainbow on the front. The pages were then different colors of the rainbow, so if you looked at it on the side, it was complete rainbow perfection. Sadly, I didn't save the whole journal for some reason. We've moved so many times I probably just thought I'd pull out the pages I wrote on and save them. I know I used it to record our next trip when we flew down with my siblings and also stayed in the Villas, but I do not have those pages any more. What I do have, is just hysterical.
First, it is written in some sort of 9 year-old short hand and most definitely from a 9 year-old's perspective as to what the important parts of the trip were. Well, let me just show you…
The first page is from the first leg of our drive, from Sharon, Massachusetts to Savannah Georgia. Unfortunately I did not date my entries, but I'm pretty sure it was the end of the summer in 1983, since school started pretty soon afterward and I remember presenting my trip souvenirs (match books, drink stirrers, guide maps…) to my 5th grade class a few weeks later. Everything below is as I wrote it, including the things in parentheses. The things in brackets, however, are my notes today. Most of the pictures are from 1983, but a few are from our trip the next year.
"We arrived at 1:45. It took 7½ hours. Got settled at the Quality Inn. [This was in Washington, DC.] I got a surprise visit to the zoo! [Pandas were really big back then and I wanted nothing more than to see them at the National Zoo!] Then we took a ride to see the memorials and monument, Capitol and White House. We ate at the Inn of the Eight Immortals (a szechuan Chinese food place) [no longer there it seems]. Then we saw the hospital I was born in and the house we lived in then.
-Wednesday-
We got a tour of the Capitol and had lunch at the Senate Dining Room [I have no idea whether or not this was a big deal back then or if it's the same now, that you are allowed to dine there if they have room. When I was first born, my father worked as the Maitre D' of the Capitol Hill Club, so I'm not sure if he still knew people there or not]. We went to half of the Smithsonian. Then we swam a little and finally we had dinner at Farrell's ice cream parlor [this was in Tyson's Corner and has been closed for a while]. Then we go home and sleep.
-Thursday-
We arrived in Georgia about 4:30. We swim for a long time then we eat dinner at the Pirate's House. That was excellent. I was scared to look  at some of the pirate figures they had set up and I almost walked into the boys bathroom! We come back late and read or whatever. Then we finally get to sleep. (Daddy snores all the time.)
[There is then a gigantic arrow letting anyone reading to know to turn the page. :P]
-Friday- [I apologize for the run-on format to follow!]
At 6:00 am we get up and get ready to go. We find a cockroach (gross!) and then start driving to Florida. We have breakfast at McDonald's. We do every day practically! We came to EPCOT at 10:15! Daddy makes dinner reservations at Germany [I remember this, it was in the original area underneath Spaceship Earth where you could make video reservations with guest relations. That was one of THE coolest things ever.] We call Nana and off to the Land. We see a nature film [Symbiosis] it was SO loud! Then a boat ride with lots of veggies then see dancing veggies  – Kitchen Karoba (sp?) [Obviously Kitchen Kabaret made an impact on me haha]. Then my all-time favorite: Journey into Imagination! Awesome. Then we go to the Image Works same place) – Rainbow tunnel, stepping on notes etc. Then awesome 3-D movie [Magic Journeys]. I admit I did grab for some objects coming out! Then home to an awesome motel  – 2 bedrooms, fold out sofa – bath, kitchen. [This, my friends, was my 9 year-old impression of the Vacation Villas. Oh well. I appreciate it now!]
We have a snack and off to Germany. First we went on Spaceship Earth – no line. Went straight up and straight down backwards! Then Germany. Show, dancers, singers, horn players, etc. etc. German shops then go to Italy just in time for the Teatro di Bologna – very funny! Then the France movie and Mom and I wait in a line of 500,000 it seemed for yummy pastry. We buy a Figment. [I still have him, broken neck and all…]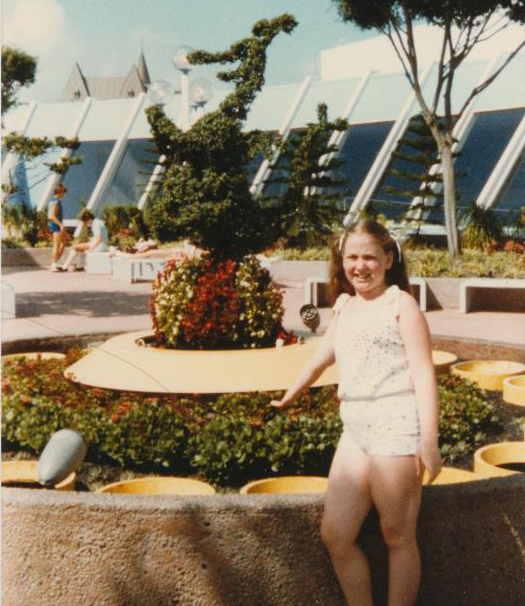 -Saturday-
Up at 7am. Coffee for Mummy and Daddy. We walk in the super World of Motion after Daddy makes reservations for Japan, then onto the Universe of Energy. Scary dinosaurs but great moving theater – dull movie at end. [Sorry UoE, I'll still always love you, even tho I was petrified of the dinosaurs!] Journey into Imagination again. Still awesome. Then the Land for a danish breakfast, back to monorail and a ferry to the Magic Kingdom. Took a fire engine to Cinderella Castle. We walk into Small World then Carousel ride and on to the Magic Kingdom railroad, Haunted house and Pirates of Caribbean [no, I didn't spell it right back then :P]. A hot dog for lunch and then Tiki Birds, a swirl ice at Orange Bird stand [*cry*] and shops, then take the ferry back to EPCOT and car and motel. [I love how I keep calling it a motel.] Daddy and I take a quick dip in the pool then off to dinner in Japanese Manor [not sure why I called it that?!]. Really good. I learned the trick of chopsticks. Then shops, UK shops and Renaissance play – Romeo and Juliet! The Canada round movie. Back to EPCOT and World of Motion, Imagination again. Time for Image Works and DDD movie [I was so funny har har]. We get popsicles then home to bed.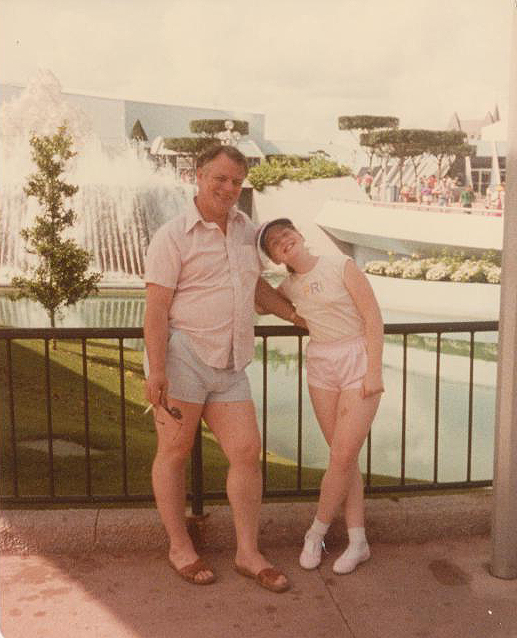 -Sunday-
Up at 6:30, coffee and cereal time. Off to Mass at the Polynesian [I spelled it Poloneasayn haha] resort – flowers, birds and buggies. Back to EPCOT on monorail. Then breakfast at Good Turn restaurant. We eat and see Land boat ride as we eat! Off to American stage for World Showcase dancers – great – we talk to a dancer [I remember exactly what she looked like. My mom being a former professional ballerina, she loved this show and loved getting to talk to this dancer] and then Mom and Daddy see French movie. I see marionette show Hansel and Gretel [I have absolutely zero memory of this show OR my parents letting me watch it alone!] Then World dancers again. I dance with one – neat – off to the motel. McD's for lunch then pool. [ick, McD's for lunch, really?!] Back to EPCOT for dinner in Mexico. Really neat! It's like a town square in Mexico. Mom and Daddy ate cactus! I tried a little turnip, interesting! Went on the boat ride – neat. Then Magic Kingdom for Electric parade and fireworks. Great! The Wings of Man [my name for If You Had Wings? Ah hA! Just looked it up – that was Eastern airline's slogan at the time.], G.E. Carousel of Progress, People Mover then back on monorail for home. We're pooped!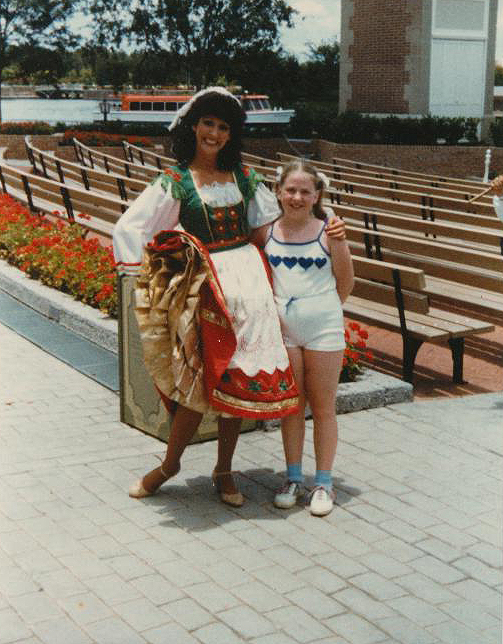 -Monday-
Up for EPCOT, sad day – last day. We ate breakfast in Good Turn, went on rides and started driving for Maryland. Drove and drove and drove. When Mom drove we went 90 miles an hour – no ticket. Later Daddy went 76 and got a ticket! Arrived in MD at a good time, went to D.C. first. Went to a French restaurant [La Nicoise, sadly now closed as well] where the waiters were all on roller skates! Then to Maryland, we went to an absolutely awesome aquarium and to the shops. I get stickers and a painters cap with Suzy written on it. Ate at Phillip's Crab House then drove home."
And that's it. An uneventful end to a journey back to such an amazing time. I think I've rambled enough about all that this trip meant to me back then, and I know for a fact I'll discuss it again, as it is my hope to post my Love Letter to EPCOT sometime soon…so I'll just end this here. Thank you for reading and letting me indulge a bit of the childhood me. If you'd told the excited little me back then what my love of Disney would turn into today…I just might have believed you. After all, Dreamfinder told me imagination belongs to all of us.