I first heard of the marriage of Disney designs with Dooney & Bourke purses from a good friend on twitter. He'd seen the posting on a popular Disney-related message board. I hopped over to check it out and, like hundreds of others, I instantly fell in love.
As with most things Disney, once word of mouth gets started, it spreads like wildfire. People reading the message boards and seeing the pictures posted needed one right away and didn't want to chance waiting until their next visit to see if they were still in stock. If you've visited Disney a lot, one thing you learn is that merchandise changes frequently. There may be some tried and true items you can always find in the parks and resort shops, but other special or limited edition items may disappear within months. Of course there is always ebay, but you are then paying quite a markup and must deal with the possible risks associated with a third party seller.
For those familiar with Dooney & Bourke purses, the Disney designs are similar in style and design aesthetic to the Hearts or Fantasy designs D&B has made popular. The Disney D&B bags currently come in 3 different sizes: [links are for size/feature reference and do not show Disney design] Medium Cindy Tote, smaller Tassel Tote, and Wristlet. Best of all, if you have a Disney Visa, Disney Annual Pass or other discount you can use in certain stores, you are be able to get 10% off your purchase. The purses are exclusive to Disney Parks and not available where regular Dooney & Bourke bags are sold.
Pictures of the Disney Dooney & Bourke designs, courtesy of the DIS Boards and my own collection: (as always, click for full-size picture)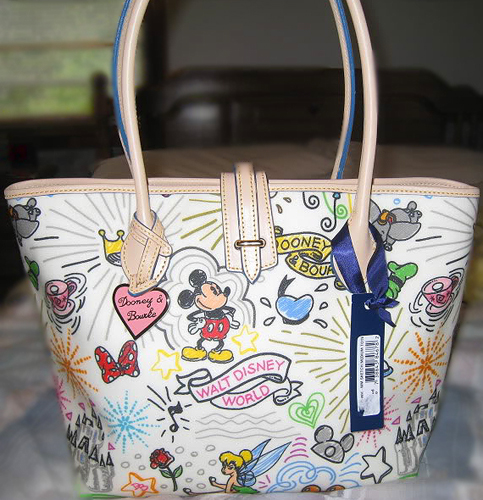 As you can see, the print varies with each bag. I have to extend special thanks to Olga from Brooklyn, the Cast Member at Downtown Disney's World of Disney who made a special trip back to search for my Wristlet – the only one with Tinker Bell's face on it. Have I mentioned how much Cast Members rock? 😉 When I was there on October 17, World of Disney was sold out of the Medium Tote. I discovered then that the Tassle Tote is way to small for me, personally. I either use a bag big enough for any and everything, or something small enough for just my ID card wallet (and Annual Passes!).
EDIT: After being told by the Merchandise Hotline that the parks would indeed be getting the white print bag back in, I've discovered that it is actually a slightly different print from the 1st edition.
The "Dooney & Bourke" banner has been taken off the print and is now featured as a leather tag sewn onto the back of the bags.
The two separate "Walt Disney World" and "Disneyland" banners have now been combined and are in red lettering.
Minnie Mouse has also been added to the print and on the Wristlet there is a pocket on the back where the leather tag is.
Prices have gone up and are now correct on this page.
Here are a few pictures of the new design from ebay: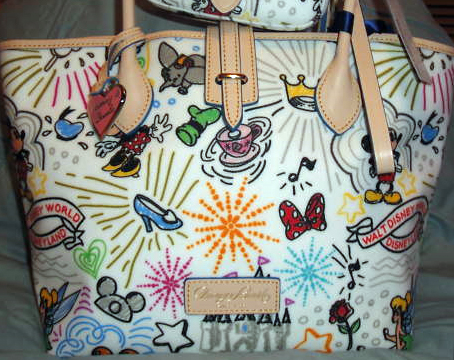 Another new style was introduced a few months back: the Large Tote
Thanks to Shelley C. for the following photo of the newest Cindy Sketch style available at the Parks! Now THAT's a bag!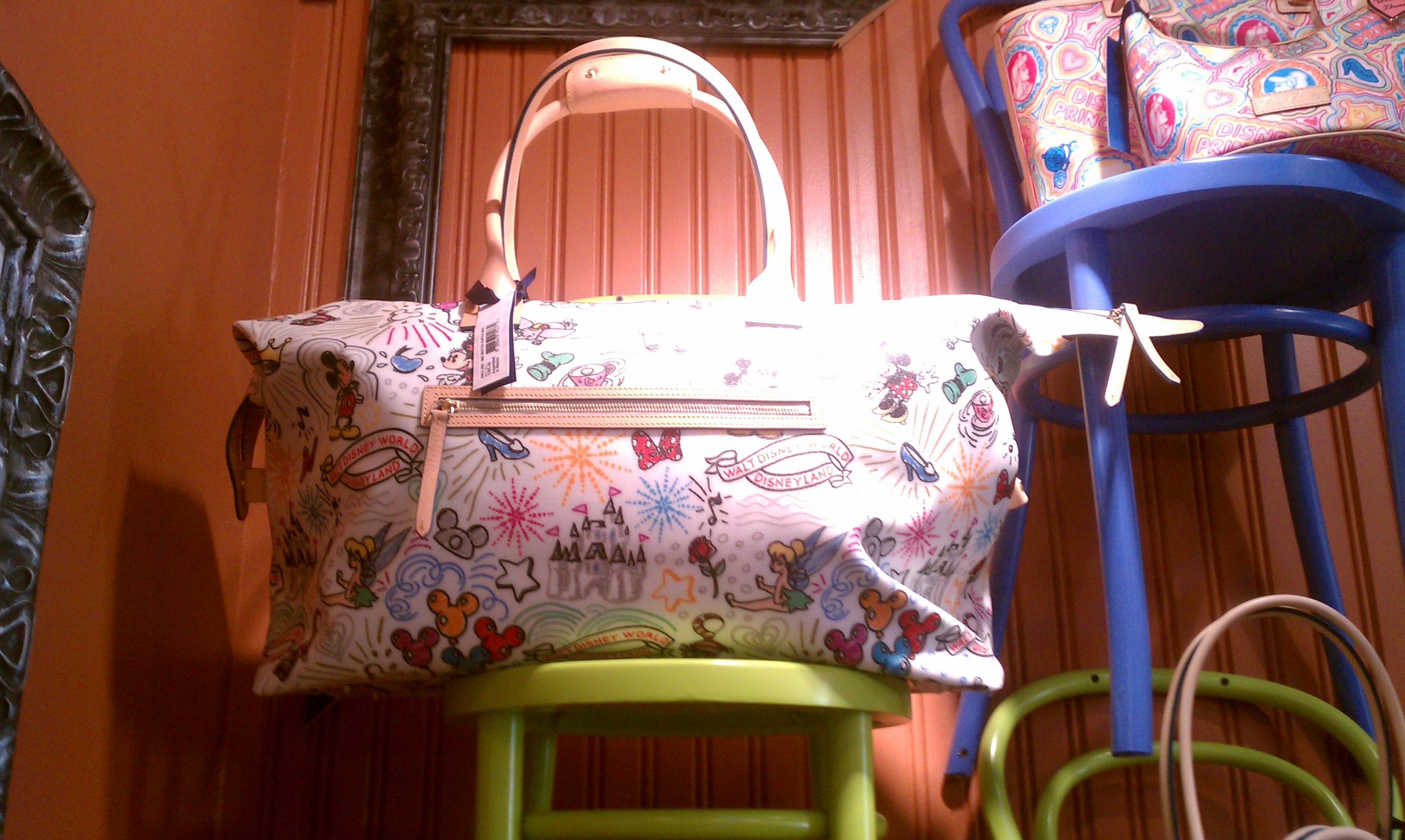 And coming soon to a Disney Park near you – the Lucy bag! Thanks again to the DIS boards for being on top of this new style, which is going to be released on the DisneyStore.com first (it's not currently listed buy some have had luck by repeatedly asking for it when they call). This photo courtesy of NikkiLovesWDW: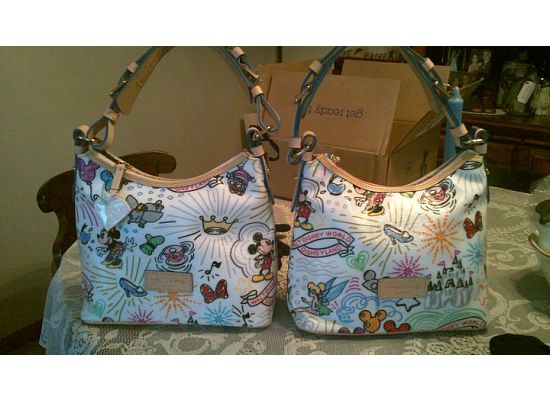 If you are unable to get to the Disney Parks any time soon, you may purchase them via the Merchandise Hotline. No information has been given out as to the edition size of these purses, how long Disney will be carrying them or how many new designs will be released.
There are two numbers you can check for availability to order the purses: 407-363-6200 or 407-828-1451. From what I have heard availability changes daily, some of the sizes may be back-ordered, in which case Disney will take your information and call you when they are back in stock. The stores in the parks, resorts and Downtown Disney get new shipments in daily, but cannot guarantee any of the purses will be part of those deliveries. Mail Order is served first, and the park and resort stores get new shipments in a few days after that.
Current prices for the White Sketch Pattern:
Weekender Large Duffle: $395
Lucy: $290
Large Tote: $225
Medium Tote: $190
Small Tassel Tote: $160
Wristlet: $49
Don't forget to check ShopDisney.com for sales of select current released Disney Dooney & Bourke purses and Zannaland's Disney Dooney & Bourke page with ALL handbag photos and info.
*ShopDisney.com links are affiliate links, which means it costs you nothing extra to click or buy, but if you do, I get a small commission. Thanks for reading!