I first heard of the marriage of Disney designs with Dooney & Bourke purses from a good friend on twitter. He'd seen the posting on a popular Disney-related message board. I hopped over to check it out and, like hundreds of others, I instantly fell in love.
As with most things Disney, once word of mouth gets started, it spreads like wildfire. People reading the message boards and seeing the pictures posted needed one right away and didn't want to chance waiting until their next visit to see if they were still in stock. If you've visited Disney a lot, one thing you learn is that merchandise changes frequently. There may be some tried and true items you can always find in the parks and resort shops, but other special or limited edition items may disappear within months. Of course there is always ebay, but you are then paying quite a markup and must deal with the possible risks associated with a third party seller.
For those familiar with Dooney & Bourke purses, the Disney designs are similar in style and design aesthetic to the Hearts or Fantasy designs D&B has made popular. The Disney D&B bags currently come in 3 different sizes: [links are for size/feature reference and do not show Disney design] Medium Cindy Tote, smaller Tassel Tote, and Wristlet. Best of all, if you have a Disney Visa, Disney Annual Pass or other discount you can use in certain stores, you are be able to get 10% off your purchase. The purses are exclusive to Disney Parks and not available where regular Dooney & Bourke bags are sold.
Pictures of the Disney Dooney & Bourke designs, courtesy of the DIS Boards and my own collection: (as always, click for full-size picture)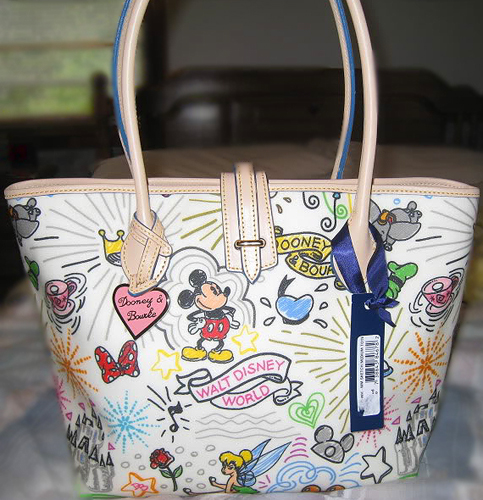 [Read more…] about Disney Dooney & Bourke Cindy Sketch Designer Bags