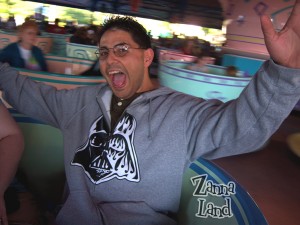 I recently asked my followers on Twitter and fans of my Facebook page what their "Most Memorable Disney Ride" was on their very first visit to a Disney park. Well let me tell you, this is something my readers were passionate about! I was really excited to read through everyone's memories and it is truly a testament to why I write here – Disney memories are so special, everyone that's been there has them. You never hear a first time visitor casually say, "and then we went on Small World". Quite the contrary there are stories to go along with these memories, experiences to be shared and re-lived again and again. To borrow a quote from a Disney parks ad campaign a few years back, we share these stories to…Remember the Magic.
Some of the funniest responses were remembering Dumbo because the person threw up all over their Dad when the ride ended, and The Haunted Mansion "because it scared the poop out of me". I was definitely one of those scared by Haunted Mansion…the scene with the doors and coffin being pried opened by creepy hands…and of course the graveyard scene with the pop-up ghouls. I still to this day feel bad for that poor, starving dog as you enter the cemetery – I just want to bring him some Puppy Chow or something!! What more proof of the power of Disney magic than an audioanimatronic figure which can elicit an emotional response of worry! Of course Disney knows how to end on a high note; the hitchhiking ghosts always got even the most scared child (me!) giggling as they realized they made it out alive! One reader loved that part because it turned her 5 year-old brother into a ghost (it's always fun when they sit on someone's lap!).
Quite a few other memories were about being terrified on a Disney ride – Space Mountain, Big Thunder Mountain, Tower of Terror (many votes for Mr. Toad's Wild Ride too!). The common thread? Everyone survived and then had a great story to tell – "I did it! I rode it!!" It's such a wonderful feeling to conquer a fear like that and realize that which you might have been scared of is actually loads of fun.
I clearly remember the first time I rode Big Thunder Mountain. I'd never been on anything but a kiddie roller coaster at a carnival before, but my dad insisted I'd be fine and finally convinced me to try it. It was SO fast, but fun too. He was laughing the whole time, pointing out the scenes we were passing – "Look at the piggies, honey!" he said and I replied "NICE PIGGIES!!" through clenched teeth. As he predicted, I was fine and I loved it. Last year I got to share that same experience with my fearless daughter, who did not need reassurance that she'd be fine – she just wanted on! Needless to say, she loved it.
The now extinct Skyway ride was another favorite memory to some, myself included. My mom was scared of heights, so this was another ride my dad and I went on together. We always used to take it from Tomorrowland to Fantasyland because the line was shorter. For me it was such a thrill to just get on the ride. I'd get nervous that I'd miss the Skyway cab and fall out of the building, which was silly because the cast members stopped the cab for you to get on, but at 8 or 9, your imagination gets the best of you. Once we were on the ride itself the views were incomparable. You could see down into 20,000 Leagues Under the Sea and get some amazing pictures of Cinderella Castle(in fact I took pictures every ride up until it closed). It was so peaceful and quiet too, a wonderful break from the crowds of the day.
Of course I've discussed before my first Epcot ride memory. Pirates of the Caribbean was my first Magic Kingdom ride. My family, having brushed up on the only-choice-at-the-time Birnbaum guide books, always started to the left in Adventureland. I was scared of that ride too – too many skeletons – but I loved the dark air conditioned boat ride and the surprise drop. Plus who doesn't love Pirates? I know we did It's a Small World as well, which was another common answer among my readers – rightly so, the song makes it impossible to forget!
The funny thing is, with all our family trips and during my time as a cast member, there were still some rides I'd never been on! I didn't ride the Mad Tea Party until a friend came to visit and wanted to go on. I thought for sure I'd get sick, but I didn't. I had no idea you could control how fast or slow you spun on the cups. I've since been on with people that spun it a little too fast, but it was still great. I had a bad experience on a Tilt-a-Whirl as a kid and this does not compare. I did not ride Space Mountain until my birthday 2 years ago. Is that not shocking?? I had even been on Rock 'N' Roller Coaster and been fine, but Space Mountain always ignited fear in my heart. I think it might have been the stories my mom told about riding with my brother and gripping his arm so hard that he had visible fingernail marks at the end of the ride! My friend visiting from Texas wanted to ride it though, and who am I to deny a first-time visitor that experience? We went on, and I loved it! I finally felt like I had done it all now that I'd conquered Space Mountain. Of course, I still need to get over to Expedition Everest…but we'll see about that.
Whichever ride becomes your favorite that you must experience 20 times each visit, whichever one you've done once and don't plan on riding again, there is only one First Ride…and the memories from it will last a lifetime. What's your story?