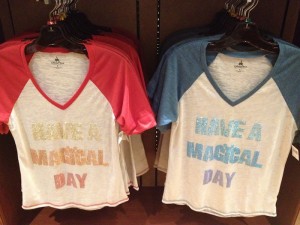 As you know, I love sharing merchandise that grabs my attention in the Parks, and Disney has really been pushing the envelope on creative t-shirt designs in the past year or so. Fans across twitter have appreciated the artistic, ironic, or self-deprecating designs that have come out recently.
I think the first time I actually laughed out loud at a Disney t-shirt, it was with these literal Mickey and Donald shirts. Now each time I enter a park, I find a shirt that makes me giggle or impresses me with its style. The Disney Couture line, along with Disney's partnership with Hanes have led to some great new designs and I'm sure there are more to come. Here are a few of my favorites, collected over the last month or so:
Do you have a favorite?