One of my favorite things about connecting with blog readers and Disney fans online is hearing their stories from Disney parks I've never been to. It's always fun to see things from a different perspective. Today I'm pleased to share a post from Nick Sim of ThemeParkTourist.com. Here Nick shares a very magical moment he and his wife experienced at Disneyland Paris – As always, click to enlarge photos.
Visiting a Disney park at Christmas is always a magical experience. So when my wife and I boarded a Eurostar train to the Disneyland Resort Paris last December, our expectations were sky high. Only one thing played on our minds – a weather forecast that pointed to heavy blizzards. Were we about to hit the Disney jackpot, and see arguably the company's most beautiful park covered in glistening snow? Or were we racing along the tracks towards a disaster, in which the resort's major attractions would be closed throughout our stay?
Our first impressions weren't good. The roads leading to our hotel were covered in several inches of snow, with desperate drivers wheel-spinning their cars along at bizarre angles (and frequently into each other). Disneyland Paris requires thousands of employees to operate. Without a seriously rapid change in conditions, how were they all going to get to work the next day? It seemed impossible.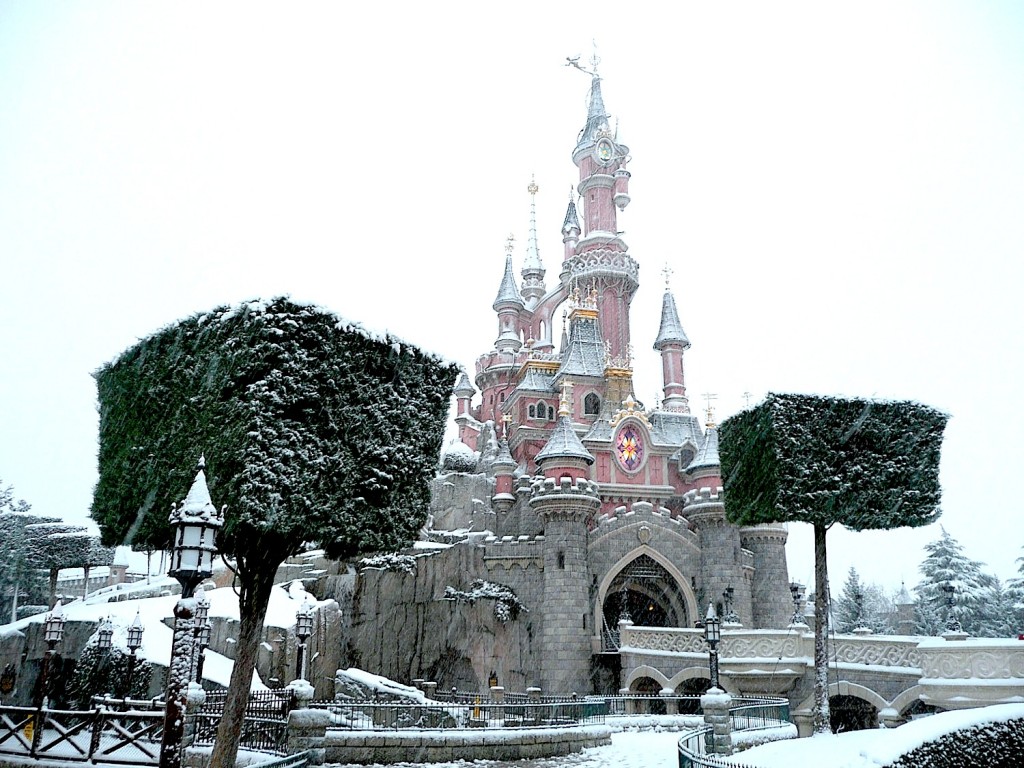 Of course, being English, we hadn't imagined that a public transport system could cope with heavy snowfall. Fortunately, the one in Paris can, and Disneyland Paris threw open its gates exactly as scheduled. An impressive image awaited those who spilled through, with Sleeping Beauty Castle receiving the type of holiday makeover that Disney's Imagineers could only have dreamed of. Surrounding it, all four of the park's themed lands – even the futuristic Discoveryland – had undergone a similar transformation. Walking up Main Street USA as the snow continued to fall, we felt like we were characters inside a magical snowglobe.
We had an incredible day, despite spending much of it traipsing around with soaking wet feet thanks to our hideously inappropriate footwear. Eventually, the snow melted and the park returned to normal. Only one ride had remained closed throughout: Big Thunder Mountain Railroad. I couldn't possibly feel disappointed in the circumstances, but I did miss it ever so slightly. It's an attraction that I've obsessed over ever since I was a little kid, staring at it in the brochures for Walt Disney World that I collected every year.
To our amazement, we opened our curtains the next morning to discover that Paris was once again blanketed with fresh snow. Even better, every single ride at Disneyland Paris and Walt Disney Studios was fully up-and-running. A quick FASTPASS-grab later, and the scene was set for my ultimate Disney experience: Big Thunder Mountain Railroad in the snow. At sunset.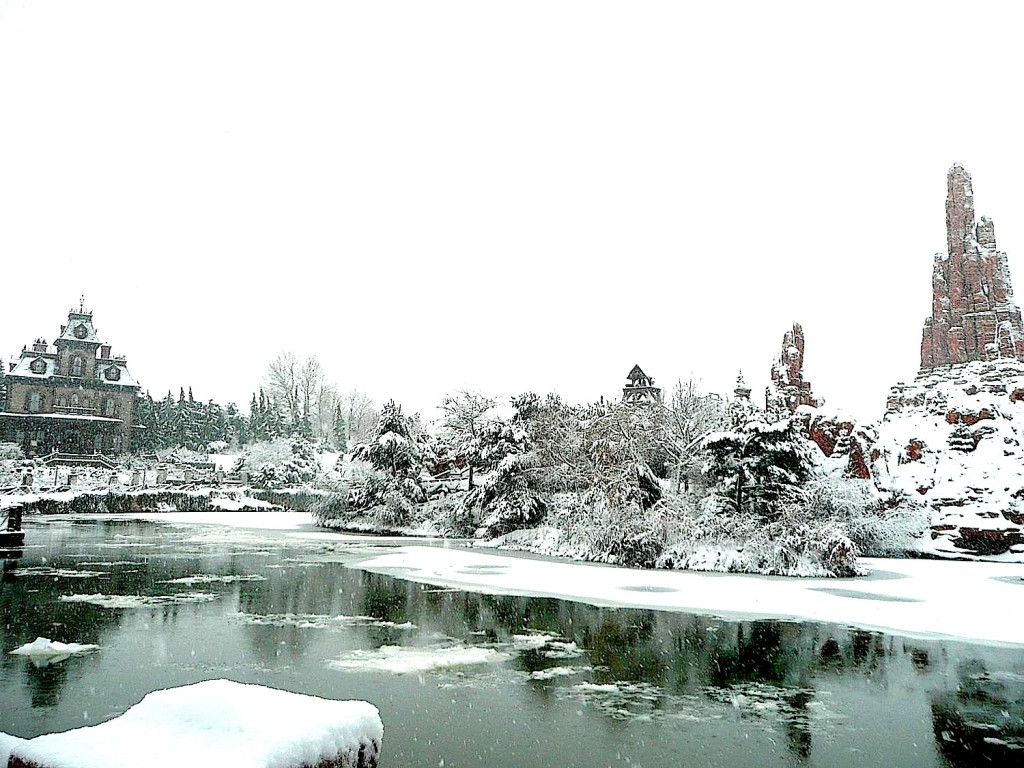 Disneyland Paris' version of the coaster, with its setting in the Rivers of the Far West and backstory based around a mine in Thunder Mesa, is visually stunning at the worst of times. Add in layers of snow and a beautiful Paris sunset, and the scene as we crested the first lift hill was virtually perfect.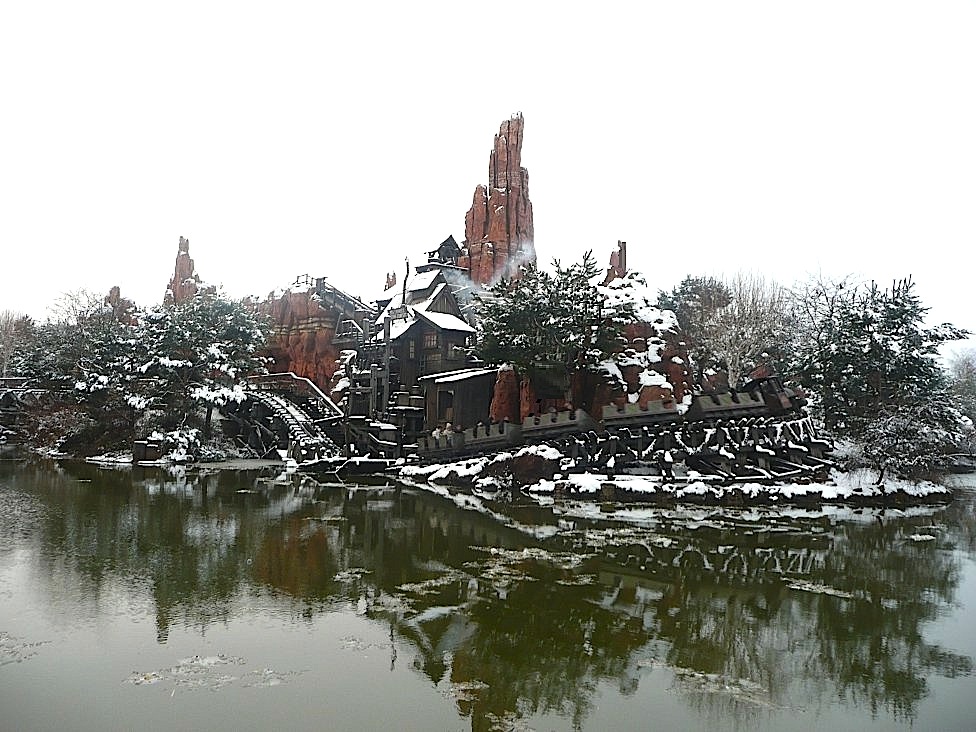 Racing around the ride's circuit, I had fun spotting my favorite landmarks. The washed-out bridge. With snow on it. Phantom Manor, across the water. With snow on it. A couple of friendly donkeys and a goat pulling on a clothesline. With snow on them. Seriously, is there anything that doesn't look better when it's covered in snow? OK, so it probably didn't snow that much in the Wild West. Who cares?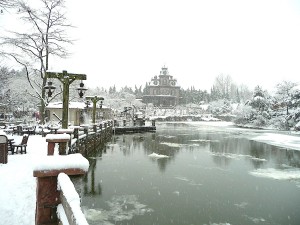 Returning to the station with an enormous grin on my face, I realised that it would be difficult for any ride experience to ever top that spin around Big Thunder Mountain. I'd achieved theme park perfection. I'd won the Disney lottery. I'm sure I can't be alone in having one theme park memory that stands out above the rest. Is there one particular experience that stands out for you above any other?
 …
Nick Sim is the editor of Theme Park Tourist, which features news and reviews from parks all over the world. When he's not staring longingly at Walt Disney World brochures, he can be found on Twitter @ThemeParkNews and Facebook.