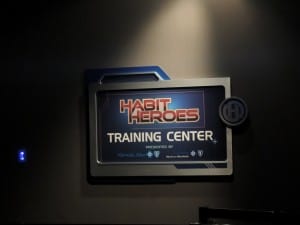 Disney may have caused a bit of a national stir with their first incarnation of the Habit Heroes attraction, (which held soft openings about a year ago, and then closed less than two months later) but the entire show has been rewritten, revamped and ready for action.
The issue faced in the previous version was that two of the cartoonish characters depicted obesity as being easily solved by exercising and eating right, and, critics felt, used tools of shame to attempt to get their message across. Bariatric surgeons and National Association to Advance Fat Acceptance advocates spoke out against the attraction perpetuating negative stereotypes about obesity. At the same time, many in the local Disney community felt that too much of an overreaction was made toward the attraction's characters. A show about bad habits included characters depicting the effects of those bad habits. One need only look at our schools and yes, theme parks, to see first-hand the effects of those bad habits. As someone who has struggled with weight all my life, I was not offended and definitely understood the message trying to be conveyed. Regardless, Disney closed the attraction while it retooled the storyline based on guest reactions.
Habit Heroes is now back and opens today in Epcot's Innoventions East, right near the popular Sum of All Thrills motion simulator ride and the Vision House walk-through. I was given a special preview yesterday and even better, was able to take my four year-old with me to test out the changes.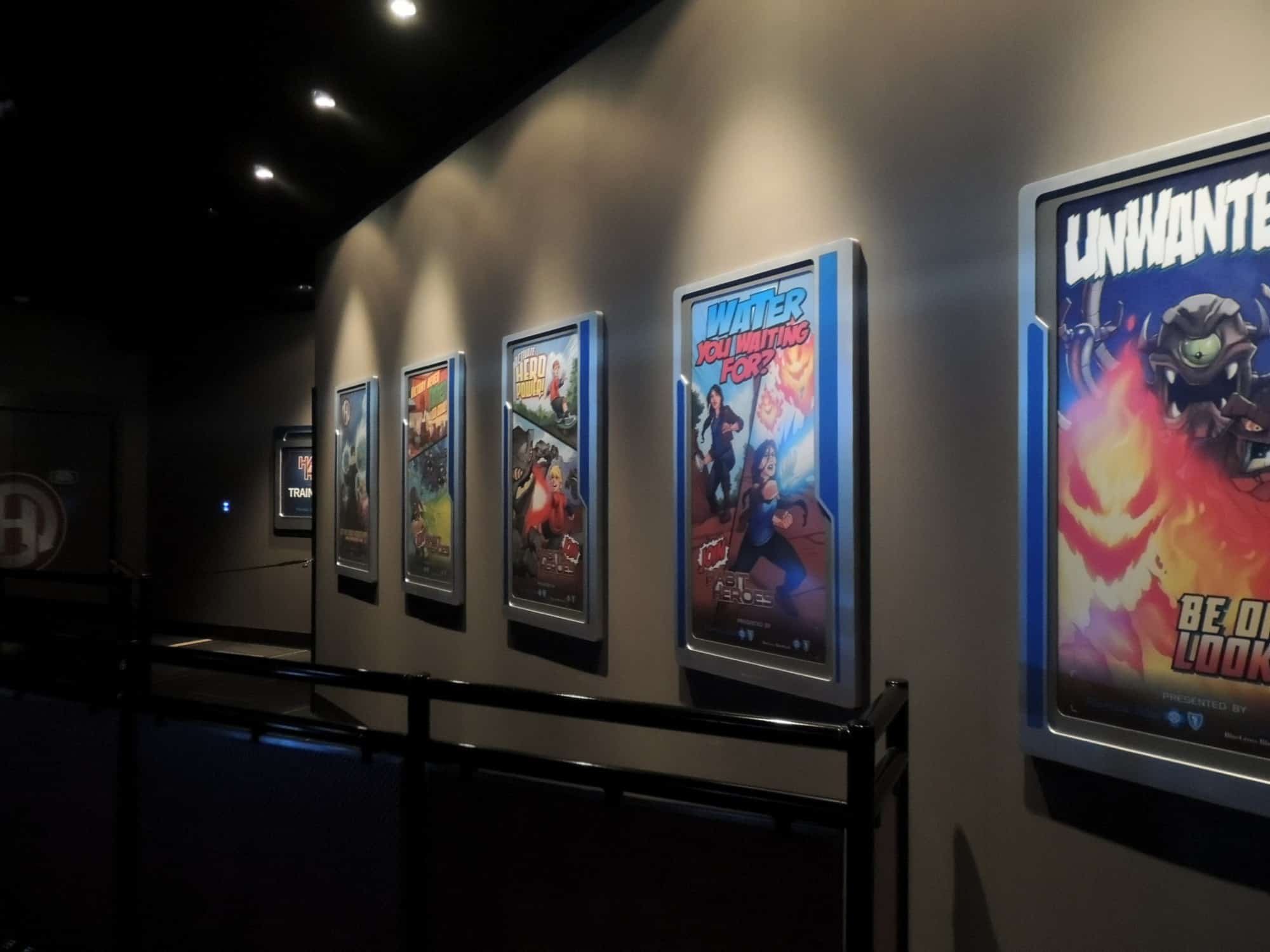 This time around, according to Creative Director Brent Strong, the focus is on positive messages and at the core, trying to make sure everyone feels like a super hero, tapping into emotions to get guests engaged and excited about healthy habits. Rather than having "bad guys" fighting with donuts and sweets, the focus is on YOU, the hero, making good choices and keeping the effects of bad choices away. These bad choices are represented by the unseen forces that threaten our health – dehydration, inactivity and lack of nutrition.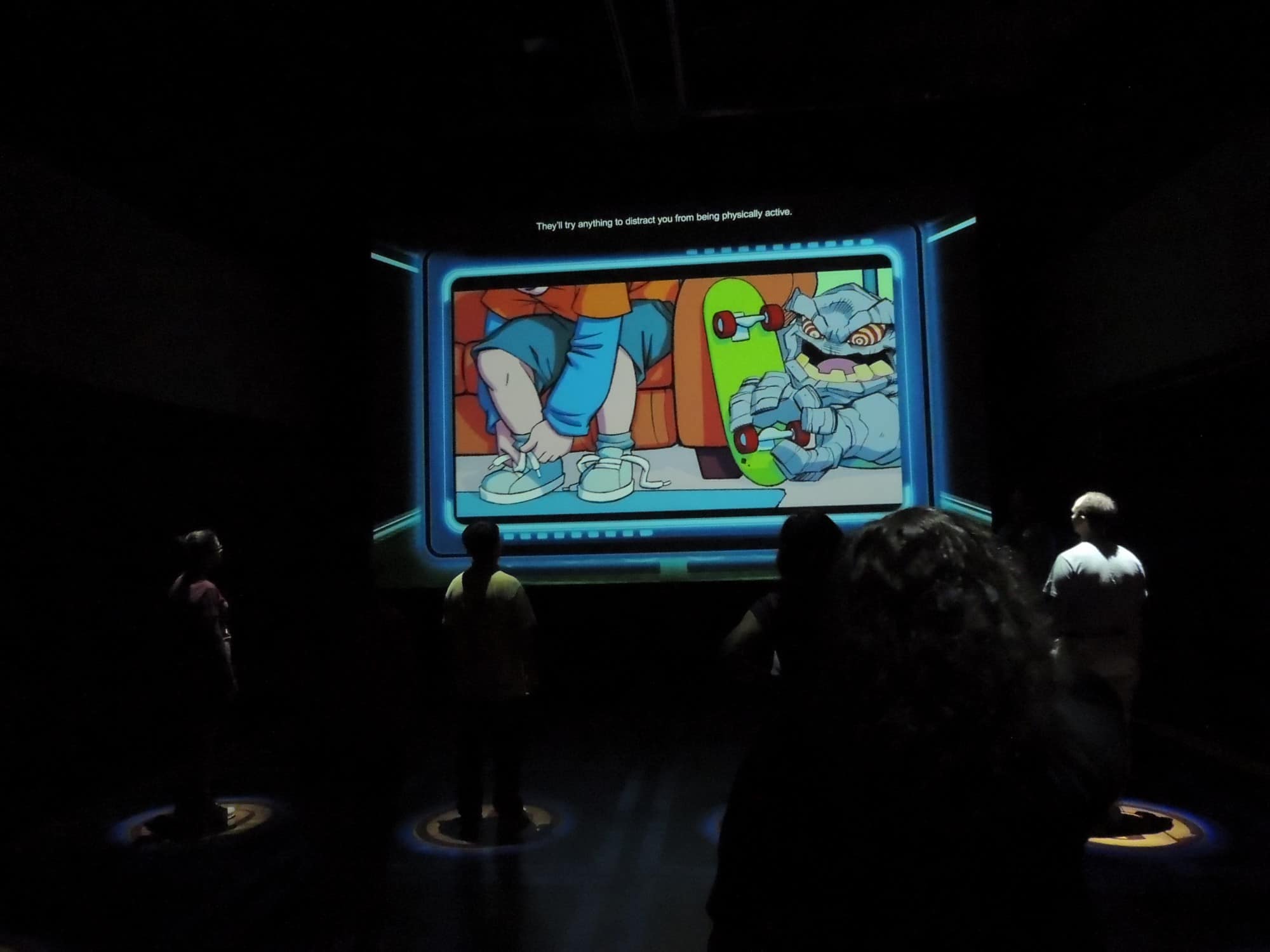 Guests are taken into a series of 4 rooms within the attraction, starting with the training center and ending with the debriefing room. In the training center, we are introduced to our Habit Hero guides, who tell us about these unseen dangers, and how we can combat them by making the right choices. These stories are told in a simple manner that anyone can relate to, without making it seem silly or corny.
Every guest walking into Epcot has probably seen the effects of dehydration, represented here via "Scorchers." Inactivity is translated into a young boy wanting to go out and play on his skateboard, but getting distracted by the "Sappers" who do anything they can to keep you from activity. Lastly, we are shown the effects of not having proper nutrition. The "Blocker Bots" are what appear when you just eat whatever you want, leaving no room for good choices like fruits and vegetables to get into your system. These lessons are very well portrayed, in such a way where you could see the effects of your choices and how being a Habit Hero will ensure good health.
Next, we enter a room full of "blasters" which correspond with the habits we just learned about. Blue for hydration, red for activity, and green for nutrition. We then use the blasters to zap away the cartoon representations of Scorchers, Sappers, and Blocker Bots as they try to attack people. A fun little addition is each blaster gives off a little "surprise" as you hit your target – blue gives off a mist of water, red a puff of air, green a little vibration. Another round is played where teamwork comes into play, showing the importance of neighbors and community as you battle to be a Habit Hero.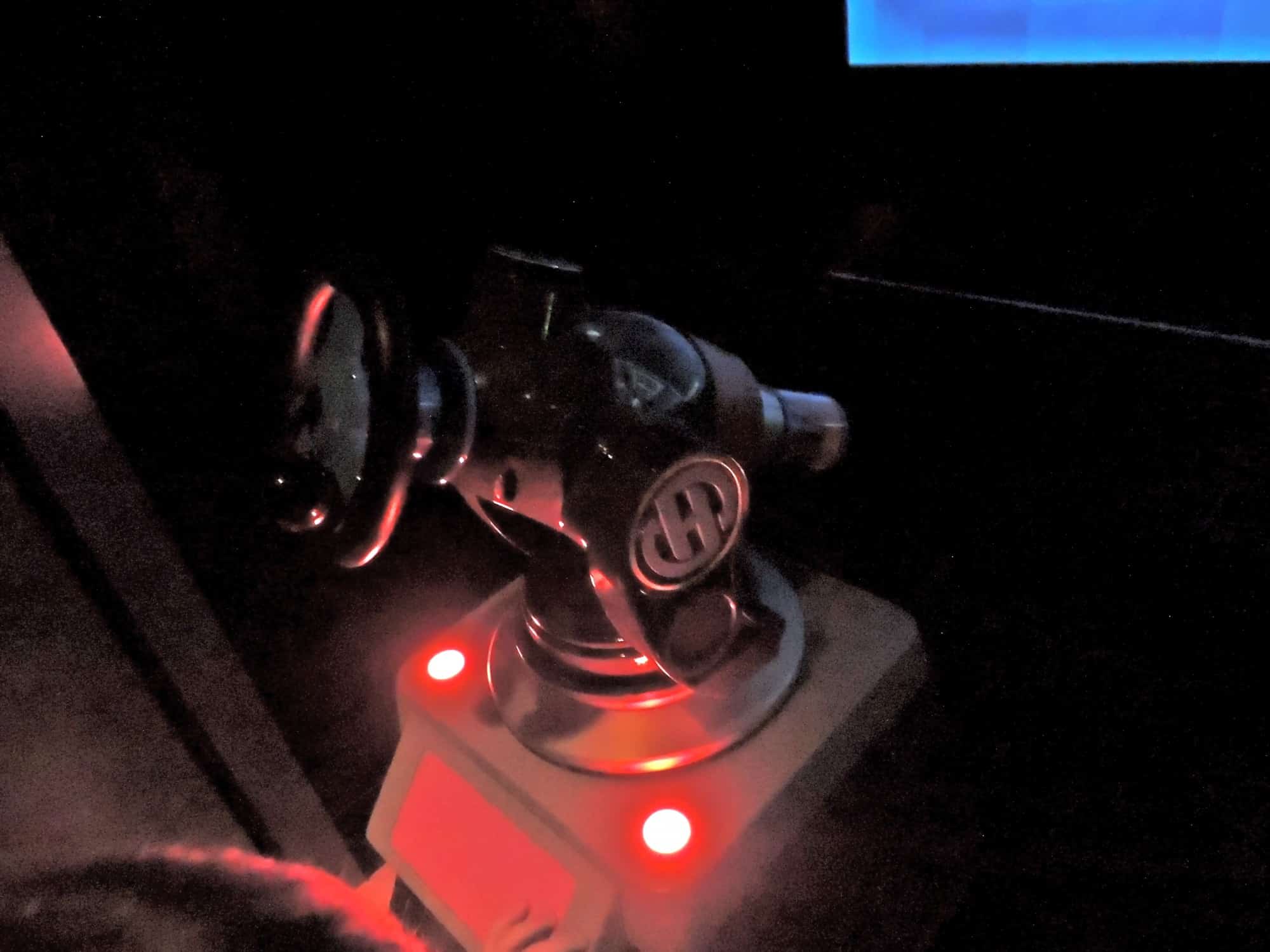 The community aspect is also utilized in the next room, where you are given a colored card as you enter. The room is surrounded by a screen showing Scorchers, Sappers and Blocker Bots attacking from above. Guests place their card on stands around the room, activating a shield and destroying the bad habits. The habits are attacking all around, so guests must run around to the different stations, and are encouraged to ask for help when they see a different card is needed, "we need a red card here!"
Once the world has been saved, you are ready to head to the debriefing room to take the Habit Heroes pledge. The fun doesn't end there, however. Guests are given a wrist band bracelet in the color representing the habit they most identified with, red, blue, or green. Guests are also given a special card with a mission to embark on in the real world – Epcot! The cards show a cut out to match up on an Epcot map displayed within the debriefing room, and they follow the clues to find a hidden code word somewhere in a nearby Epcot attraction. They are then instructed to return to the Habit Heroes kiosks outside the attraction and enter their code word for a special message from the Habit Heroes leader and an option to enter their email address to receive more information on the Habit Heroes app which is available for Apple and Android mobile devices. Right now, there is just one mission and code word per card, but the attraction itself plus the app ensure lots of return visits to Habit Heroes.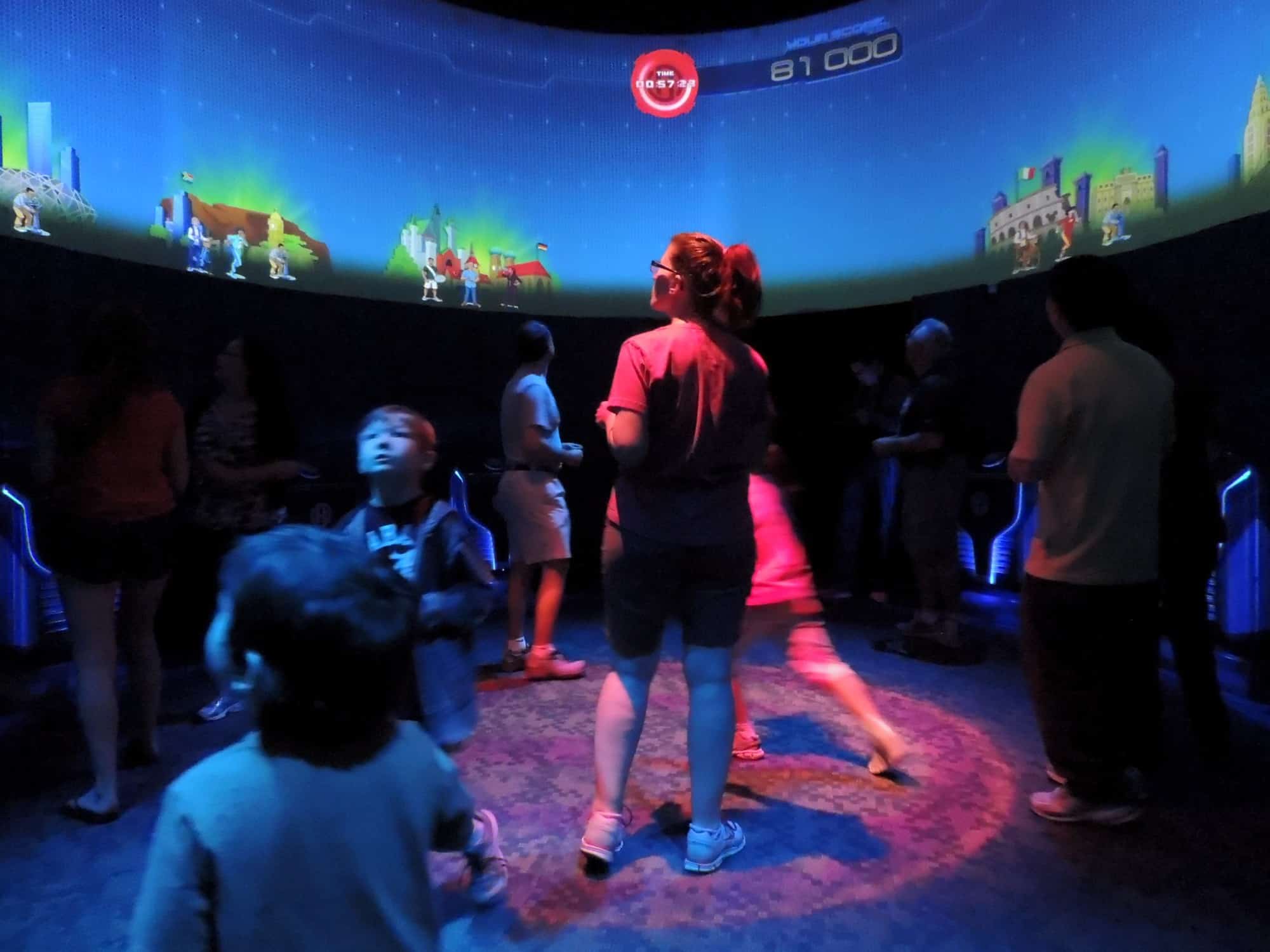 While the Epcot mission takes the Habit Heroes attraction one step beyond, the app truly brings it to the real world, creating healthy families along the way. The app provides the same missions on the cards at the end of the show, as well as backstory on all the Habit Heroes, along with interactive tracking of activity which allow you to unlock content and real world tools for healthy living. The overall message here is positive, healthy changes and how those healthy choices affect us, our friends, and our family.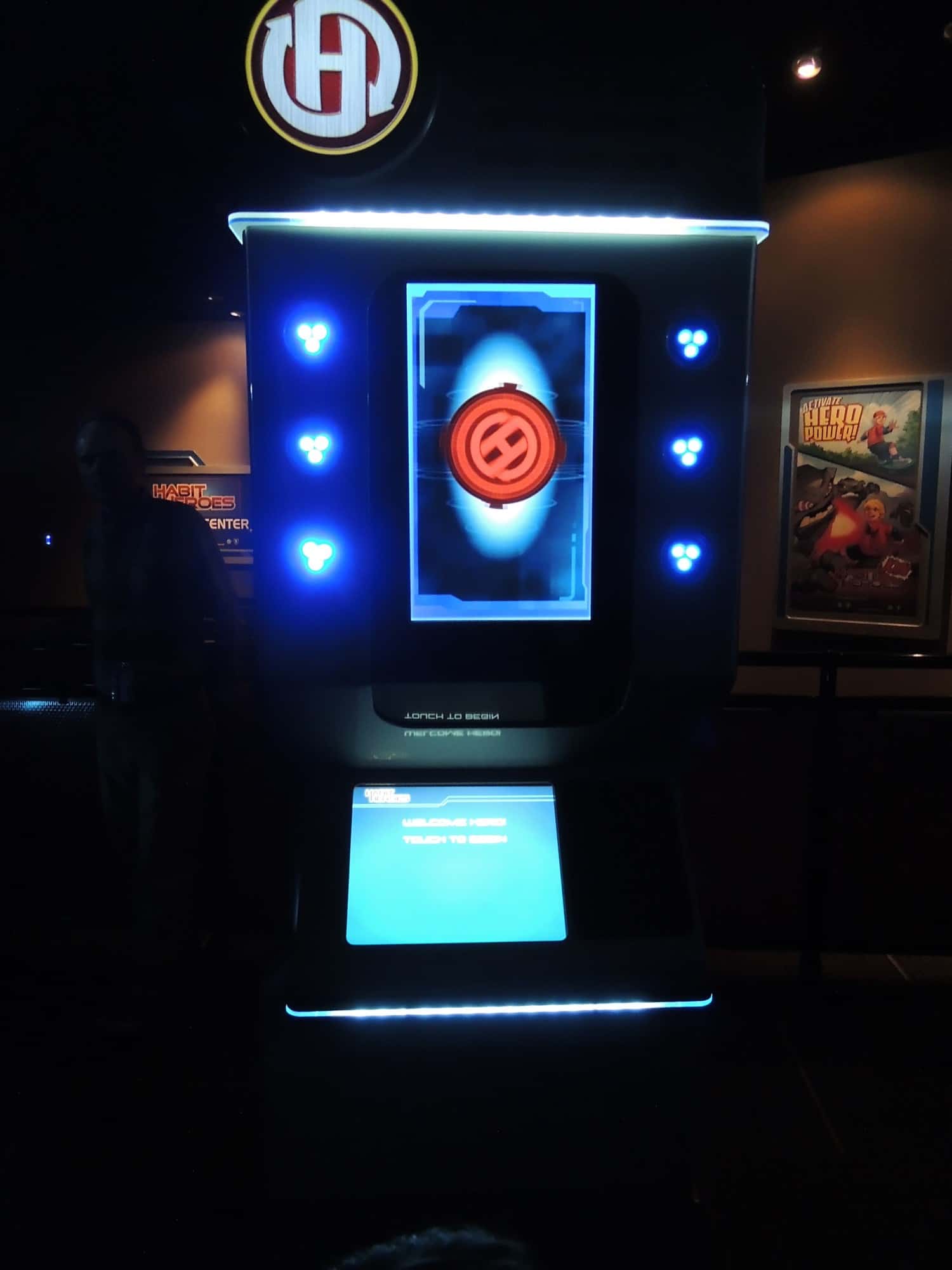 Guests leaving the attraction were already commenting on how they will now make sure their family stays hydrated throughout the day. This is definitely an interactive attraction that stays with you and keeps the entire family working toward healthy goals. As Brian Wansink, Ph.D. from Cornell University and the Director of Cornell Food and Brand Lab puts it, "Habit Heroes is incredible because it's not just about learning…it's about learning and turning it into action. That's the nice thing about this is that when people leave, they've got a plan of how to make their life healthier." That is definitely the message I took away; kids and adults alike are given the lesson and the tools to turn those lessons into life changes.
In addition to all of that – it's just plain fun. My four year old loved it the two times he got to play and couldn't wait to bring his older sister and brother back so each of them could be a different color and get all the bad habits. The app is a great addition to keep the lessons and the momentum going, leading to lifelong lessons and positive habits down the road.
Habit Heroes is sponsored and presented by Blue Cross/Blue Shield. I was provided with a preview of the attraction from Disney – my thoughts and opinions are my own. You can also learn more at HabitHeroes.com.
See more photos from Habit Heroes: