While our roving movie reviewer Christian may not have felt The Lion King2019 edition was worth spending your money on, Disney IS putting their money to good use with several initiatives sending money to where real-life lions need it the most and Protect the Pride. And while I will be the first to admit, Disney tends to go overboard with the merchandise and promotion of all of their films, in this case, it is actually doing good along with the usual profits. 
Disney recently invited us out to see some of the in-park celebrations and programs they have coordinated with the July 19th release of The Lion King. They hosted us for a day in the park and treated us to lunch as we experienced some of these offerings. As always, my opinions and views are my own, and I am posting about these initiatives because animal conservation is something near and dear to my heart, as is Animal Kingdom in general (and I get a bit defensive when people don't enjoy the park on its own!).
Protect the Pride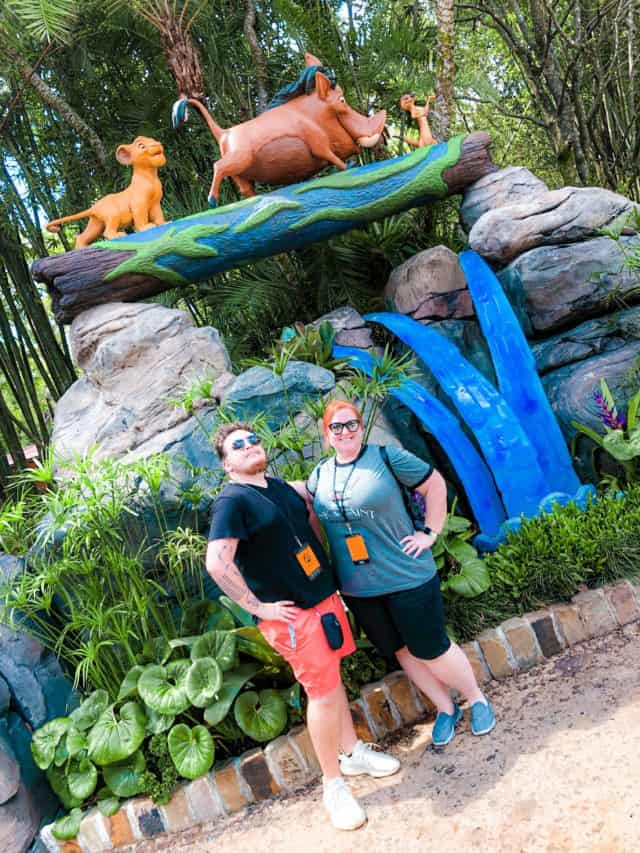 It's hard to believe, but in the 25 years since The Lion King first came out, half the lion population has been lost, and only 20,000 remain. To counter these facts, Disney launched The Lion King "Protect the Pride" campaign in conjunction with the Wildlife Conservation Network's Lion Recovery Fund in an effort to double the lion population by 2050. 
But this isn't a new effort for Disney – since 1995, the Disney Conservation Fund has directed up to $75 million ($13M to projects across Africa) to save wildlife and protect the planet. Disney has already donated more than $1.5 million to the Wildlife Conservation Network's Lion Recovery Fund and its partners. Now to celebrate the newest release of The Lion King, Disney is asking fans to help by taking part in The Lion King Celebration happening at Disney's Animal Kingdom and The Lion King Protect the Pride campaign.
So How Can You Help? 
Disney's Animal Kingdom – For every guest who rides the Kilimanjaro Safaris Expedition at Disney's Animal Kingdom Theme Park in Florida during opening week of The Lion King film (July 19 – 25, 2019), Disney Conservation Fund will donate $2 (up to $350,000) to the Wildlife Conservation Network in support of the Lion Recovery Fund's efforts to help double the number of lions across Africa by 2050. (Theme park admission is required.)

Disney Stores & U.S Parks – 40,000 Special Edition The Lion King 2019 Simba and Nala plush lions are available for purchase at Disney stores across the globe. Each of the 40,000 plush represents one of the lions for which Disney and the Lion Recovery Fund are working to ensure a future. For each Special Edition lion sold, Disney will donate US $5 to the Wildlife Conservation Network in support of the Lion Recovery Fund and its local partners. Visit Disney.com/LionKingProtectThePride to learn more.
More Lion King Celebrations
The Lion King fun doesn't end there. In addition to Protect the Pride, there are a lot of new offerings at Disney's Animal Kingdom to help celebrate and really commemorate the spirit of The Lion King. The Hakuna Matata Time Dance Party (which is REALLY fun and I'm not usually a dance party kind of girl), photo opportunities featuring dimensional backgrounds (some you can see in this post), and "Rivers of Light: We Are One," which is now reimagined with familiar animals from Disneynature films and classic moments from Disney animation. I have not personally seen the new show yet, but did love the original Rivers of Light when it first debuted. 
Lion King Merchandise
A new Dooney & Bourke collection will be available at Mombasa Marketplace and Discovery Trading Company. The collection includes a satchel, crossbody and tote with a pattern featuring beloved characters such as Simba, Nala, Timon and Pumbaa. These handbags are available now while supplies last.
And of course, those adorable Simba and Nala collectible plush where $5 goes toward saving lions:
The Lion King Scavenger Hunt
With the great success over in Epcot, there is a new hunt themed to, you guessed it, The Lion King. Characters from The Lion King are hidden around Harambe Village. We saw some on our visit and they are really cool but I won't spoil their locations! Each time you spot one, add the corresponding sticker to your map. The map is available at the Outpost Shop, Discovery Trading Company, Island Mercantile, and Mombasa Marketplace for $6.99. Return your map to Mombasa Marketplace or The Outpost Shop by 9/28/19 or while supplies last for a "savanna surprise". (which is actually a really cool hand-painted collectible!). If you just want to get the prize at the end, you can purchase the three for $6.99 a piece.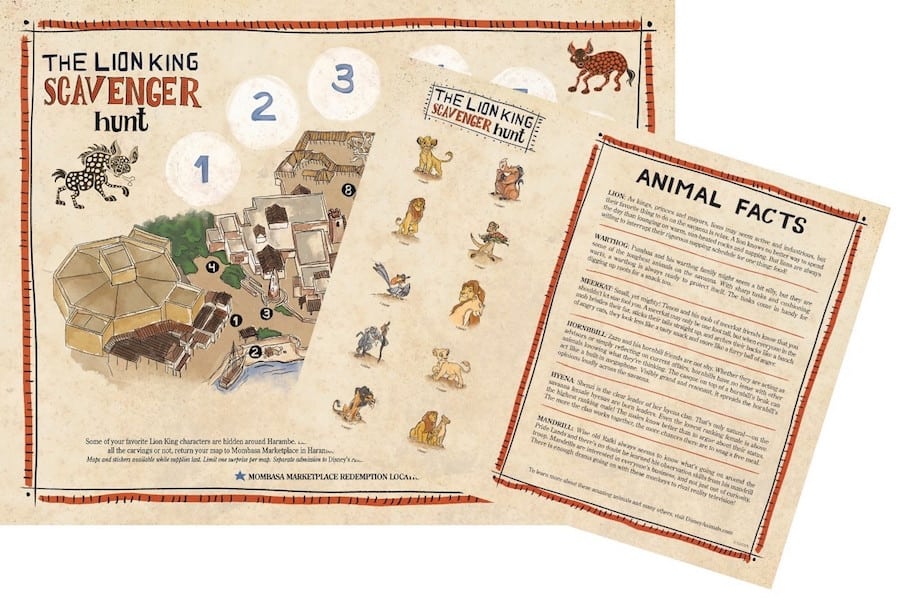 Lion King Snacks
There are some snack and drink options that will really make you roar. These special drinks and snacks will be available through the end of the summer. All of the images below are ©Disney (except the first one, obviously not up to Disney quality haha). Most all of these snacks are extremely sweet, so go prepared to experience an extreme sugar rush. Not pictured are Simba and Nala waffles from Tusker House for breakfast, and the SImba Cupcake from Pizzafari.
I'm shocked by this Simba Swirl of pineapple Dole Whip with coconut, watermelon, and strawberry syrup!

Shaved ice topped with watermelon and passion fruit-mango syrup.

Vanilla ice cream sandwiched between two chocolate chip cookies and decorated with a chocolate tail and an image of Simba.

Lion King latte art from Joffrey's Coffee

Chocolate soft-serve ice cream in a green cone with cookies and cream "dirt" crumbles, gummy worms, and a chocolate beetle — at the Anandapur Bus and Trilo-Bites.
Also recently added to Disney's Animal Kingdom is the return of Animation Academy, which we all miss from Disney's Hollywood Studios. The "new" Disney's Animation Experience is over in Rafiki's Planet Watch, accessible by train from Harambe and a short walk from the station. This is now the only thing in the building, so you must wait for the next session to start before being let in to choose a seat and a clipboard with paper and pencil. The seating is very tight and cramped but if you're lucky, they'll let you spread out so you have a little elbow room.
During our session, we drew Simba and it was much "easier" (if that's possible for a total non-drawer like myself) with some lines and the main face circle already printed on the paper. If you love to draw, and love to pet animals like goats and pigs and llamas, definitely head over to Rafiki's Planet Watch and stop by the petting zoo while you're there.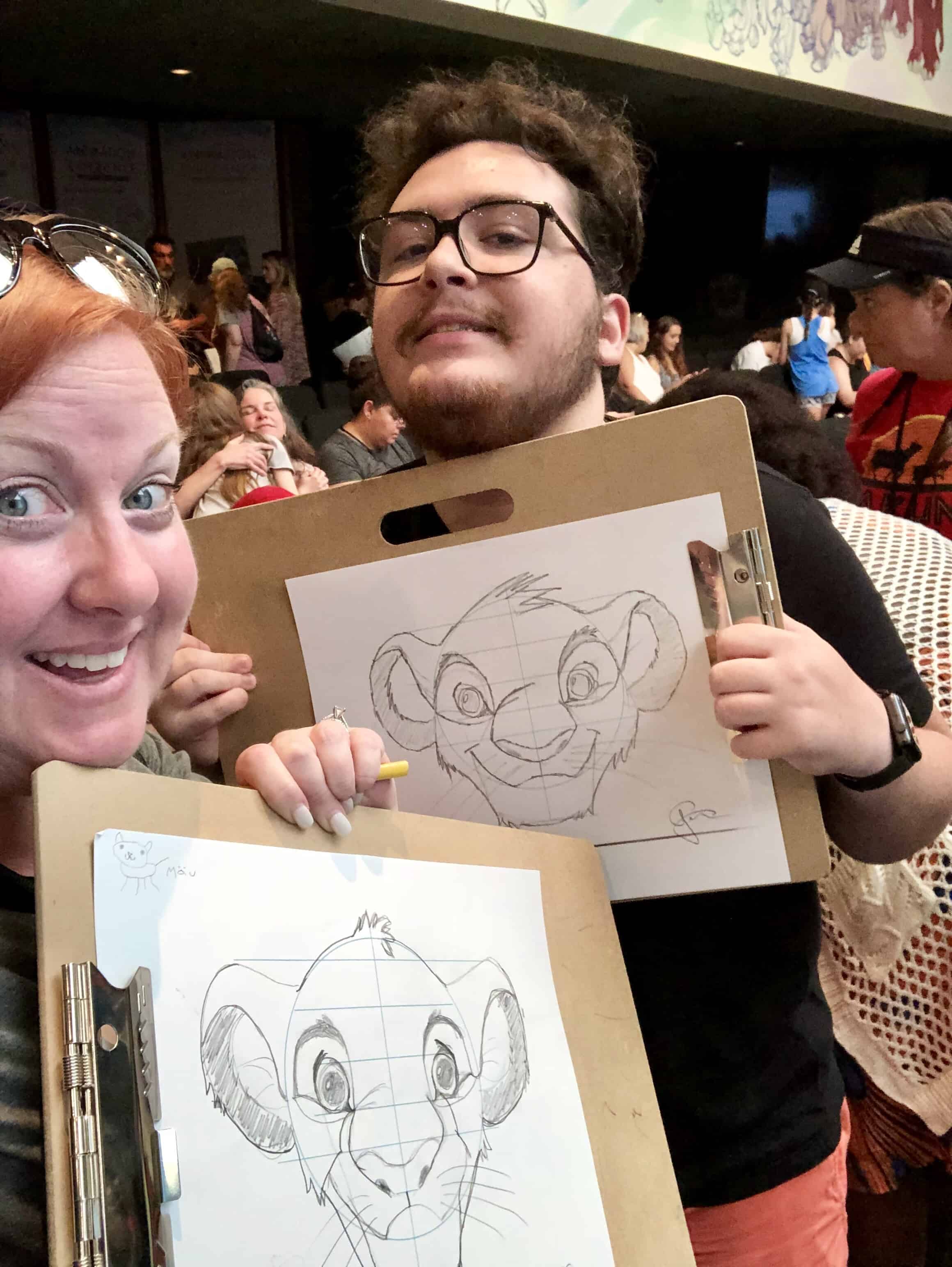 All in all, I think this is a great example of Disney synergy used for good. Yes, there are new purses and snacks and even an extra ticketed event. [Circle of Flavors: Harambe at Night – an after-hours progressive dining event where each course is themed to a different African animal, with amazing desserts, and the opportunity to enjoy a Virtual Reality experience with the resident lions from Kilamanjaro Safaris – for $125 per adult on select nights]. Despite all of that, Disney is also highlighting the importance of conservation of lions and all endangered animals. What these new offerings did was allow me to experience Animal Kingdom in a whole new way. This is always great for a jaded local who was there on opening day. If it helps Protect the Pride, all the better.
What about you? Will you experience any of these Lion King Celebration activities? If you can't make it down for the summer, what's a favorite memory you have from Animal Kingdom? I'd love to hear it!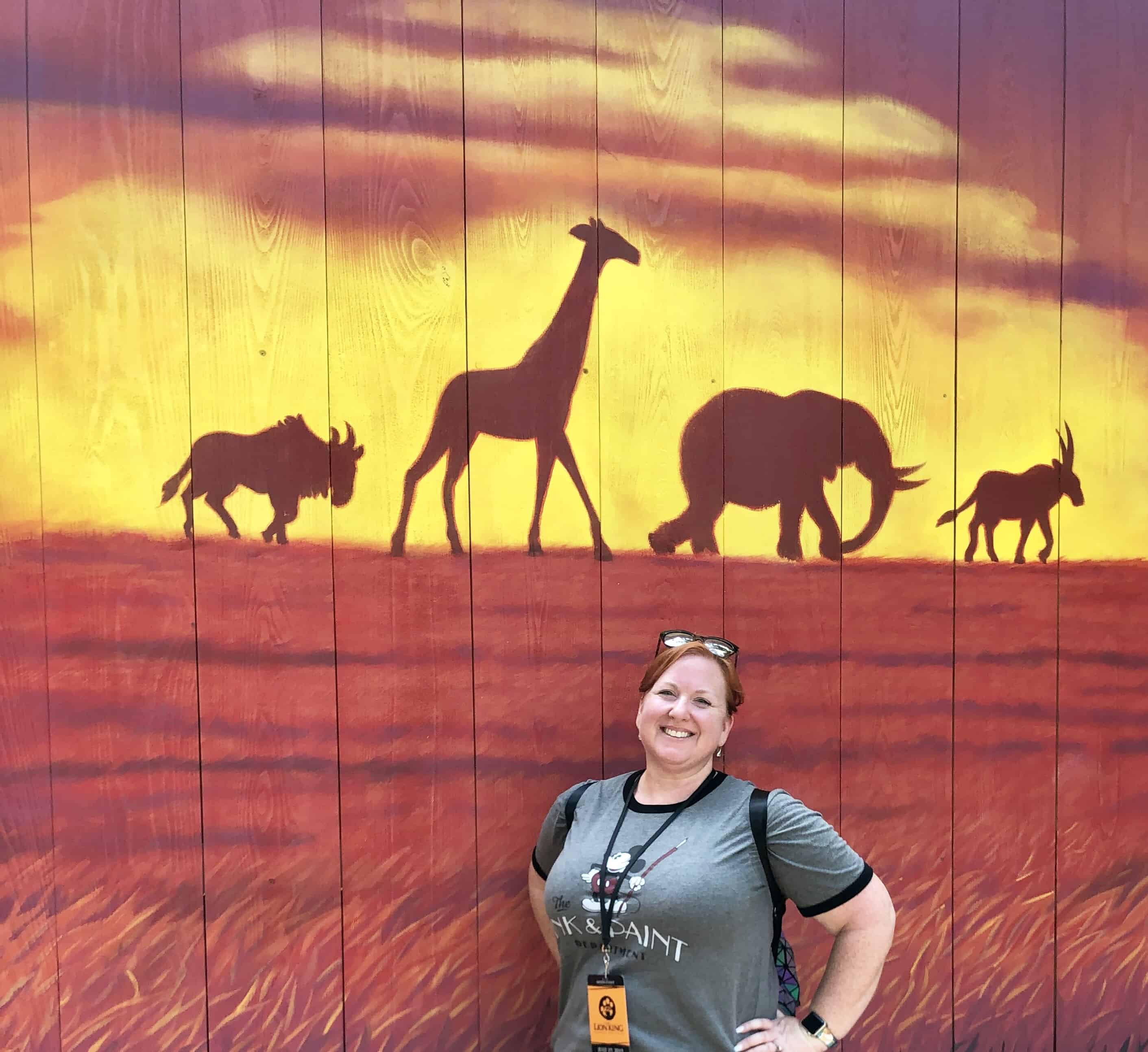 Disclosure: As mentioned above, Disney invited us to this event. They provided admission to the park, lunch, and gift cards to purchase snacks. Again, my opinions are my own. I think it's important to note that I have an annual pass. I have also paid on my own to dine at Tiffins many times. If I didn't like something, you'd know. But I also have to assume, if you are reading this, you are probably a Disney parks fan too. Thanks for reading!