A few weeks back, we stayed at Disney's Old Key West Resort, one of our family's favorites and were able to request and receive a renovated room. The Disney Parks Blog recently posted some pictures of the updated rooms, so I thought I'd add a few of our own highlighting some other details.
My family are not Disney Vacation Club members, but with my husband and I, an 11 and 10 year-old, a 2 year-old and occasionally my mom, we like staying in DVC properties because of the extra space. We rarely use the kitchen facilities other than the refrigerator but we definitely use every other inch of space and amenity these wonderful resorts offer.
Old Key West in general is one of our favorites because of the beautiful lush, secluded atmosphere the resort possesses. I've said this many times, but I could really spend a month at Disney just chilling out at the resorts they are so relaxing and Old Key West is no exception. We've always loved Olivia's restaurant and the pool area too. The only issue we ever had with Old Key West was that it was starting to show its age. In fact, the last time we stayed there around my birthday last year, we actually complained to management about some things, just because I wanted them to be aware of what we'd experienced. So when we were told at that time that the resort was scheduled for refurbishment in the coming year, we were relieved and excited.
Our most recent stay was completely problem-free and we had a wonderful time. Old Key West continues to be on our 'favorites' list (which actually has a lot of resorts on it because it's so hard to choose just one!). The renovated rooms, which will be completed resort-wide by March 2011, now all have the same mattresses and shower heads used in the other Deluxe resorts, which are heavenly. There are other little decorative touches here and there, but the most prominent changes are shown below —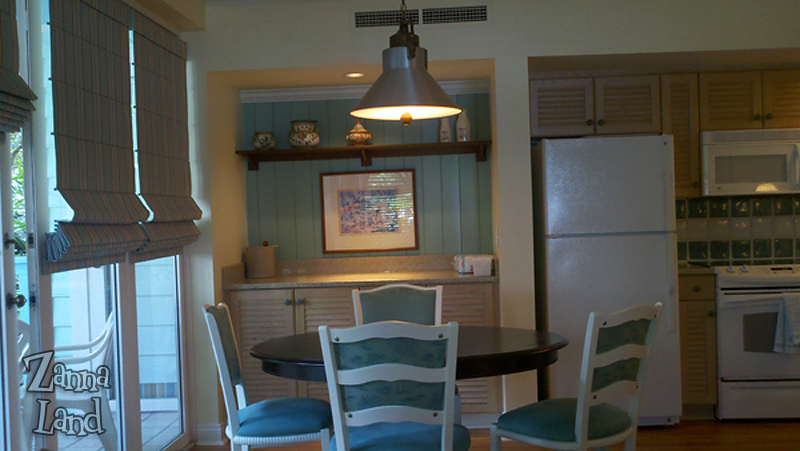 The only negative I have to say about our stay is that it was TOO SHORT! 😉 I hope you enjoyed the quick new-room tour!