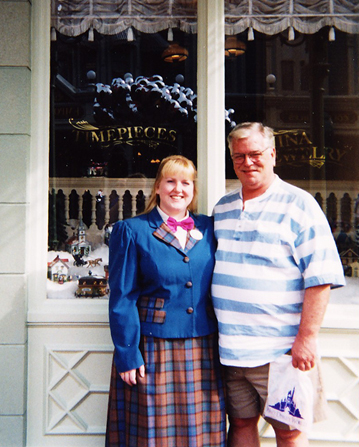 I mentioned on twitter and facebook this morning that today my dad would've turned 71. I've posted about my early memories of Walt Disney World with my family, my parents were both big Disney fans, however my dad, who had a childlike nature to begin with, would always be filled with excitement at every Disney visit.
His favorite character was Donald Duck. In later years, this meant he always got a Donald something for birthday and Christmas presents. I remember asking him one time why Donald was his favorite and he told me that he only really said he liked Donald for my benefit, because my older siblings were not really into Disney (I know, shocking!) and he didn't want me to feel sad about that, so since back then Mickey was my favorite, he said Donald was his…and it just stuck. If that's not an example of what a Daddy's girl I was, I'm not sure what is.
My dad loved old musicals and old Hollywood. He'd be the one singing along to all the songs playing in the background on Main Street, USA and would name every movie from the Studios soundtrack too. Disney's Hollywood Studios was definitely his favorite park. We visited a few times when it first opened and of course back when my husband, mom and I were cast members too. He loved being able to tell me every actor or movie  that was being referenced in some detail or pun used in the parks. My mom and I cannot watch the film montage at the end of the Great Movie Ride and not tear up remembering his favorites. That park is just full of happy memories.
Another spot that holds some magic for me is the queue for Splash Mountain. My dad loved the thrill rides and was the one to first convince me to ride Big Thunder Mountain, which, as scared as I was, of course I loved. When I finally agreed to go on Splash Mountain, he spent the very long wait that day telling me stories of his childhood in Ocala and Jacksonville, FL. He always loved Song of the South and the tales of Uncle Remus (without getting into a PC debate, I think the lessons and history within that movie are something to be treasured, learned from and preserved) so the Splash Mountain theme always made him nostalgic for his southern upbringing and the crazy stories he grew up with. In fact, during 2009's Moms Panel round 3 phone interviews, that was the 'favorite memory' I discussed (I was extremely nervous and I think sounded like I was about to cry but hopefully got the specialness of the memory across).
We lost my dad back in 2004 and although I do believe that he is looking down and seeing his beautiful grandchildren, I wish more than anything that he could walk through the parks with them and tell them his stories, as he told me. I am so grateful that I was given the chance to hear his stories in such a magical place and will forever be thankful to Walt Disney World for that gift.
Happy Birthday, Daddy.