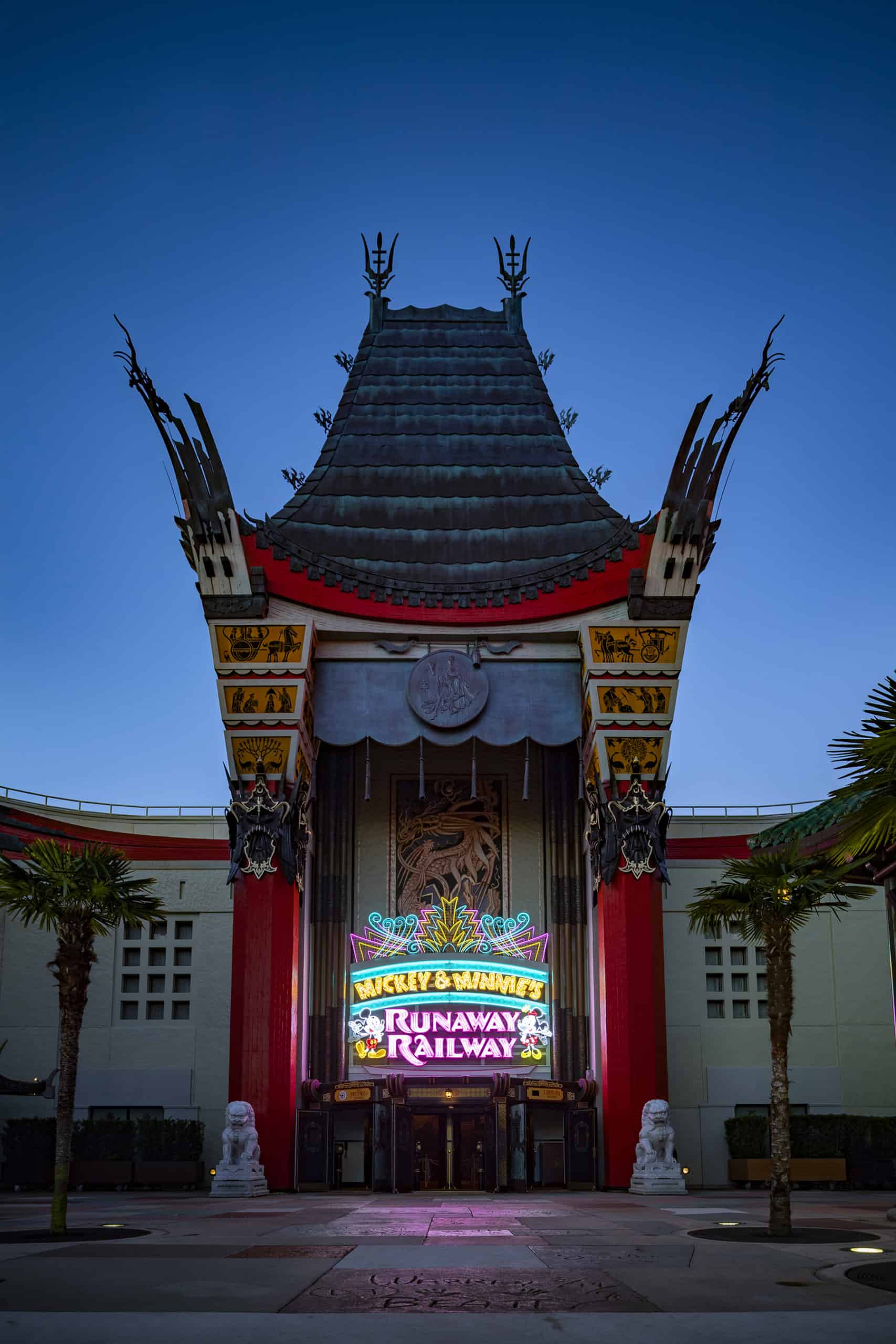 The newest attraction at Disney's Hollywood Studios – open today – features the oldest and most beloved characters in Disney history (minus Oswald of course, maybe someday he'll get an attraction). Mickey and Minnie's Runaway Railway may feature the original Fab 5 – but in a very new and non-traditional way. As I'm sure you know by now, this new ride is entirely drawn from the Mickey Mouse original cartoon shorts that premiered back in 2013. These cartoon shorts really created a whole new world that Mickey and his pals lived in, and we got to see an entirely different side of Mickey and the gang.
Runaway Railway Backstory
As much as I am for the most part a Disney purist and don't like to see character integrity challenged, I really love these shorts. I found the fact that Mickey had more "human" qualities of not just being perfect and having nothing go wrong, combined with very non-human effects and cartoon physics, a hilarious combo.
Mickey and Minnie are still in love, Donald and Daisy are still in love (but bickering cause Donald has that temper), Goofy was still a class A goof, and Pluto was a loyal best friend. Those character traits are pushed to extremes in these cartoon shorts, all while highlighting obscure Disney or Disney parks history, or poking fun at themselves in the best possible way. Additionally, many of these shorts feature different countries; their traditions, music, culture, and even language. The shorts are little love-letters to their featured country, and Mickey and the gang speak the native language in these episodes, with no translation. I love this because it shows the power of Mickey as a character, how beloved he is across the world, and how he can fit right in anywhere because of his universal appeal and good intentions.
Anyway, I'm getting a little off track (no Runaway Railway pun intended) but I really do think these shorts are a triumph in character and art style, and show that Mickey can keep up with the times and be enjoyed by a whole new generation, while appreciating the history of the past. For those that aren't fans of the animation style, or how different the characters may look at times, I like to just look at these set of shorts as a whole separate entity from the Mickey and friends represented in the parks, movies, and comics. Just as some classic Disney attractions and characters received new treatments in the form of comic books in recent years, this is a whole new separate way to enjoy Mickey and pals.
Back to the Runaway Railway…I think if Walt Disney Imagineering tried to create a new ride based on the Fab 5, it would almost immediately be outdated, or look odd. Honestly, even the talking/blinking Mickey characters in the parks looks a little off to me. Seeing tiny, casual, full-of-life representation of these characters is a great way to ensure this attraction can appeal to everyone, because it is linked to these shorts and not tied to any one Mickey Mouse storyline or timeline.
Thanks to Imagineer Kevin Rafferty and the entire Runaway Railway team, the Mickey Shorts we've come to love have come to life before our eyes, and we get to be a part of the action and fun. I think there are a lot of spoilers out there already, and I don't aim to add to that. So this review really just serves as a discussion for my thoughts after riding multiple times yesterday, and its impact on Disney's Hollywood Studios overall.
Runaway Railway Rundown
Location
Mickey & Minnie's Runaway Railway is located in the former home of The Great Movie Ride, at the Chinese Theatre. This end of the park has gone through its own ups and downs. Once seen as you first entered the park, welcoming you at the end of Hollywood Blvd., it was then hidden behind a giant hat, providing a merchandise and pin trading location. We finally got rid of the hat, and an even larger, movable stage popped up, for Star Wars performances. This stage is still in use today, but I hope that the new attraction opening will see the end of that stage. There is no shortage of Star Wars content around the park, having it block the iconic Chinese Theatre just seems silly.
Of course its new home meant the end of a classic and much beloved attraction – The Great Movie Ride. I have countless memories of this ride, both of myself as a child, and with my own children. I've been lucky enough to attend a few events inside the former attraction, and getting to roam the track and get up close and personal to the amazing details that went into The Great Movie Ride are some of my most treasured memories.
Do I wish Runaway Railway could've found a new home elsewhere in the park? Yes. But alas I don't make the decisions, and it's here now. I do think that The Great Movie ride was sorely in need of updating and more TLC, and I don't know that it ever would, in an age of IP drawing in the crowds and being the reasons for vacations being planned. The majority of folks were not flocking to Walt Disney World because of the Great Movie Ride, and right or wrong, Disney decided to change that by taking it out of the equation altogether.
Disney's Hollywood Studios, along with EPCOT, have had an issue with the parks not being able to live up to their original messages, themes, and experiences. Much like EPCOT Center was a place for inspiration, understanding and discovery, Disney's Hollywood Studios was originally a love note to the past, and a guidebook for the present, in the form of the movie-making industry. That all changed when the Studios were no longer studios at all. The tours were still there, but soon those became stagnant as well, and unable to properly represent the process of making movies. So the focus shifted, to rides vs. experiences. Thrills vs. nostalgia. What we were then left with, in both those parks, was a mishmash of different themes, different messages, different stories. Both parks are now in flux and perhaps in the future will tell a more cohesive story overall.
Runaway Railway Queue
The facade of the Chinese Theatre is for the most part unchanged with this new attraction. Yes, there is a new sign out front, reminiscent of old Hollywood neon, with nods to the former marquee within the Great Movie Ride load area. The taller palm trees that flanked the main entrance have been replaced by shorter trees, presumably to keep from blocking the sign, while still keeping some foliage in the plaza.
The queue itself is pretty similar in the first portion, looking to the original Chinese Theatre for its decor. However, once you make the turn into the former pre-show area for The Great Movie Ride, where you'd see the "coming attractions" on the big screen, you'll notice a big change. The room is now only perhaps a quarter of that size, and is walled off. That is the very end of the queue, and there are I think 3 pre-show rooms that you will be ushered into for the first portion of the ride. It's a very small room because it's basically just the amount of guests that will fit on one train, which is much less than the old people-eating GMR moving theaters.
The queue itself does not seem very big, but while it's hard not to compare it to The Great Movie Ride, it really shouldn't be done as it's a completely different experience from pre-show to load to ride to exit. It's no longer a slow-moving queue where you would sometimes see the coming attraction movies multiple times in that room. And it's no longer loading two huge cars full of guests at a time, but then keeping them in there for 18 minutes or so.
Pre-show
I won't get into spoilers here, since it literally just opened today, and the spoiler potential starts right with the pre-show. As someone who had the pre-show spoiled for me, I wish I hadn't and don't want to do that to anyone else. It was still fun, but why not preserve the magic whenever possible? Anyway, as mentioned above this is a smaller room and there are I believe 2 of them, but in the madness of the media event, I may be getting that wrong.
The premise here is that you are arriving at the theatre to see Mickey and Minnie's newest short, Perfect Picnic. Then in classic Disney fashion, something goes very wrong. But it's all good, Goofy's in charge!
Ride Rooms
There have been quite a few video clips and images released by Disney at this point, and we've included some in our Runaway Railway Review video. More than what's shown there, I don't want to reveal. I wouldn't do it justice by describing it, or showing it on video. It is best experienced in person, and as difficult as it may be to do for a while, experiencing it multiple times to really take it all in.
The main experience here is that you are IN a Mickey Mouse short, and enjoying a trip from Runnamuck Railway Station to the park to meet up with Mickey and Minnie. And that does happen, eventually. Along the way you'll see stunning visuals, albeit in the style of the Mickey shorts mentioned above. There are some character animatronics, which are also in that style. As a result, they may look a little odd from certain angles. It's best to try different train cars when you can to see things from different angles. And even if you don't, you may find that you end up in a different car than you started in.
There are 8 rows of seats, 2 rows in 4 cars, plus Goofy driving the train. Each seat is a good view, but the perspectives will be different if you are further up or further back.
Characters on the Ride
Mickey Mouse and Minnie Mouse – These true originals are ready to take their little red convertible for a leisurely drive through Runnamuck Park in search of the perfect picnic spot. What could possibly go wrong?
Pluto – The dutiful dog just wants to bring Mickey and Minnie their lost picnic basket.
Engineer Goofy – Mickey and Minnie's lanky pal invites guests into the cartoon world for what surely promises to be an uneventful train ride through Runnamuck Park.
Daisy Duck – The proprietor of Daisy's Dance Studio is ready to teach guests some fancy new moves.
Donald Duck – Everyone's favorite hot-headed "problem child" is steaming again, as someone made off with the sign from his hot dog stand at the carnival.
Jackhammer Pete – The big brute's vibrations may have some unforeseen consequences for Mickey and Minnie.
Chuuby (pronounced "choo-bee") – This adorable little bird – created exclusively for the attraction – likes to sing and dance in Runnamuck Park.
Runaway Railway Music
If you are a fan of the cartoon shorts, then you'll know that the music is very catchy and gets stuck in your head. Many episodes have their own original songs, which are brilliantly memorable. Even just the tune of the theme song and end credits get stuck in my head all the time. Runaway Railway is no exception. There is a new song composed just for the ride, and I think Disney knew it was going to be so catchy that they put the lyrics on multiple merchandise items. So get ready for "Nothing Can Stop Us Now…" to be rolling around your brain as you ride other attractions throughout the day! (You can hear the composer Chris Willis speak about the process in our video above!)
Runaway Railway Merchandise
We'll have another post up soon highlighting all the exclusive ride-themed merchandise for Mickey & Minnie's Runaway Railway. For now you can see the Runaway Railway merchandise in our video or on our instagram and facebook too.
Speaking of instagram and facebook, we are giving away an exclusive MagicBand that we received for the Runaway Railway media event on our instagram and facebook page. The MagicBand has not been linked to any account so it'll be good to go for whoever wins! Head to our zannaland instagram or zannaland facebook page to enter to win!
We  hope this review and rundown give you some backstory and helps with your planning to experience Mickey & Minnie's Runaway Railway.
Runaway Railway Tips:
We'd definitely advise getting FastPasses if you can. These can be reserved up to 180 days in advance if you are staying on property. For locals, we only have 30 days in advance, but it's better than nothing!
If you can't get a FastPass, get to Disney's Hollywood Studios super early. Then head straight to Mickey & Minnie's Runaway Railway first and you shouldn't have too long for standby.
We'd advise riding in the first two cars the first time you ride, if you can request it. We preferred the second or third row of all the rows we tried.
Be on the lookout for some nods to The Great Movie Ride including a prop from the ride along with other visual Easter eggs.
And while you're waiting, there's a fun new Mickey & Minnie trivia game on the Disney Parks Play app, so be sure you've got that ready to go and you can test your knowledge while you wait to ride!
If you've experienced this ride, let us know what you thought in the comments below! 
If you're visiting Zannaland for the first time, we'd love you to join our community and stay up to date on all that we share:
Zannaland and Up the Waterfall Community – Let's Connect!
FOLLOW THE ZANNALAND FAMILY ON SOCIAL MEDIA, WATCH OUR VIDEOS, VLOGS AND PODCAST TOO: 
We thank you for your support and for sharing the love!