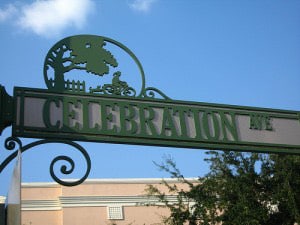 We rejoin our Up the Waterfall show podcast in full swing, with an episode near and dear to my heart, the history of Celebration, Florida. As you'll see and hear in this week's show, I followed the origins of Celebration from the start, and remember driving through the town as it was being built, and always wishing to one day call it home. I actually did, from 2011 – 2013, and enjoyed having a first-hand view of "The Town that Disney Built."
This week we go over exactly how the town of Celebration came to be, what went into the planning, and what's been going on since ground breaking in 1994. Celebration was born during a time of great progress in the Eisner-Wells era of the Walt Disney Company. The early 90's saw the inception of the Disney Vacation Club, EuroDisney (now Disneyland Paris), hit movies and more. It seemed only natural that it would also see the first Disney designed and built town in America.
Here's some of the Celebration Sales Center preview homes, from 1995 that I mentioned this on the show, see how it's just a front facade?
Whether you've visited, lived in, or just driven through Celebration, Florida, we think you'll enjoy this show and the facts and tid bits we learn along the way. As mentioned on the show, we wanted to share the books we referenced on the show, in case you'd like to add them to your collection or brush up on your Celebration history. All links below are affiliate links, which means if you purchase, a small commission comes back to Zannaland to support our costs. Just click on the book cover below to see the book:
Be sure to check out my other posts on Celebration Florida, including the famous Pirate House and some of the holiday events mentioned on the show! Have you visited or even lived in Celebration, Florida? What did you like (or not like) about the town? Let us know!
---
As always, we thank you for watching and listening! If you enjoyed, please share with a friend so more folks can learn about our growing podcast. Also please leave a review on Apple or Google podcasts, YouTube, or wherever you listen. Thank you!
Listen to Up the Waterfall:
You can listen anywhere you download and listen to podcasts, including: 
(If there's a podcast service where you can't find our show, let us know and we'll get it added there!)
Watch Up the Waterfall:
Head to our Up the Waterfall YouTube Playlist – where you can see our opening sequence and see some unique images during some episodes.
Feel free to comment below with your opinions on ANY of these hot button topics, any questions or info you'd like to add, or if it's easier, head to the Zannaland Facebook page and join the discussion there with fellow Disney Parks fans!
Zannaland and Up the Waterfall Community – Let's Connect!
FOLLOW THE ZANNALAND FAMILY ON SOCIAL MEDIA, WATCH OUR VIDEOS, VLOGS AND PODCAST TOO: 
We thank you for your support and for sharing the love!